Precise feeding of process materials is critical to maintaining product quality in steelmaking but measuring and ensuring steel raw material quality control can be challenging. To overcome some of these challenges, there are technologies that help monitor raw material feed with conveyor belt scale systems and weighbelt feeders, online elemental analyzers to analyze the raw material process stream, and moisture online analyzers to help optimize blast furnace performance.
Here's an in-depth look at the technologies used for raw material quality control in steel manufacturing
Online elemental analyzers.

Chemical composition is one of the most important parameters for the efficiency of the sinter process. Online elemental analyzers provide high frequency online elemental analysis of an entire raw material process stream using Prompt Gamma Neutron Activation Analysis (PGNAA) or Pulsed Fast Thermal Neutron Activation (PFTNA). The analyzer delivers consistent material quality, which help improves process efficiency and minimizes production costs in a variety of different process and mining operations, including: Limestone, Copper, Iron Ore, Nickel, Phosphate, Cement Production, Iron Ore Sintering and more.

Prompt Gamma Neutron Activation Analysis (PGNAA) or Pulsed Fast Thermal Neutron Activation (PFTNA) are non-contact, non-destructive analytical techniques used in online analysis systems to determine the elemental composition of bulk raw materials. Both of these techniques are known collectively as neutron activation analysis and function by bombarding materials with neutrons. The neutrons interact with elements in the materials, which then emit secondary, prompt gamma rays that can be measured. Similar to X-ray fluorescence (XRF), each element emits a characteristic energy signature as it returns to a stable state.
Belt scale systems.

Conveyor belt scale systems monitor steel raw material feed to crushers, mills, screens, preparation plants, and coal-fired power plants to help ensure precise feeding of process materials and maintain product quality.

These systems help achieve high accuracy in weighing applications requiring certification by government and regulatory agencies. The systems are usually comprised of a 4-idler, 4-load cell weighbridge, speed sensor and electronics to provide stable high-accuracy weighing. Precision belt scale systems let you monitor production output and inventory, or regulate product loadout, while providing vital information for the effective management and efficient operation of business.

Weighbelt Feeders. Precise feeding of process materials is often critical to maintaining product quality. A feeder that weighs accurately and reliably can

help accurately control process material feed rates, reduce material waste, maintain blend consistency, increase profits, and meet customer specifications.

Material is fed onto the feeder through an inlet feed section equipped with a manually adjustable vertical slide gate to control material height. The scale carriage/ weighbridge assembly measures the gravitational force of the material and converts this force measurement into an electrical output signal proportional to belt loading. A digital speed sensor continuously monitors the belt speed. The microprocessor-based electronics integrate the two signals to produce and display a true rate and a total weight fed. The electronics also provide an output signal for control and monitoring purposes.
Moisture Online Analyzers.

These non-contacting stainless steel analyzers used for reliable moisture measurement, can help o

ptimize blast furnace performance by accurately determining the moisture content in metallurgical grade coke and/or iron ore pellets.

Moisture on-line analyzers can accurately and reliably measure the concentration of hydrogenous material in a process vessel.

Optimizing blast furnace performance is the key to improving operations and increasing profitability. Moisture analyzers are engineered to help steel mills effectively manage the most pressing process issues, including variability in coke size, differing amounts of surface moisture, harsh environmental conditions at the point of measurement and high coke volume.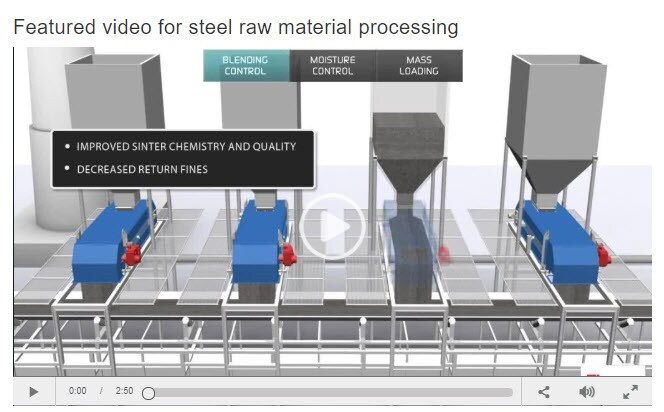 If you want to get a better understanding of how different technologies are used for steel raw material processing – or anywhere throughout the steelmaking process — take a look at this 3-minute video on our Raw Materials Quality Control for Steel Manufacturing web page (scroll down).
Visit Improving Steel Manufacturing Processes and Production Methods