Looking for a collection of application notes that may help you in your Materials Science Research projects involving metals and alloys?  Our new Materials Science Research center on our website covers technology and instruments pertaining to x-ray fluorescence, surface analysis, microanalysis and electron microscopy, Raman spectroscopy, XPS, NMR, NIR, ICP-MS, rheology and compounding, and materials for research.
Today's scientists are striving to develop metals that are stronger, lighter, and allow more shape memory. From super alloys to amorphous metals, new discoveries are on the rise. So analysis is vital to the research.
Metals and metal alloys tend to be crystalline in structure, and are often studied via elemental analysis. From handheld to bulk analysis, x-ray spectroscopy is widely used to identify emerging materials from R&D to process monitoring. It is essential to know when to employ the various elemental analysis techniques: SEM/EDS, XPS, and XRF.
Below is a sampling of the application notes, webinars, web pages, white papers, and presentations available in our Materials Science Research resource library that cover Metals and Alloy Analysis for Materials Science Research.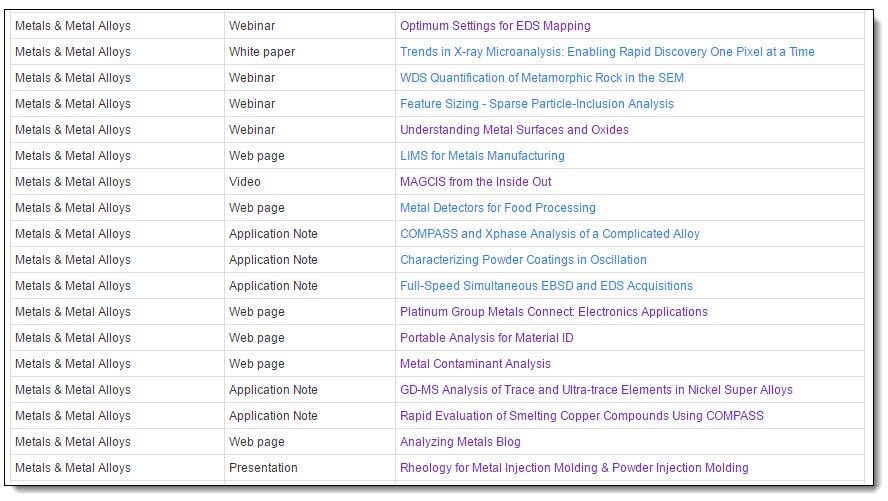 You can search and sort the list by topic, media type and keyword.  Feel free to download and read them at your leisure.  There's no charge, and you can visit as often as you like.  We will continue to add materials so feel free to bookmark the page and visit often.
Visit the Materials Science Research Resource Library.