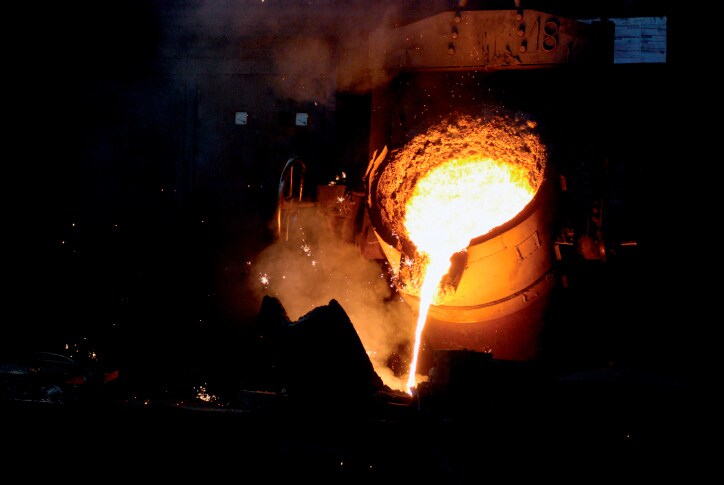 Slag is a by-product of the metallurgical smelting process. Slag has a double role: it permits removal of impurities, known as gangue, from the melt by forming oxides. It also allows exchange reactions with the liquid metal, permitting control of the process in order for the desirable elements to stay in the melt while the others are removed. (The ore beneficiation process at a mine is designed to remove as much waste and penalty elements as possible prior to transport and smelting.)
Slag is composed primarily of silica and lime, with concentrations of other minor constituents, including alumina, magnesia, and other compounds. During the fluxing process, slag removes the non-ferrous constituents from the molten iron, which purifies the product. Magnesium (Mg) is typically found in concentrations ranging from 1% to 10%, aluminum (Al) from 0.5% to 25%, and silicon (Si) from 5% to 40%. Slag chemistry must be controlled closely to maximize furnace efficiency, reduce impurities in the product, and prolong the life of the refractory lining of the furnace.
Slag is generated in large quantities and has the potential to become a significant source of landfill waste and pollution. But slag itself has value, and technologies have emerged to recycle and reuse reprocessed, granulated slag in different building materials, such as cement, brick, concrete aggregates, wall materials, and glass-ceramic tiles. According to the National Slag Association website, common uses for slag include:
Aggregate in granular base, embankments, engineered fill, highway shoulders, and hot mix asphalt pavement
Concrete aggregate in bridge construction and in concrete masonry
Agricultural applications to increase crop yield
Residential and commercial insulation, pipe and process insulation, insulation for ships, mobile homes, and domestic cooking appliances
Erosion control, mineral filter, bank reinforcement, and construction of dikes, reefs and sea walls
The goals of slag recycling efforts are both environmental and economic. Reprocessed slag can replace other more costly ingredients used to make building materials. Recycling slag minimizes waste and disposal costs, reduces energy use, extends furnace life, and lowers the amount of additives needed to make slag.
The concerns with slag recycling are that first, because slag can contain environmentally hazardous materials, it must be analyzed for elemental composition before reuse. Second, care must be taken to improve slag potential for other purposes without compromising the quality of the metal is it originally used to produce. Better slag makes for a better finished product, so quick and reproducible analyses of all the oxides in the slag are needed to control slag quality as well as alloy quality during the smelting process.
Compositional analysis of slag by energy dispersive x-ray fluorescence (EDXRF) spectrometry is an ideal way to monitor composition during production to make sure it performs as needed and to evaluate its worth following production. Traditionally, this analysis was done by taking a sample from the furnace (or ladle), then cooling, grinding, and preparing it as a pellet. The pellet was then analyzed using a bench-top EDXRF (or wavelength dispersive – WDXRF) system.
Today, handheld XRF systems are also a good option for slag analysis. These portable analyzers can achieve bench-top grade analytical accuracy and precision closer to the furnace where users can perform testing at lower costs, save time, and improve melt shop productivity.
See study results comparing handheld XRF analysis with study data for slag composition analysis.