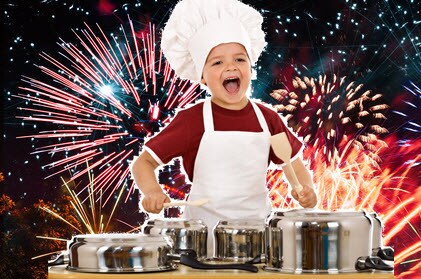 When I was younger, it was common for children to bang pots and pans with ladles and spoons to create a noisy celebration.  But when it was time to celebrate the U.S.A. 4th of July holiday, it was all about the sparklers and fireworks. Little did I know there was probably as much metal in those fireworks as there were in the pots and pans.
It is actually processed metallic minerals that create the beautiful colors we see. However, you may not be able to guess which metallic mineral produces which color.  For example, when you think of copper, you think of a brownish-orange color; yet, copper produces the blues in the firework displays.  Add strontium to copper and you get a lavender color.  Strontium alone appears red and barium produces bright greens.  Looking for a bright silvery white? It's most likely created from titanium, zirconium and magnesium alloys.  And gold is not produced by the precious metal gold… and if it was, it would be mighty expensive.  The gold sparks are produced by iron filings and small pieces of charcoal.
The white metallic minerals mentioned above that include aluminum (from bauxite), titanium, and magnesium are used in sparklers and create those bright brilliant sparks. Be careful, though.  Those bright white sparks can be quite dangerous.  (Take a look at our sister Analyzing Metals blog to learn more about sparkler manufacturing and safety.)
Take a look at this fireworks infographic to see the Atomic numbers that are used in fireworks, and which metals are used for creating smoke, loud bangs, and glitter effects.
And all those metallic minerals that are used in fireworks and that you see in the sky have to be mined first.  Then mining companies utilize portable XRF analyzers when looking for base metals or precious metals, including those used in sparklers and fireworks. Portable analyzers allow you to take assay analyses in real time, and can be used in mine mapping, ore grade control, and the exploration of a wide variety of base metals, precious metals, and rare earth elements. Then the mined material is processed via continuous online analysis and monitoring of the raw material composition, which is key to improving product quality and integrity.
After all, you need the right types of metals to create those brilliant colors in the sky.
Happy 4th of July.  Celebrate and be safe.
View the fireworks infographic