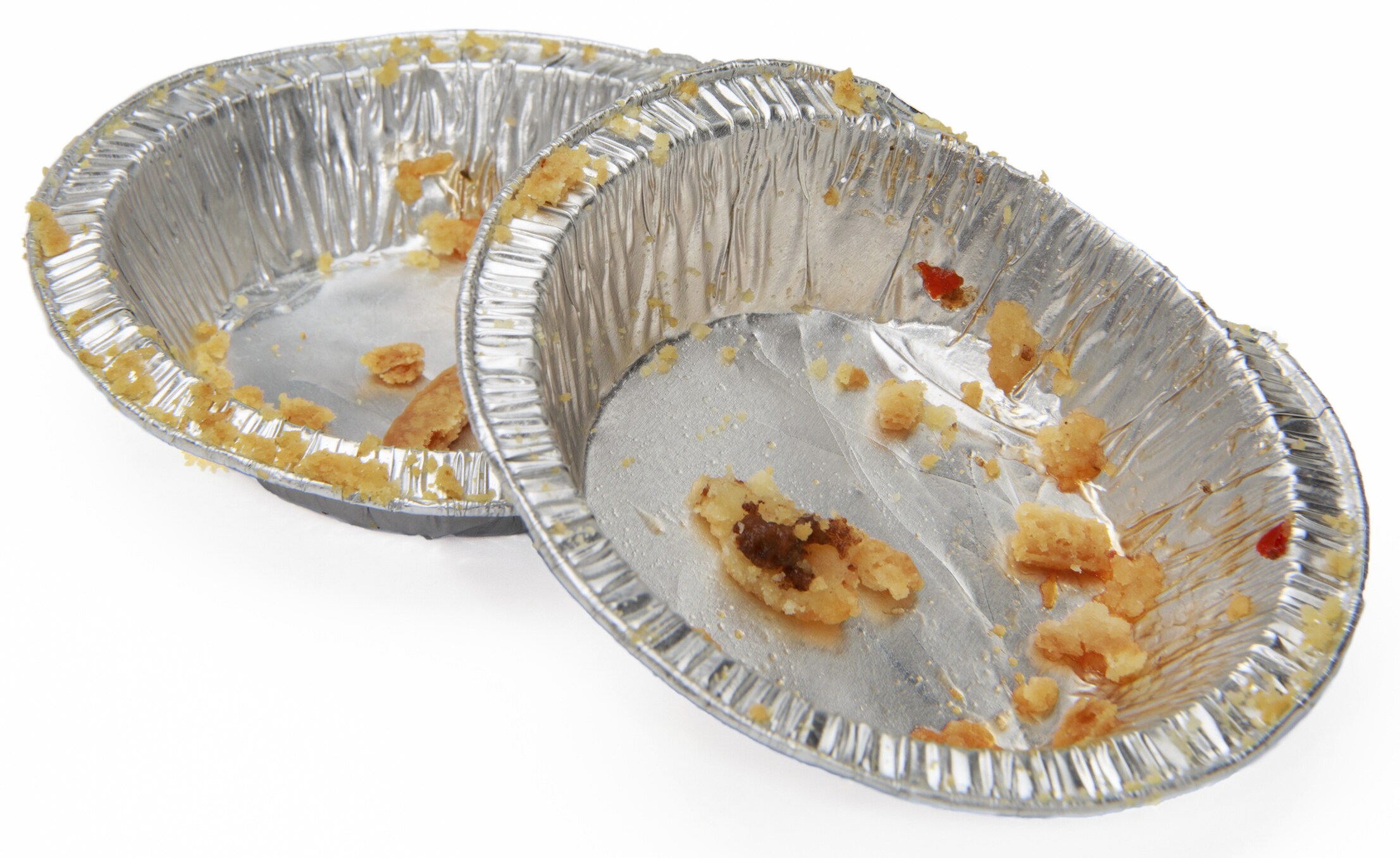 Thanksgiving Day in the United States is a holiday celebrated on the fourth Thursday of November, and usually filled with feasting and family customs.  According to the Plimouth Plantation website, the Thanksgiving holiday was created from a variety of traditions:  The Native People of North America held ceremonies to give thanks for successful harvests; the Pilgrims gave thanks with merrymaking and feasting when their labors were rewarded with a bountiful harvest after a year of sickness and scarcity; and the Puritans gave thanks with prayers and feasting.  The classic menu for these celebrations, based on New England fall harvests, usually consisted of turkey, cranberries, pumpkin pie, and root vegetables.
Although many people serve these same foods today, how they are served has changed.  I assure you neither the Wampanoag people nor the Pilgrims served the fruit of their labors in disposable aluminum foil pie plates.  In fact, according to the Aluminum Foil Container Manufacturers Association (AFCMA), aluminum was the last of the common metallic elements to be produced on a commercial scale. Formed aluminum foil containers for the packaging of bakery products weren't even produced until the late 1940s.
How are Aluminum Pie Plates Made?
The AFCMA reports that over 7 billion aluminum foil containers are manufactured annually in North America, and 24% of that is used just for bakery and confections.  (I wonder what percentage is used for Thanksgiving pies?)  According to the AFCMA, most of the foil and sheet used in aluminum foil containers is produced from continuous cast metal.  Here's a brief summary of the aluminum foil container manufacturing process from the AFCMA's white paper on Aluminum Foil Containers:
Purified aluminum oxide is obtained from bauxite…. Aluminum metal is produced in the Hall/Heroult reduction cell. In this process, Al2O3 is dissolved in a molten salt (cryolite—Na3AlF6) at temperatures of 900 to 1000 OC. Electric current is passed through the reduction cell which results in oxygen being released at the carbon anodes and molten aluminum being produced at the cathode, underneath the molten salt layer. The aluminum is virtually pure metal, having an aluminum content of 99.5% or more. The molten aluminum is drawn from the reduction cell and cast into billets, direct chill (DC) ingots or continuously cast into sheet…..
When producing foil, the pure metal is alloyed to meet desired foil specifications and cast into sheet metal that may be from 0.2" to 0.4", depending upon the producer. This sheet is cold rolled to the appropriate reroll stock gauge and shipped to a foil plant. At the foil plant, the metal passes through a series of rolling mills with a gauge reduction of 50% or more for each pass through each mill…. [Foil mills employ a number of means to control the rolling process, achieve the desired rolling pressures, and maintain the correct temperature.  These control items include gauge reduction, backup rolls, rolling fluids, and oil spray. ] Gauge control is achieved by continuous computer monitoring of gauge at each mill. At about a 75% gauge reduction, the aluminum has work hardened as it passes through to rolling mills. At this point, the metal in coil form is annealed in an annealing oven where it is held at 600 – 1,000 OF for eight or more hours. Annealing accomplishes two things: the resulting metal is softened and the rolling oils are removed. Most aluminum foil is also annealed after the finished gauge is reached since soft, oil free metal is usually desirable when the aluminum is converted into final products.
The thickness for aluminum foil containers runs from 0.002" to 0.008".
[Note: The thickness measurement is key to maximizing the yield.  The energy it takes to make aluminum is significant, so producers want to roll the flat sheet as close to minimum tolerance as they can to make as many pie plates as possible. Plates that are thicker than they need to be waste aluminum.]
Aluminum foil container stock is often coated or printed to protect the container from corrosive food products or color is added for both aesthetic and functional purposes…. A food grade texture, which acts as a lubricant for easy food release, is applied to the foil….The aluminum foil containers are formed on presses that are fed from coils of feed stock. The blank is cut and formed into a container with the edges curled in a single operation. Embossing and the formation of metal patterns for functional and decorative reasons are also performed by the presses.
The resulting foil can withstand wide temperature changes, is lightweight, easily transportable, and recyclable — which makes it the perfect choice for baking that pumpkin pie (or any other pie), bringing it to the family gathering, and setting it on the Thanksgiving dessert table.
On a safety note, manufacturers must validate that the aluminum content of all food containers has no more than 25 [micro]g/L of aluminum per FDA standards. Manufacturers are responsible to provide extraction/toxicological evaluation studies, including a documented standard methodology for extracting and reporting data.  Many companies use portable x-ray fluorescence (XRF) analyzers to verify their metal and alloy content for quality control and assurance throughout the manufacturing process.
Not a fan of pumpkin pie?  What's your favorite?