When a natural gas or oil pipeline is under repair, old pipe is cut out and replaced with new. The integrity of the new weld depends on the total compatibility of the two pieces of pipe being fused together.
The weldability of the two pipes is primarily influenced by its carbon content along with a contribution of other elements, such as manganese (Mg), chromium (Cr), molybdenum (Mo), vanadium (V), copper (Cu), nickel (Ni), and silicon (Si).
The carbon equivalent (CE) concept converts the material composition into something useful for the evaluation of the weldability (and hardness) of the material and thus predict its behavior.
One such equation comes from the International Institute for Welding:
 (IIW) CE equation:  CE = (%C)+((%Mn)/6)+(((%Cr)+(%Mo)+(%V))/5)+(((%Cu)+(%Ni))/15)
If the pipes are too dissimilar, or if the carbon equivalent approaches a higher, undesirable value (see Table 1), then special precautions may be needed prior to and during the welding process to ensure a strong and durable weld.
Choosing replacement pipe with a low CE and excellent weldability will speed up the repair process.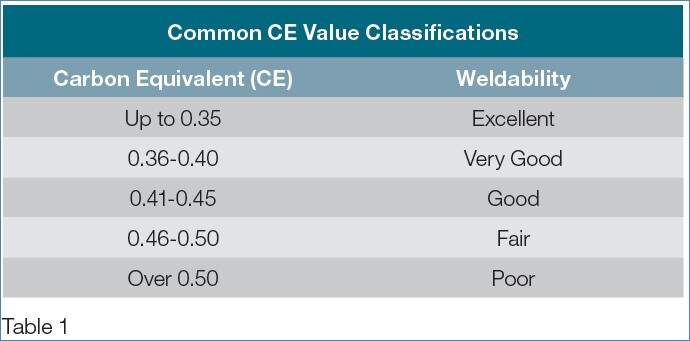 It is clear from Table 1 that the greater the CE number, the more likely the weldability will be under par and potentially susceptible to hydrogen cracking in the heat affected zone (HAZ).
The higher the CE value, the greater the risk of hydrogen cracking. Generally, steels with a CE value of <0.4 are not susceptible to HAZ hydrogen cracking, as long as low hydrogen welding consumables or processes are used.
Carbon Equivalent can be measured and calculated directly using LIBS technology. LIBS is an acronym for Laser Induced Breakdown Spectroscopy. It is an analytical technique used to determine the elemental composition of materials. A handheld LIBS analyzer fires a pulsed laser at the sample vaporizing the material to form a plasma on the surface with ~200 pulses per reading.  Excited electrons return to ground state in atoms and ions, emitting light which is collected by onboard spectrometers. The instrument's software and calibrations compare the wavelengths and intensity of spectral lines to quantify the concentrations of elements, and using a prescribed formula via a pseudo element feature, enables automatic calculation of carbon equivalency.
We recently measured carbon steel and stainless steel valves. These valves should be 0.2% carbon, but some were out of specification at 0.4%. When welded into place the out of spec carbon resulted in weld stress fractures. The LIBS analyzer* measured the carbon percentage to quickly reject out of specification material and reduce weld stress fractures. 

Whether working at heights in a refinery, offshore on an oil platform, or in a pipeline trench, LIBS technology is the ideal tool for analysis in many different industries offering the utmost safety and productivity.
*Editor's Note:  The analysis was done using a Thermo Scientific™ Niton™ Apollo™ Handheld LIBS Analyzer
Additional Resources: