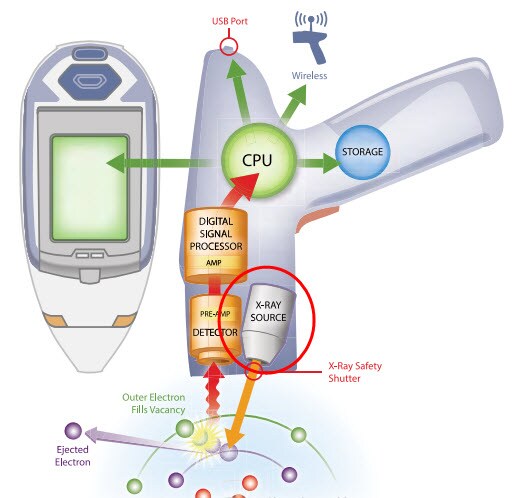 X-ray fluorescence (XRF) technology is a powerful technique for elemental analysis in many facets of the metals industry. Handheld XRF instruments are particularly useful for providing process and quality control at any point in manufacturing operations, for analyzing scrap metal at delivery points before it enters the supply chain, even for verifying the karat weight and value of gold jewelry.
Ever wonder how a lightweight, handheld analyzer can be so powerful? It all starts with the source. XRF works by irradiating a solid or liquid sample with high energy X-rays from a controlled X-ray source. In handheld and portable Energy-dispersive X-ray Fluorescence (EDXRF) instruments, the X-ray sources are typically X-ray tubes, which have fewer licensing issues than radioisotopes. Also, X-ray emissions from tubes can be easily modified for specific analytical applications. To learn more about how an X-ray tube works and the major X-ray tube components, read Going to the Source: X-ray Tubes.
To learn more about XRF technology, handheld and portable XRF analyzers, and their many applications in the metals industry, download the free eBook, XRF in the Field: Technology for the Non-Scientist.