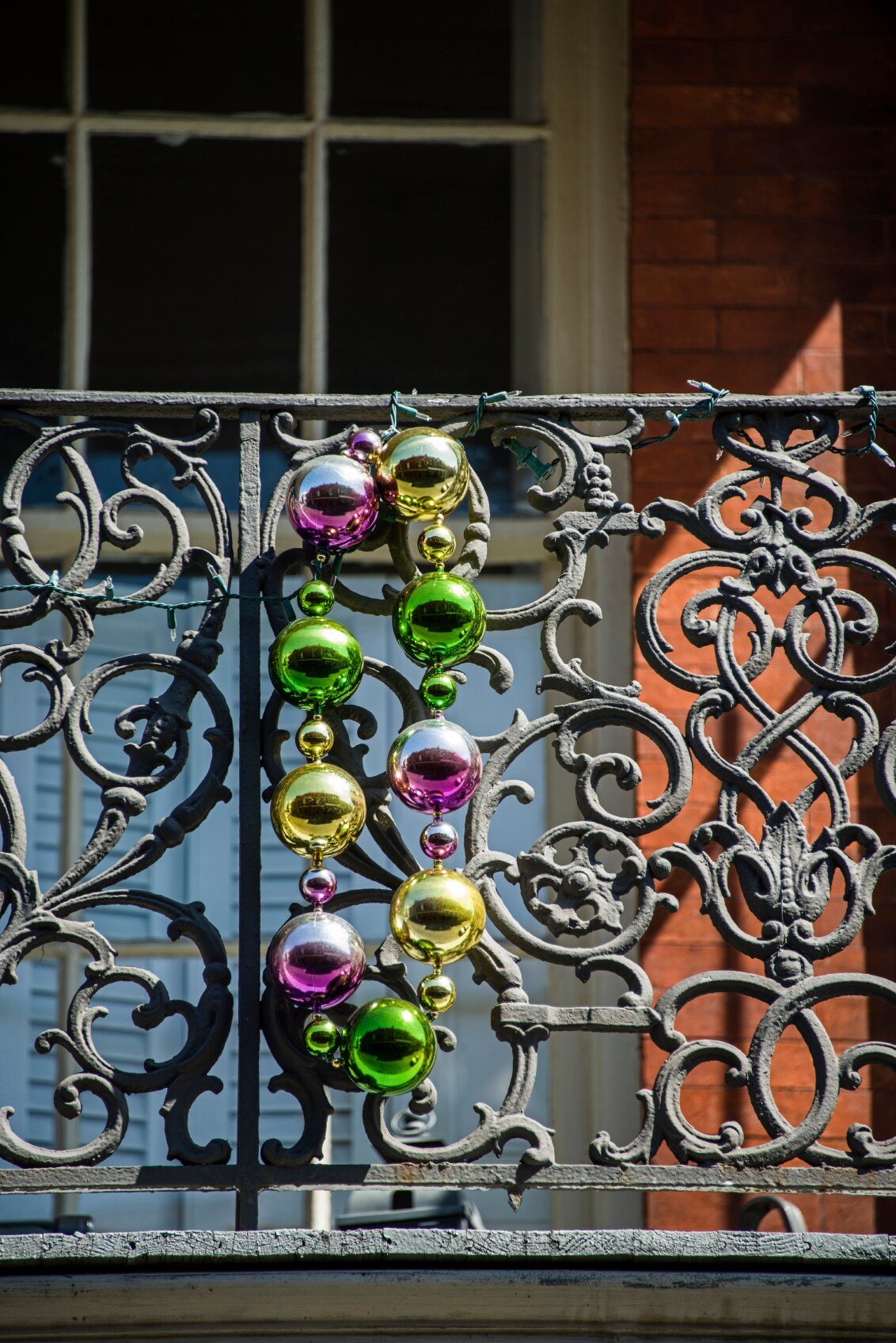 If you happen to be in New Orleans during Mardi Gras season, make sure you look up at all the beautiful wrought iron balconies or at the detailed garden gates that can be found throughout the city.  Those ornamental gates, fences, and windows along St. Charles Avenue and the decorative balconies in the French Quarter are wonderful pieces of art.
Fences, gates, railings, and balconies were built with wrought iron going back to the 17th and 18th centuries. According to this New Orleans Tourism article, wrought iron is a Victorian addition to the old masonry townhouses.  "Ornate New Orleans iron is one of the cornerstones of New Orleans architecture, found on historic French Quarter balconies, gates and lanterns….Decorative ironwork, derived from Spanish architecture, mimicked another famous Spanish product: lace, and offered an ornate visual contrast to otherwise sober, handsome fronts. The more ornate work is often floral or leafy, adorned with French fleur-de-lis and coquilles, or shells (associated with Saint Jacques and religious pilgrims), also abound."
Wrought iron differs from cast iron and steel in its carbon content and the way it is produced. Wrought iron contains very little carbon (less than .035%). Wrought iron tends to be soft, ductile, magnetic, strong with a high elasticity and tensile strength, malleable so it can be heated and reheated, and worked into various shapes. In fact, wrought iron becomes stronger the more it is worked. (Machine Design does a great job of explaining the properties.)
One of the important features of iron ore is the presence of penalty elements, which can change the physical properties of iron and can impede the proper operation of the smelting facility. (See Penalty Elements in Iron Ore Infographic.) Thus it is important that XRF analysis be done by the foundries to determine Fe content of the ore and the penalty elements that affect its overall grade before the wrought iron is produced.  XRF is a non-destructive analytical technique used to determine the elemental composition of materials.
Wrought iron is created by smelting pig iron in a blast furnace where it is reduced and boiled.  The impurities are removed, and the iron stiffens. This process continues until virtually no carbon remains and the iron can be formed into balls to be molded.  Any slag (the by-product of iron smelting, generally consisting of a mixture of silicon, sulfur, phosphorous and aluminum oxides) is hammered out before it is passed through rolling mills.  During this process, it becomes elongated and thinner after each pass and ultimately finished as puddle iron bar. During manufacture, the iron is removed from heat and worked with a hammer while still hot to achieve its intended form. The bars are reheated and reworked until the desired grade is achieved.
Although it is highly resistant to fatigue and will deform without failing, if it is overloaded beyond capacity or distorted from exposure to intense heat (i.e. from fire) it can fail. And if manufacturers do not test the materials they receive from the foundries to ensure the correct grade of wrought iron is being used, catastrophes can happen.  In fact, it has been suggested in an article in Materials Today, that poor quality wrought iron may have had a role to play in the Titanic's quick sinking:
"Titanic's hull was triple riveted within the central 3/5ths length using mild steel rivets, and double riveted using wrought iron in the bow and stern. This was done to assure strength in the center, where the maximum wave flex stresses were assumed to be located. Analysis of the steel rivets has shown good strength, but the wrought iron rivets contained an average of three times more slag than optimal levels. In addition, the slag was in large pieces. Both of these facts point to fabrication by inexperienced tradesman, as wrought iron was made by hand at the time. Finite element models of rivets made from sub-standard materials show that they were already loaded near their ultimate strength when installed. The source of this poor quality material became clearer when the Harland and Wolff meeting minutes were examined, and it was seen that pressure to finish Titanic caused the company to order wrought iron that was one level below that generally specified for rivets and they had to use suppliers previously uncertified for this application."
As you can see, material verification for alloy quality assurance and quality control (QA/QC) is critical to product safety; wrong or out-of-specification metal alloys can lead to premature and potentially catastrophic part failures.
Even if the correct grade is used, problems can arise from wrought iron as it ages.  The iron is subject to corrosion, so the metal's surface can become pitted, cracked, and rusted. In fact, there have been reports over the past few years of rusted pieces of old iron balconies falling to the ground.  Material deterioration can occur gradually over long periods of time so it requires testing and routine preventative maintenance, similar to how oil and gas professionals test their pipelines.
So as you walk the streets of New Orleans and admire the beauty of those old wrought iron balconies, you might want to think twice about standing on them or under them.
Mardi Gras 2023 falls on Tuesday, February 21.
Additional Resources:

Editor's Note:  This article was previously published in 2016 but updated in 2023.