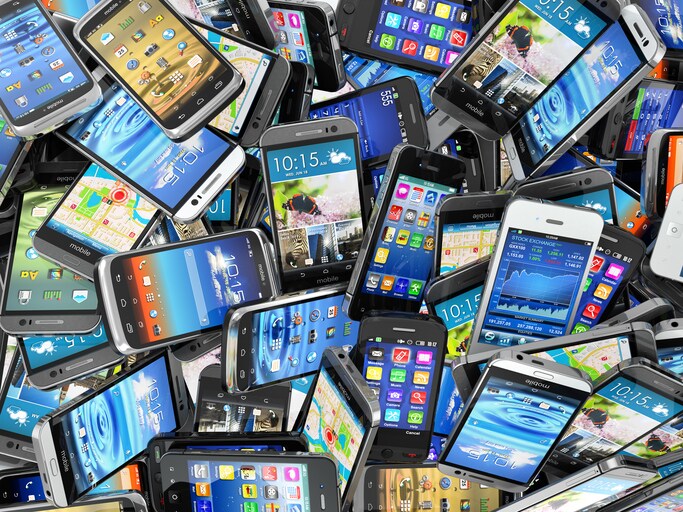 Cell phones contain many rare earth metals that are expensive and sometimes difficult to obtain depending on market fluctuations. Rare Earth Elements (REEs) are critical components in mobile phones and other consumer electronics such as televisions, computers, and cameras, as well as high-power magnets, fluorescent lamps, catalytic converters and metal alloys
The proliferation of research projects to find ways to recycle these metals from used electronics has been the subject of many Analyzing Metals posts, including:
Maybe you've got your eye on the new iPhone 8 or X and you've decided to recycle your old phone. Now what? Here are a few helpful tips:
Clean it up. According to the FTC's Consumer Information Page, many devices allow you to "wipe" their memory. This can often be done from the settings screen, or at the store if you're trading in. Also remove or erase SIM and SD cards. Just don't forget to transfer your information to your new phone before you reset the old one.
Make a difference. Did you know that there are charitable organizations that could use your old phone? Cell Phones for Soldiers collects all types of cell phones in any condition, sells them to recyclers, and uses the money to fund Minutes that Matter, a program that provides free calling cards to troops around the world to call home, and an emergency fund, Helping Heroes Home. Medic Mobile is an organization that recycles phones and tablets to fund healthcare programs in Africa, Asia and Latin America. Each smart phone recycled funds up to 10 new phones for health workers in 21 countries around the world.
Cash, not trash! You may be able to sell your old phone if it's in good condition. According to an article on phys.org, the resale site Gazelle is offering $140 for a Verizon-ready Samsung Galaxy S7 in "good" condition, while eBay offers $280 for an AT&T 128GB iPhone through its "quick sale" program. The video game retailer GameStop also accepts old phones for trade-in, offering either store credit or cash. Perhaps the easiest way to recycle your phone is to find an ecoATM machine. EcoATM kiosks price cell phones, MP3 players and tablets based on model, condition and the current value on the market. If you agree to sell it, you receive cash on the spot. Most devices are reused, the rest are recycled.
Never trash. Most electronics contain hazardous materials such as lead, mercury, and cadmium. When these devices are left in landfills, these toxins can leach out into the surrounding land, water, and air. Currently, 20 U.S. states ban the disposal of electronic devices in landfills and 25 states have passed legislation requiring e-waste recycling. Recycling electronics not only recovers valuable rare earth metals but also gold, silver, copper, and palladium.
Many scrap metal recyclers who need to identify and quantify the amount of REEs in the items that come into their yard use portable x-ray fluorescence (XRF) analyzers, which can instantly determine the elemental composition of any metal alloy. XRF analyzers can verify elements of interest in virtually all types of metal alloys, from trace levels to commercially pure metals, and are capable of distinguishing alloy grades that are nearly identical in composition to one another.
Recycling electronic products has never been easier! With so many options available, you can enjoy your new phone and be kind to the environment as well.