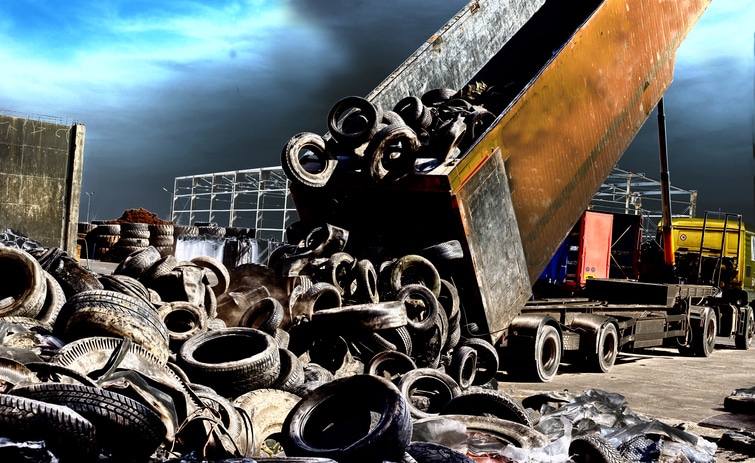 Millions of tires are discarded every year, presenting a difficult and expensive environmental challenge. Old tires leach out toxic chemicals, and accidental ignition of shredded tires has resulted in fires burning out of control for weeks, causing both air and water pollution. Because of such hazards, the EC Landfill Directive has banned the land filling of whole and shredded used tires.
There are many alternatives to discarding tires in landfills. Tires can be reused to make fuel, and they can be shredded to extract and recycle the steel they contain. Shredded tires are also used in construction, landscaping, and for playground surfaces.
The U.S. Tire Manufacturers Association web site identifies many tire recycling opportunities:
Tire-Derived Fuel (TDF): Scrap tires provide a cleaner, more economical fuel alternative to coal in cement kilns, pulp and paper mills, and electric utility boilers. TDF generates more heat than a comparable weight of coal but has a lower greenhouse gas impact since tires are partly made from a natural rubber derived from trees.
Ground Rubber Applications: Ground rubber is produced by grinding scrap tires into different sized pieces. Metal and fabric can be removed and the granules are sized for specific applications. Among its uses: new rubber products, landscaping mulch, rubber mats, and rubber-modified asphalt (which results in quieter, more durable roads).
Civil Engineering: Tire shreds are increasingly used instead of raw materials (e.g. sand, clay) for road and landfill construction, septic tank leach fields, alternative daily cover for landfills and many other construction applications. The benefits include vibration and sound control as well as lightweight fill to prevent erosion and landslides. Tires also facilitate drainage in septic, leachate and landfill gas systems.
Because tires contain metal, the shredding process itself can damage costly shredding equipment. During the shredding process, a tramp metal detector provides an economical and reliable method of protecting expensive shredders, crushers, conveyors and other equipment from potentially costly damage from wheel bolts, which reduces downtime and ensures the cement production process stays operational. In general, tramp metal detectors are easy to install, operate and calibrate, with no need for special tools or instruments.
Able to identify all types of metallic scrap including bucket teeth, manganese steel mantles, bore crowns, bar scrap chains, and tools, a tramp metal detector can even detect tramp metal buried in wet conductive materials. Tramp metal detectors are insensitive to materials with high magnetic permeability and electrical conductivity so they can be used in applications where conventional metal detectors produce an unacceptable false alarm rate.
In the scrap metal recycling process, weighbelt feeders are another widely used solution to precisely measure each load as it is delivered to the plant. The material is then sorted by type, for example, aluminum, copper, etc., and transferred to separate lines. The weighbelt feeder can be used again to measure and control the rate of each variety as it is being fed into the furnace.