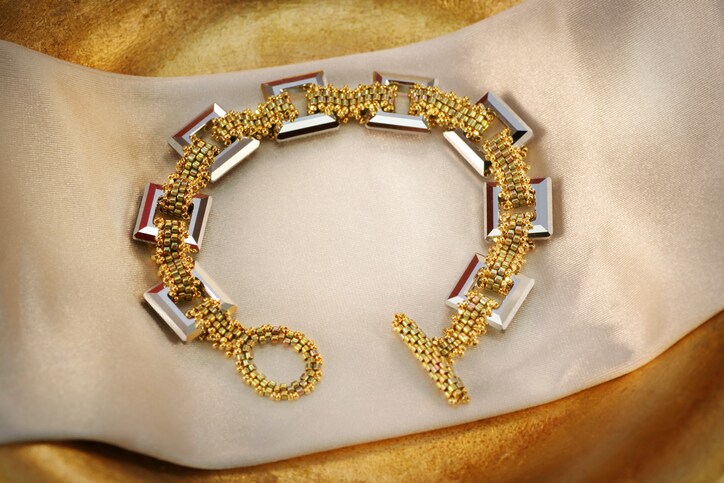 At this summer's jewelry shows, designers showed that mixed metal styles were the rage.  Years ago, one wouldn't wear both gold and silver jewelry at the same time, but now jewelry manufacturers are combining both in the same piece. Industry authority JCK reported that although gold seems to still be the top precious metal in fashion, two-tone rings, necklaces, bracelets, and more, are adorning fingers, necks and wrists.  Whether it's for having more choices or better price points, jewelers are reporting that the new designs are being well received by the public. (Read our previous article on the JCK Show.)
So how are customers to know if the non-yellow gold design is silver or white gold, platinum, or even some mix of the non-precious metal nickel? Or even if that gold is 10K or 18K? Gold alloys include yellow gold, which has silver as the main alloying element, rose gold, which is alloyed with copper, and white gold, which has either palladium or nickel as the main alloying elements.
It makes a difference to a customer if they think they are buying white gold, but the jewelry piece is made of silver, or a plated base metal. Or how much that nickel is alloyed with the gold. Jewelers need to be able to identify non-standard, under-karat & counterfeit gold with fire assay-comparable accuracy, as well as help identify if something has been gold-plated over less valuable metals. The company reputation is at stake.
To accurately assess if a piece of jewelry is made of precious metals, and to give customers confidence in what they will be buying, jewelers can utilize several methods of testing the jewelry, even performing the analysis in front of the customer.
Verification of the metals by the designers and manufacturers is especially important since many jewelry makers have switched to recycled gold and silver as their source of raw materials. According to the USGS, in 2021, approximately 650 tons of silver was recovered from new and old scrap, about 8% of apparent consumption. In that same year, an estimated 90 tons of new and old gold scrap was recycled, equivalent to about 36% of reported consumption. Since gold and silver can come from a variety sources – from dental fillings to catalytic converters – it's a good idea to confirm the contents before the design and manufacturing process even starts, and then again before it gets into consumer hands.
Verification tests that businesses use to combat the risks of misidentified metals include the scratch and acid test, which is widely used but not very accurate. The most precise method is fire assay where the piece is melted down, but this method destroys the sample. Laboratory methods with expensive machines require extensive sample preparation and time spent sending the pieces off to a lab. Finally, there is portable X-ray florescence (XRF), a non-destructive method that measures multiple elements in seconds.
X-ray Fluorescence technology (XRF) is a fast, simple, nondestructive solution for analyzing metals and alloys.  Portable XRF precious metal analyzers that can sit right on the jewelry counter, can identify the karat and even determine the presence and concentration of other trace, alloying elements.
As we mentioned, the old low-tech scratch and acid test that many retailers use to test gold is not very accurate and is potentially dangerous. When you use acid to verify the gold content, you have to scratch the jewelry on a stone to get flakes or a streak of gold that can be tested. That means, you are rubbing off some of the material, then adding a few drops of corrosive acid on the gold streak — which could destroy the design or value of the piece as well as burn your fingers (or rugs if the liquid is spilled). You certainly don't want to do that to a new designer piece of jewelry while a customer looks on and judges whether or not they want to buy it.
After you've confirmed the metal and alloy content, you can then give advice to the consumer of how to wear mixed metal jewelry.  If you need any pointers, the Editorialist website has some tips on stacking, blending, and placing appropriately.
To learn how to improve the bottom line of your precious metal business by doing the correct chemical analysis using portable XRF, watch the webinar, Not All that Glitters is Gold.