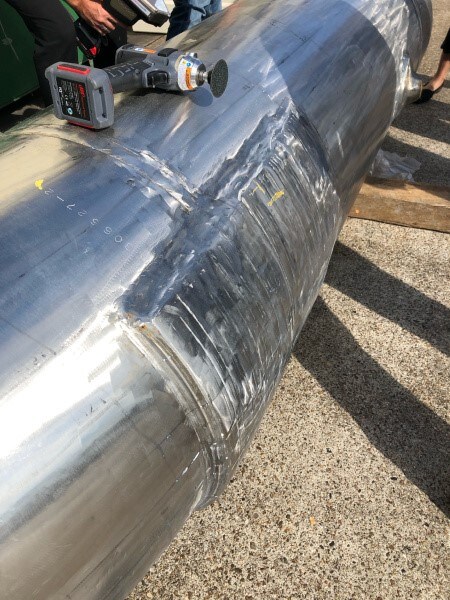 What would you do if you were a petrochemical company and had a 2,000 lb. steel elbow on a pipeline that needed to be repaired, but you didn't know the exact chemistry and grade of the metal?
The American Society for Nondestructive Testing (ASNT) would advise you that nondestructive testing (NDT) can help you determine chemical composition, discontinuities and flaws in material characteristics without destroying the serviceability of the part.  There are several common methods used to test the integrity of the pipe or equipment: PMI (positive material identification), magnetic particle, liquid penetrant, radiographic, ultrasonic, electromagnetic, visual, acoustic emissions, guide wave, laser methods, leak testing, magnetic flux leakage, neutron radiography, thermal/infrared, and vibration analysis.
There are different grades and alloys used in the fabrication of steel pipes.  The pipeline material is selected during the design phase because the materials must be carefully determined in order to avoid complications when in use, and over time. The structural integrity of pipelines and plant assets is key for safety.  The wrong material could result in a failure of the component, which not only could incur additional costs for repair, but could cause a catastrophic event. Pipes used in the oil and gas industry are especially subjected to mechanical, thermal, and chemical stresses, with pressure and temperature playing a determining role. Sulfidation (sulfidic) corrosion affects steel piping and equipment and continues to be a significant cause of leaks in the refining industry. (Read the Application Note: Preventing Sulfidic Corrosion Failures)
The metal's properties such as weldability and heat or corrosion resistance depend on the carbon content in steel. Carbon works as a hardening agent. Increasing carbon content increases hardness and strength, but increases brittleness.  (You can learn more about the metallurgy of steel and its carbon content on thefabricator.com.)
The petrochemical company chose a handheld LIBS analyzer. Powered by laser induced breakdown spectroscopy, these handheld analyzers specialize in carbon analysis for grading various material types. They are especially useful for verifying the composition of piping, valves, and reaction vessels in seconds, with the lowest LODs available, and for calculating carbon equivalency to determine the weldability of piping materials.  Also, with a handheld analyzer, workers can avoid maneuvering heavy equipment into tight spaces, and can actually access elevated work areas or pipeline trenches and take measurements without the need for mechanical assistance. (Please follow your company's safety policies!)
The LIBS analyzer can be used to measure light elements in low concentrations such as carbon, silicon, and aluminum. The capability of the LIBS analyzer gives the user the ability to easily grade L and H grade stainless steels, low alloys, and carbon steels. The instrument can also perform carbon equivalent (CE) or residual element (RE) calculations programmed by the user in an easy-to-use and intuitive interface.
Powered by an effective laser and high purity argon purge, with the appropriate sample preparation the analyzers can deliver lab quality results in about 10 seconds. Users can calculate carbon equivalency and perform advanced averaging, while also identifying alloys and pseudo elements. Data is displayed in real time, enabling fast and efficient decision making.
These are all features needed by a petrochemical company that is faced with repairing a ton of steel pipes. Understanding the material integrity and the alloy content is paramount for helping to ensure a long-lasting repair… and peace of mind.
Additional Resources: