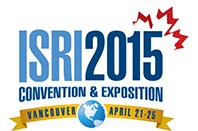 The largest scrap recycling show, hosted by ISRI, the Institute of Scrap Recycling Industries, is being held in Vancouver this year – the first time it is being held outside the United States. The 2015 ISRI Convention & Exposition promises to be a great source of information for the continual and ever changing industry that has had to keep pace with the global market's demand for a diverse array of scrap materials. With sessions titled The Changing Face of Recycling and the Role of Materials Recovery Facilities in Today's Marketplace, International Trade 101: How to protect the value of your scrap, and Buying Military Scrap, the show promises to offer information on the important aspects of successfully operating a recycling business
In addition to the many workshops, sessions and interactive panels examining today's biggest issues in the scrap recycling industry, attendees will also be able to choose workshops featuring educational opportunities on sales, human resources, and management and leadership.  These are new topics for the show that usually focuses on recycling and commodity trends.
According to Chuck Carr, vice president of member services for ISRI:  "Effective human resources, sales, and management are all important aspects of successfully operating a recycling business. While the same superior programming offered in the past will still be available, this year's convention will also include new tracks with these professions in mind. There will truly be something for everyone in Vancouver."
Andrew Echeverria, a partner from Tech Measurement Advanced Instrumentation Solutions, recommends going to the show because almost all the equipment that would be of interest to a scrap recycler is on display at the expo.  (He also added that discounts received at the show can usually pay for the cost of the trip in itself.)
Another partner, Mike Nicol of Elemental Controls, lives in Vancouver and suggests that if you are going to the show you should stay an extra few days to take in the beauty of the area.  He recommends renting a car and driving up the sea-to-sky highway to the world renown whistler (very scenic drive), taking a ride on the sea-to-sky gondola (breathtaking view of Howe Sound and various mountain ranges),  walking or biking around the sea wall, or even renting kayaks to explore the Deep Cove area.  If outdoor sports is not your preference, Granville Island offers several native art shops and lots of tasty market food. More food recommendations are the Lift Bar and Grill or the Cactus Club located in Coal Harbour, which both offer great views.  There are plenty of other restaurants, but he advises you call first: many do not take reservations and there are often long wait times.  Don't want to wait?   Try the food trucks.
You can meet both Andrew and Mike in Booth #933 at the show.  They will be demonstrating the latest handheld X-Ray Fluorescence (XRF) technology. With today's volatile commodity prices, the need for sorting recycled metals quickly and with accuracy is critical. Each second lost and every wrong sorting call could affect your profitability, upset your customers, and place you at a real competitive disadvantage. Testing time is almost instantaneous for routine scrap sorting by handheld XRF.  Stop by the booth and get a quick demo.  You can also bring some pieces of scrap metal and have them analyzed within seconds.  It's a non-destructive process, and you'll be able to view the alloy grade and chemistry of the sample on a built-in, color, touch-screen display. There's now an engine guard as well, which protects critical detection components and minimizes operational downtime.
You can also see the handheld personal radiation detectors, which provide a new level of protection to metal recyclers. As the first point of contact with potentially radioactive metals, scrap recycling yard workers need instruments able to immediately detect, locate and identify radioactive material in their incoming scrap.
Hope to see you there, but if you can't make the show, you can follow the convention happenings on Twitter by using the hashtag #ISRI2015.
Show Details:
ISRI 2015
Booth #933
April 21-25, 2015
Vancouver Convention Centre
Vancouver, British Columbia, Canada