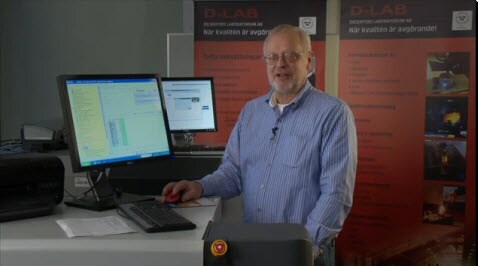 Degerfors Laboratory (D-Lab) in Degerfors, Sweden, is an independent contract laboratory specializing in elemental analysis of metals, raw materials and minerals.  As a contract laboratory, D-Lab needs high-accuracy and performance, very flexible and long term stable instruments for metal analysis.
Optical Emission Spectrometry (OES) instruments are the overwhelming choice for steel and non-ferrous metals. These instruments provide fast, on-line elemental analysis with quantitative determination of most of the elements from trace to percentage levels.  With OES spectrometers, companies like D-Lab can be confident that they are providing their customers with most reliable analytical results.
We visited with Mr. Svenerik Bäckman, General Lab Manager at D-Lab to ask him about the results of various evaluations of an OES spectrometer the company performed over a 3 month period, from October 2012 to January 2013. To hear his conclusions, watch the full D-Lab Customer Testimonial.