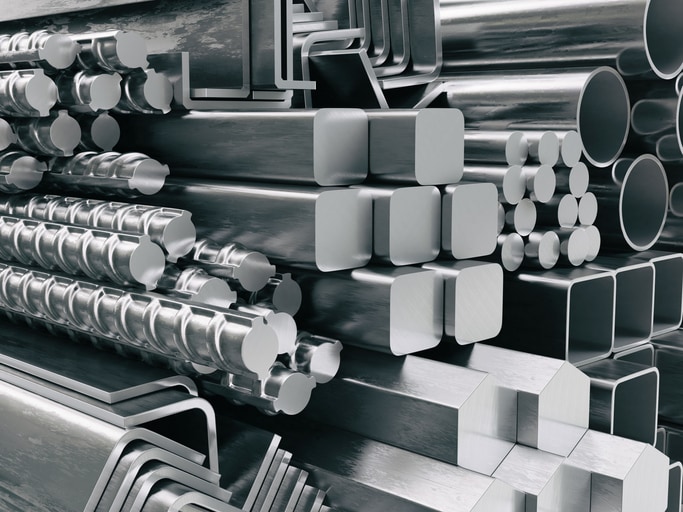 Stainless steel is one of the most versatile and widely used materials, valued for its strength, durability, and rust-resistance in nearly any environment. Stainless steel gets its anti-corrosive quality from chromium and requires no paints or coatings to maintain its sheen. As discussed in a previous post, "stainless steel" is a generic term referring to a variety of steel types. This article expands upon the many types and grades available.
There are more than 100 different grades of stainless steel to meet the huge range of applications for which it is used. These various grades are created by adding with alloys such as silicon, nickel, carbon, nitrogen, and manganese in addition to chromium to add properties such as heat resistance, strength, flexibility, and ductility.
The multitude of stainless steel grades are grouped into five primary classifications.
Austenitic is the most widely used type of stainless steel. It has excellent corrosion and heat resistance with good mechanical properties over a wide range of temperatures.
The grades of austenitic steel include the 200 Series, which are alloyed with chromium, nickel, and manganese, and the 300 Series, which are alloyed with chromium and nickel. The 200 Series are commonly used in washing machine tubs and structural applications. The 300 Series are typically used in pots and pans, food equipment, chemical equipment, and architectural applications.
Type 304 is the most widely used austenitic steel. It is sometimes known as 18/8 stainless because it is made of 18% chromium and 8% nickel. Grade 304 is easy to form and weld and is readily brake or roll formed into a variety of components for applications in the industrial, architectural, and transportation fields. This grade is the material of choice in drawn stainless parts such as sinks, hollow-ware and saucepans.
Ferritic stainless steel has similar properties to mild steel (carbon steel, the most common steel) with better corrosion, heat, and cracking resistance, although it is not as corrosion resistant as the austenitic grades. Ferritic steel includes the 400 Series and is made with chromium ranging from approximately 12-30% and little or no nickel. Specialty grades often include molybdenum, aluminum and titanium.
Ferritic steel is generally easy to form and machine for thinner gauges and is commonly used in automotive exhaust systems, appliances, boilers, cooking utensils, and indoor architecture. The most commonly used ferritic steel is type 430 and in some applications, this grade can be used as a replacement for austenitic grade 304. Type 430 is often found in washing machine drums, kitchen sinks, cutlery, indoor panels, dishwashers and other cooking utensils.
Martensitic stainless steel is very hard and strong, though it is not as resistant to corrosion as austenitic or ferritic grades. It also classified as the 400 Series and contains approximately 13% chromium. Martensitic steel was developed to be hardened by heat treating for applications where hardness, strength, and wear resistance are required. Martensitic steel is used to make knives, fasteners, surgical equipment, and turbine blades.
Duplex stainless steel is a composite of austenitic and ferritic steels, and typically contains 22-25% chromium and 5% nickel with molybdenum and nitrogen. Duplex steels are both strong and flexible and are used in the paper, pulp, shipbuilding, and petrochemical industries. Newer duplex grades are being developed for a broader range of applications.
Martensitic or semi-austenitic steels can also be classified as precipitation hardening stainless steels. These steels are made to be extremely strong with the addition of elements such as aluminum, copper and niobium.
The strength and hardness of stainless steel is an advantage in many applications, but the downside of adding strengthening alloys is poor machinability, meaning the material is difficult to cut and wears down the tooling. Generally the austenitic steels, specifically grade 304, are the easiest to machine but still must be measured to precise thickness specifications in order to perform well in the finished product. An excellent way to accomplish this is by processing the material through a cold rolling mill.
Cold rolling is a metal forming process in which a sheet of metal is pressed through a pair of rolls to reduce thickness, increase strength and improve surface finish. Cold rolling mills rely on x-ray based thickness sensors for accurate, real-time measurements to ensure the stainless steel is on spec. The variety of alloying elements in the steel makes x-ray thickness gauge measurement challenging because the alloying elements absorb the x-rays at different rates.  Therefore it is very important to know the precise chemistry of the metal being rolled.  This relationship makes it important to have both accurate elemental analysis and good alloy compensation.
Read this paper to learn about a cold rolling mill operated by an x-ray-based thickness sensor.
Additional Resources:

Editor's Note:  This article was originally published Feb. 20, 2014, but was updated in January 2023 and outdated links removed.