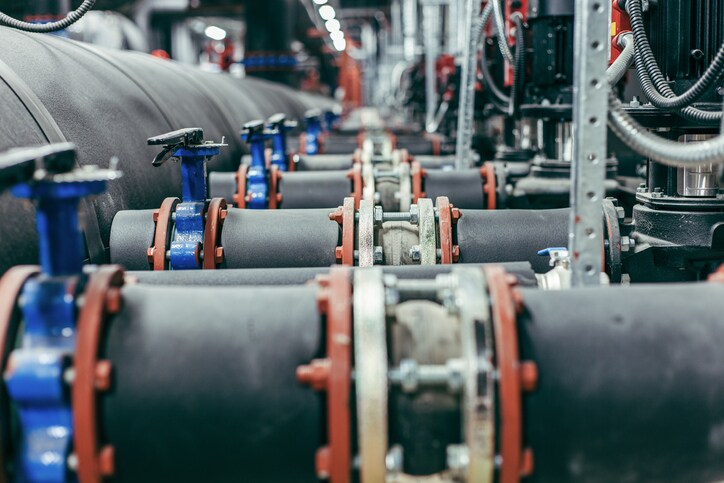 And Why Did The Guidelines Change?
The American Petroleum Institute (API) is a trade association in the oil and gas industry that (among other things) develops standards to enhance operational and environmental safety, efficiency, and sustainability in the oil and gas industry. There are more than 700 standards and recommended practices that affect the petroleum, natural gas, and petrochemical equipment and operations.
The Recommended Practice 578 (API RP 578) provides the guidelines for a material and quality assurance system to verify that the nominal composition of alloy components within the pressure envelope of a piping system is consistent with the selected or specified construction materials to minimize the potential for catastrophic release of toxic or hazardous liquids or vapors. This verification practice of materials is known as Positive Material Identification (PMI).  API RP 578 3rd Edition updates the previous recommended practice.
Why did it change?  What most people really don't realize is that within the American Petroleum Institute, recommended practices and standards are revisited every five-years by specific committees. New technology, changes in enforcement of OSHA regulations, and new recommendations of the U.S. Chemical Safety Board make it necessary to update the standards.
After revisiting API RP 578, the committee recommended four major updates.
First, the title itself changed.  The word "Pipeline" has been replaced with "Assets," so the new title reads, "Guidelines for Material Verification Programs for New and Existing Assets." This change was important, because now all oil and gas pipeline components, all fabrication, all metals that are used in the oil and gas industry are considered assets. They could be bolts, nuts, or gaskets. It could be a furnace.  It could be almost anything, because if it's functioning in the oil and gas industry and should be verified, whether it's offshore, onshore, midstream, upstream or downstream, it is now covered by API RP 578.
A second change is that refractory anchors are now covered.  Refractory materials are often used in linings and can help pipes, furnaces, and other assets maintain chemical and structural integrity at extreme temperatures.  The refractory anchors — which can be in the form of wires or other small fasteners — must be able to support extreme temperatures and be weldable to the assets themselves. Think about it. These are welded inside a big vessel to put in a furnace, for example, to attach fiber on it or put bricks in the vessel for insulation.  The heat can reach 1000 degrees or even 2000 degrees. Yet, these refractory anchors were never required to be tested before. It makes sense to add them.
A third change is the addition of a new technology for metal analysis, Laser Induced Breakdown Spectroscopy (LIBS).  Handheld LIBS analyzers work by using a high-focused laser to ablate the surface of a sample. A plasma is formed consisting of electronically excited atoms and ions. As these atoms decay back into their ground states, they emit characteristic wavelengths of light, or "unique fingerprints." These "fingerprints" are distinct for each element, making handheld LIBS analysis an excellent tool for quantitative and qualitative measurements. LIBS has the ability to detect carbon, including low levels of carbon. With different calibrations, it's possible to verify carbon steel, a low alloy steel, and a stainless steel — something XRF technology, which is used extensively throughout the industry, cannot do.
The fourth major change is the use of the word "shall" to replace many of the "should," "may," or "must" statements. The U.S. Chemical Safety Board requested the committee change the terminology to help ensure that the standard is followed.  Some people interpret the word "shall" to denote the minimum required. However, in this instance, "shall" means you have to do it, it is a must. A 'should' could mean could or could not. A may, a possibility, may or may not. A can is really a statement that is a probability. So "shall" means you've got to do it.
Where is the first shall? The very first shall is in the general statement of material verification program: "The owner user shall establish a written verification program for all types of positive material identification…" They must do it.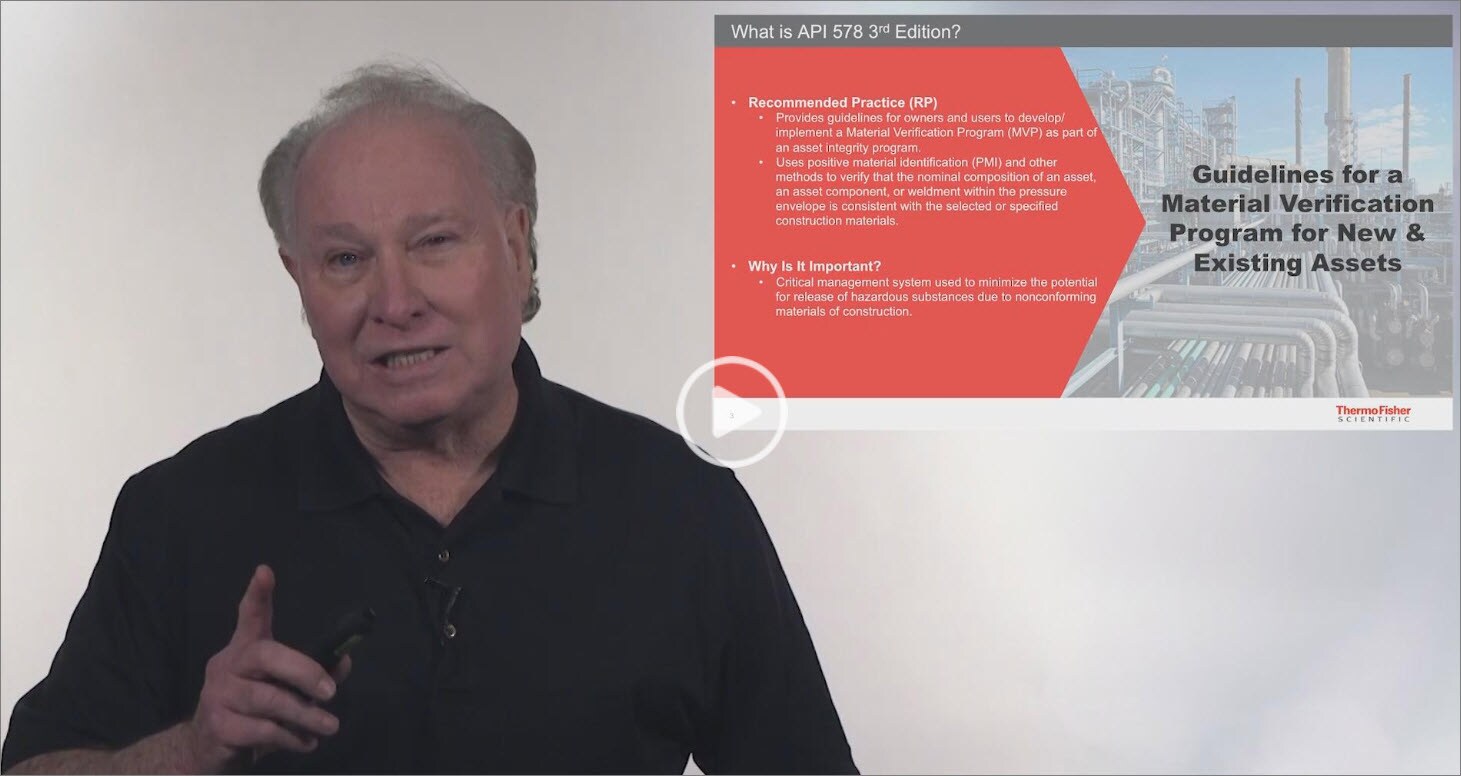 Editor's Note:  These changes are covered in a free webinar: API 578 (3rd Edition) – Guidelines for a Material Verification Program.  View this webinar to learn how to develop a material verification program meeting the newest requirements established by the American Petroleum Institute for recommended practice 578 (3rd edition). You'll receive an update of who and what is affected, learn about key changes, and acquire insight into need to know terminology.
Additional materials:
Additional Resources: