Editor's Note: In one of our previous articles about gold plating, Calla Gold, a Santa Barbara jeweler specializing in custom jewelry design and jewelry repair, described gold plating and its best practices. We got a follow-up question from a reader. Here's the question and author's answer:
QUESTION:
Our reader, Ricky, asked for some advice regarding gold-plating. Here are his comments and questions:
I have some gold plated cutlery in a gift box. When i opened the box, to my horror, I saw that the gold cutlery had a layer of white substance on it. We tried cleaning the white layer of substance away; however even after cleaning the white substance away there are obvious marks on the knife, and because the marks seems to be lighter, there now appears to be two tones of gold on the knife. So, first, can you explain why there is a layer of white substance on the knife, and then answer these questions:
Is there any way that we can clean away the layer of white substance?
Will the white substance resurface again after the cleaning?
How can we get rid of the marks on the knife?
ANSWER:
Thank you, Ricky, for your question. I consulted with my gold-plating expert and we have come up with some answers for you.
It looks to me like this is a mystery of the "cloudy" plating because there could be several variables involved. If the plating bath is out of balance you can sometimes get this effect. It could also be that there is residue from the previous plating bath that wasn't completely rinsed off before going into the final gold bath.
Keep in mind that the factories that provide plate items like this are producing thousands of items a day and many of their systems are automated. Sometimes systems fail or problems are not corrected in time. Every time you plate something you are taking metal, brighteners, and additives of various kinds out of the plating baths. All of these elements and chemicals must be replenished periodically or problems like yours can arise. In many cases, the additions are automated as well, but a human has to monitor the process. If an alarm goes off that says "add more gold" but no one is paying attention or they are short on funds, the additions aren't made.
It could also be a case of dirty rinse water. As we have outlined in our previous article, plating is done in stages. The first is cleaning, which is usually followed by a copper or nickel under plate. If the rinsing between stages is not done well, then impurities are "dragged" into the next plating bath. At some point the impurities become too great and problems arise.
So in my opinion, and without holding the actual items in my hand for a closer review, it is a plating issue.
What can you do now? I would start with using a new jeweler's cloth or rouge cloth and try wiping the areas. You can try a damp micro fiber cloth as well. If that doesn't have any effect then it's definitely a plating issue and you are looking at polishing and replating. That will make the mystery cloud vanish!
I hope this helped solve your problem.
Is it Really Gold?
As you can see, the naked eye may not be able to tell exactly which metal makes up a piece of jewelry or piece of cutlery. Is it solid gold, plated, or a different metal altogether? What metal comprises the plating? What metal is underneath? What if it was made with a toxic metal like lead? To be absolutely sure of the content and value of the precious metals you buy, use, and sell, you can utilize x-ray fluorescence technology. XRF precious metals analyzers are fast, simple, nondestructive solutions for metal analysis. You can measure the content of all gold and precious metals, as well as determine the presence and concentration of other trace, alloying elements, and dangerous heavy elements, which could impact health and the valuation of your pieces.
Anyone else have questions? Comment below.
About the Author: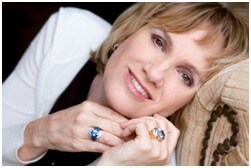 Calla Gold, owner of Calla Gold Jewelry, has been a Santa Barbara personal jeweler since 1983, specializing in custom wedding ring design, jewelry repair, ring resizing and antique jewelry restoration. She is a contributor to MJSA (a leading resource in jewelry making and design). For more information on Calla Gold Jewelry, visit www.callagold.com