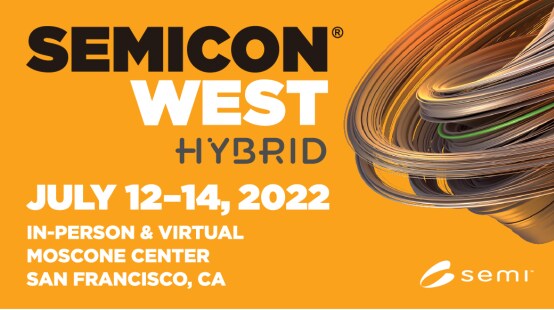 I recently attended the SEMICON WEST 2022 show, which was held in beautiful San Francisco, CA at the Moscone Center. There were about 10,000 participants and 370 exhibiting companies and I found this event to be a terrific way to network, interact, and learn about all of the exciting recent developments in the semiconductor industry.
A new addition to the event this year were the Pavilions exhibits, each focused on an important theme or key area of the industry. Here are some of the highlights of the presentations and exhibits I attended….
With the unprecedented geopolitical activity and renewed government support prompting a revival of US based manufacturing, general semiconductor market speculation was a focus topic of executive panel discussions. The panelists discussed that while the market is considered to be mature, it also is growing and changing. The semiconductor market bulls claimed that the market will continue to grow because of three reasons. First, because it is a very profitable market with a gross margin of about 50%. Second, differentiation is key for success, and it is an innovation driven industry. Third, the current pricing power is in the manufacturers favor, and semiconductor CEOs are being pushed towards a value pricing scheme to protect gross margin. The semiconductor market bears argued that although there is high gross margin, there is a high level of risk as well because some semiconductor companies will inevitably fail. There was discussion about the current geopolitical climate being hostile and supply chains being unstable, and that any interruption could severely cut into forecasted revenues and lower market valuations, severely threatening such a capital intense industry.
There was also talk that with new government assistance, like the Chips Act which passed recently, that semiconductor will be quickly advancing into markets like edge computing, supercomputing, and improved processing power.
I found the Smart Manufacturing Pavilion to be remarkably educational. They taught best practices for the smart manufacturing ecosystem and how to apply this strategy throughout a fab. I learned about the applications pertaining to the critical subsystems in the subfab and clean room to improve metrics and drive improved yield. Experts explained how smart manufacturing is being applied to supply chains to alleviate the semiconductor supply chain crunch by utilizing digital twin modeling to optimize capacity and material workflow. The integration of Artificial Intelligence is becoming crucial to being able to quickly analyze and react with the huge amounts of data being collected by every sensor within the fab.
Those who stopped by our booth learned about Atmospheric Pressure Ionization Mass Spectrometry (API-MS) technology used by our gas analyzers to perform routine continuous measurement of contaminants including water and oxygen to single-digit ppt levels. Unfortunately, gas impurities could be detrimental to the semiconductors and the products they are used in — like smartphones and other electronic devices.   Impurities can affect the integrity of the product and cause processing and performance issues.
Ultra High Purity (UHP) electronic gas analyzers offer a cost effective alternative to conventional quality control techniques allowing each bulk gas to be monitored for a range of potential contaminants, while achieving lower detection limits. Because these analyzers can provide fast online measurement, immediate response to gas supply upset conditions can be attained.
The Smart Mobility Pavilion was also fascinating and enjoyable. Speakers focused on the topic of making autonomous vehicles safe and secure. It was noted that many critical areas still need to be analyzed, such as the refining of technological and regulatory landscapes to advance mobility.  Several presentations addressed the dependability and trustworthiness of autonomous vehicles, and how although many of the AI powered autopilots being developed are focused primarily on software challenges, they are built on hardware which will also need to evolve to achieve those goals.
The event website notes that the power of SEMICON West comes from the diverse market segments that encompass the microelectronics supply chain. I found the power to be in the people attending and educating.  Being at this high energy, innovation focused event is always an exciting and enlightening experience.  I am already looking forward to next year.
Additional Resources: