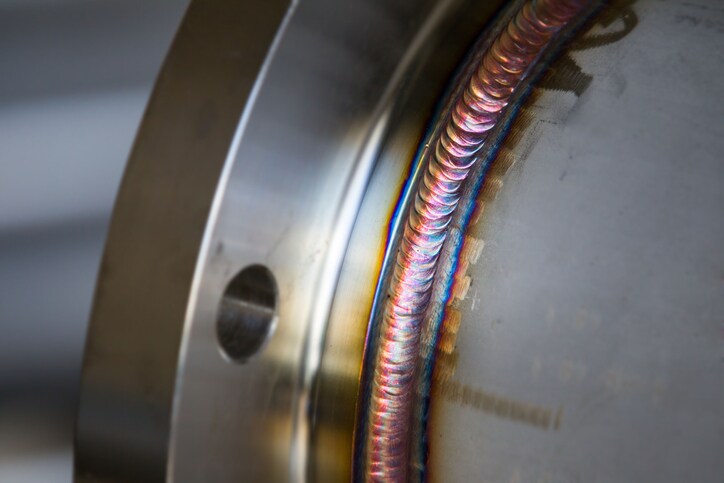 I spend a great of time in the field with customers. That 'field' could be the manufacturing floor where metal parts are being fabricated, or at pipelines in oil and gas operations. Both types of locations utilize handheld XRF analyzers for Positive Material Identification (PMI). PMI involves quality assurance of metals and alloys used in the manufacturing of the product and helps ensure the integrity of pipelines and critical metal assets.
I recently visited a fabricator who needed to PMI test 5% of all parts for a particular customer.  However, there was a mismarking of some material, and the customer's specification also requires that if any part does not meet the chemistry requirements of ASTM Section II, then 100% of the parts shall be tested. Unfortunately for the fabricator, there were hundreds of parts to the finished product– some of which couldn't be seen – that included dozens of fabricated demister pads – totaling thousands of PMI analysis 'shots.' Demister pads are used for removing entrained liquid droplets from a gas stream, and are usually found in critical process equipment, so verification of the metal is crucial to the integrity of the product, and ultimate safety to the workers.
For the inspection company in charge of PMI, that additional 95% burden in change of work scope could have been disastrous, but because they used the latest handheld XRF technology, they could perform the PMI quickly and accurately.  That time saved could be passed on to the paying customer.
10 Examples as to Why PMI is Needed
As we mentioned in an article we published last year, Why PMI (Positive Material Identification)? , mismarking of material is actually more common than you might think.  In fact, industry reported data suggests a probability that as much as 3% of rogue material will make its way into critical process equipment. Whether it's because of a machine stencil, machine stamp or any manual process – it happens and there are consequences. Here are 10 examples as to why PMI is needed.
Component manufacturer applies the incorrect material stamp
Fabricator uses unmarked, unknown material
Material traceability is not maintained during fabrication
Warehouse stocks inventory in the wrong location
Welder uses incorrect filler metal, improper stocking, marking, labelling
Welder or pipefitter selects the wrong component during fabrication process
Mill test report (MTR) compromised during the procurement and supply cycle
Maintenance outside normal operating hours not subjected to typical inspection
Improper tagging or marking of materials during maintenance removal
Lack of material verification prior to component re-installation
This visit reminded me of one of the earlier retro projects I worked on at a major oil refinery that had a 3% PMI reject rate.
PMI of Welds Could Help Avoid a Catastrophe
Of the 19 welds reported on, 6 were carbon steel vs. 9 chrome (32% failure).  Each weld joined 20" XXH (extra extra heavy) pipe that requires an immense amount of man-hours to fit and weld.
After advising the inspection team and engineers of the findings, the crew performed UT thickness measurements at the weld boundary and found severe wall loss from general corrosion.
Due to the service media being liquid hydrocarbons and the plant being located in a high consequence area with a dense population in a major city, an emergency team was deployed to install temporary pipe clamps to restore some integrity to the asset and prevent a catastrophe.
It was quite an undertaking to witness and I can't imagine how much of an investment it took to cover the immediate actions, plan a shutdown, purchase new inventory and replace all sections. And this was just one finding in the PMI report.  There were 20+ more with similar results.
This was a sobering reminder of the importance of ensuring the integrity of your pipelines and critical process equipment.  PMI on all equipment, including each fabricated piece, has a major impact on keeping the industry and community safer.
About XRF Technology
If you are not a scientist, and want to learn more about XRF technology, then this free eBook – XRF in the Field: XRF Technology for the Non-Scientist – is for you. It is written by an expert in X-ray fluorescence (XRF) techniques, and explains the technology in an easy-to-understand manner. Some of the topics covered include:
The basics of XRF and how it works
Benefits of XRF
Strengths and limitations of portable analyzers
Applications of portable XRF technology
Additional Resources: