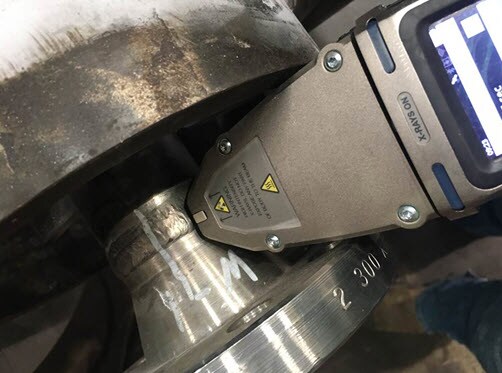 As we learned in a previous article, Why PMI (Positive Material Identification)?, oil and gas pipeline networks are susceptible to mechanical failures due to age and corrosion, among other factors. When these pipes crack and leak, the results can be disastrous.
Ensuring that piping and equipment is fabricated with the correct metal alloys is one way to help prevent pipe corrosion that can lead to mechanical failures. In-situ alloy steel material verification using portable XRF analyzers confirms that correctly purchased materials are received; establishes QA/QC for in-process fabrication; meets end user material requirements of outgoing products, and helps ensure that installed components and welds match the engineering design and application for which they are intended.
So when would XRF analyzers not be helpful? When you don't have the right instrument and the nose of the analyzer cannot reach the weld.
It can be difficult to get inspection equipment into these tight spaces, so you have to make sure that before you purchase a handheld XRF analyzer, it is sized for the job. Is the analyzer nose small enough to reach the welds, not just the pipe itself? There cannot be 100% PMI of critical materials if the weld metals and alloys cannot be confirmed.
For example, I recently encountered this situation at a local manufacturing facility that supplies equipment for refineries. The below above shows a Monel 400 nozzle (pipe, weld, flange) protruding through a skirt. Monel is a nickel-copper alloy with high tensile strength and resistance to corrosion.
The skirt, in this case, is a piece of carbon steel A106 pipe that is non-pressure retaining and this is one subassembly of a very large pressure vessel headed to a local refinery HF Alky unit. (ASME SA106 pipe is commonly used in the construction of oil and gas refineries, power plants, petrochemical plants, boilers, and ships where the piping must transport fluids and gases that exhibit higher temperatures and pressure levels.) Hydrofluoric Acid (HF) Alkylation Units, often referred to as HF Alky units, are process units used in petroleum refining to convert isobutane and alkenes (primarily propylene or butylene) into alkylate, which is used to make gasoline.
In this case, a weld or piece of metal not made of the correct alloy could cause a catastrophic event.
If you are going to purchase an XRF handheld analyzer, make sure the analyzer is designed to be able to access the weld between the narrow space of the skirt and flange ensuring 100% PMI coverage. Some analyzers are bigger than others and would not be able to reach the targeted point.
Some instruments may have "all the bells and whistles," but if the sample is inaccessible….it doesn't really matter.