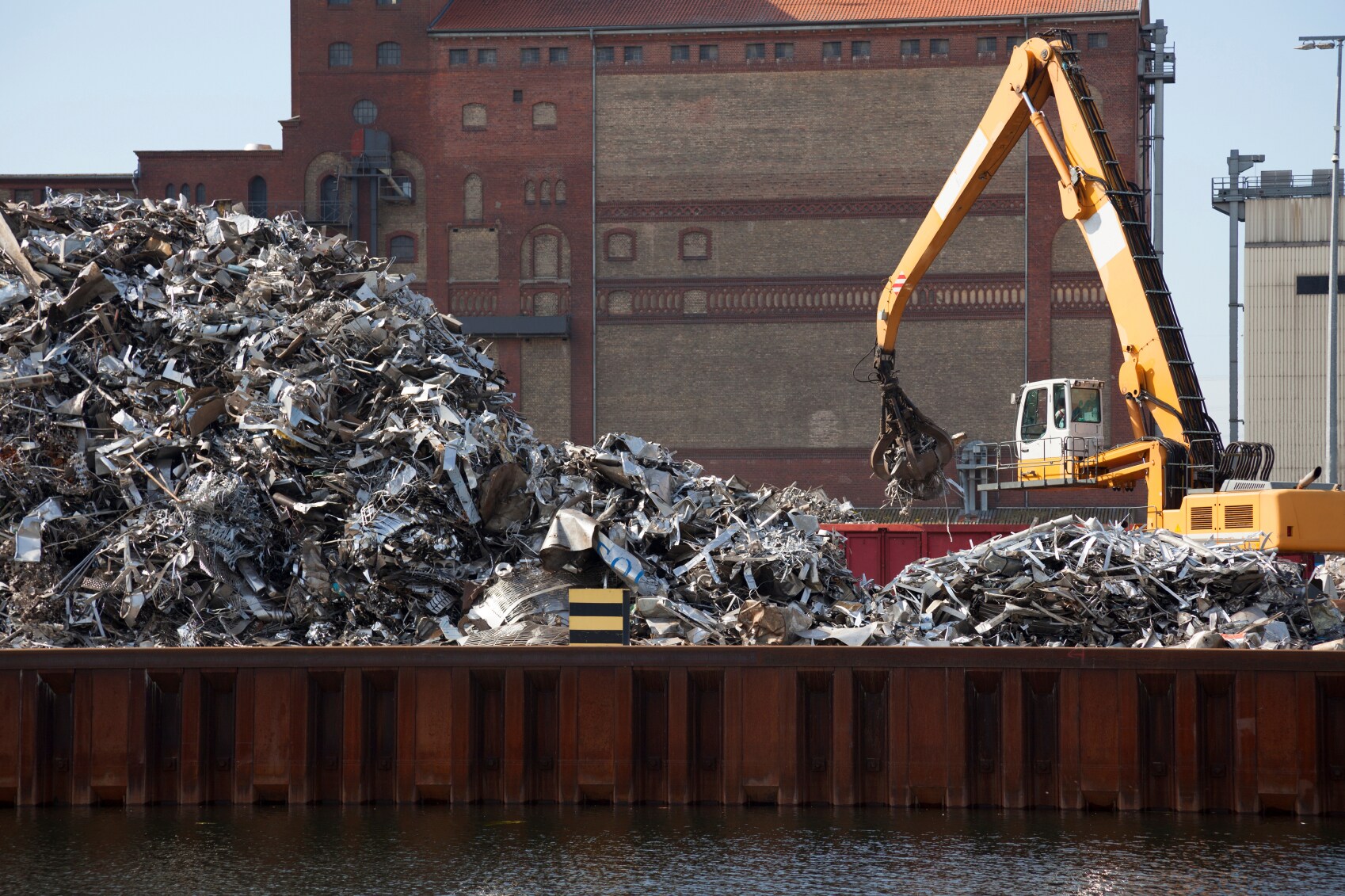 The Steel Recycling Institute (SRI) reported that steel is North America's most recycled material.  This past year alone, over 63 million tons of steel have been recycled.  SRI reports the latest figures on their website and you can see the approximations grow second by second.
Steel scrap is an essential raw material in making new steel. In fact, according to SRI, in each of the past 50 years, more than 50 percent of the steel produced in this country has been recycled through the steelmaking process. A well-established network of more than 2,000 ferrous scrap processors and more than 70 end markets help meet the steel industry's demand for steel scrap.
Those figures prove how important steel is to the scrap recycling yards. There's one problem, however:  steel scrap is usually mixed with other materials.  So how much of that scrap is not steel, and what else is it?  It could be a variety of metals.
Food cans — sometimes called tin cans, metal cans or aluminum cans — are usually made of steel with a tin-coating or they may contain some chromium or nickel.
Appliances are a major source of scrap steel and SRI reports that a typical appliance is produced using about 65 percent steel, as well as aluminum, zinc and copper.
A typical passenger car consists of about 60 percent steel and iron, and other metals.  Cars can even contain precious metals like Platinum, Palladium, and Rhodium found in their automotive catalytic converters
Many steels have coatings applied to them. A zinc coating is applied by hot dip galvanizing (HDG), a process by which the steel is passed through a bath of molten liquid zinc or zinc alloy resulting in a protective layer. Other coating materials include cadmium, aluminum, chrome, nickel, nickel-chromium, iron oxide, and silver. Coating choice depends on the type of steel, and the type of corrosion you're trying to prevent.  (See more about steel coatings.)
"Stainless" steel is actually a generic term referring to a variety of steel types. Like all other kinds of steel, stainless steel is made primarily from iron and carbon in a two-step process. What makes stainless steel different is the addition of chromium (Cr) and other alloying elements such as nickel (Ni) to create a corrosion-resistant product. (You can learn more about stainless steel in this previous article.)
With steel recycling being such an important business, scrap yards must ensure that their inventory is identified precisely and sorted appropriately.  Manufacturers who are buying their scrap will insist that the metal is identified accurately because the quality and the costs associated with manufacturing their produced goods depends on it.
17-4 stainless steel is used in the food and aerospace industries,
300 series of stainless steel will not stick to a magnet,
304 stainless steel is commonly found in kitchen equipment,
310 stainless steel is often used in high temperature equipment
316 stainless steel is used in food and boat industries
321 stainless steel is used in aircrafts and exhaust systems
400 series stainless steel contains no nickel, is magnetic, and is used for high temperatures
Accurately ID'ing the type of steel is especially important to the amount of money a scrap yard will pay for incoming metals, and charge for its inventory.  Prices for different types of metals can vary dramatically from material to material, as well as day to day.  If you check out this iscrap application page, you will see that steel scrap, especially stainless steel, is organized into different categories because different industries need certain metals to be present, or missing from the melt.
Scrap yards use portable X-ray fluorescent analyzers to identify the various elements contained in the metals and then grade and sort them appropriately.  The XRF analyzers can help determine the metal composition, discover tramp/trace elements, and positively identify numerous alloys at material transfer points to help ensure product quality.  It's a non-destructive technology, so the metals do not have to be melted down first. (If you want to know how portable XRF analyzers work, download this free ebook, Portable XRF Technology for the Non-Scientist.)
Best practices for scrap yard operations should include inspection of all metals that come into the facility against paperwork, quality checks after metals are sorted and throughout the process, and then final analysis before the metals leave the facility. In addition, the exact chemical composition of scrap, including the existence of contaminants or hazardous elements, must be determined for quality, safety and regulatory compliance. A scrap yard's reputation depends on the integrity of the metal scrap that reaches the customer.
Additional Resources: