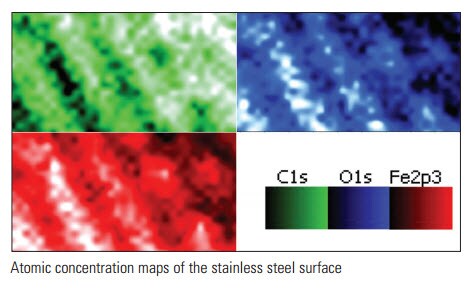 Surface analysis techniques are routinely applied to a broad range of materials, such as aluminum and stainless steel, during and after the manufacturing process. Surface analysis studies aid in the examination of how one material will interact with another. The surface finish of a material also plays a critical role in properties such as chemical activity, adhesion, wettability, electrostatic behavior, corrosion resistance, bio-compatibility, and other factors which determine how the material will perform in various applications including medical implants, electronics, semiconductor devices, and magnetic media.
Uncovering hidden manufacturing or process failures
Ensuring a surface is free from contaminants is extremely important in guaranteeing that materials such as steel meet their desired performance specifications. Surface contamination of steel happens due to manufacturing or process failures and can cause problems such as adhesion failure and contact bonding issues with the finished steel components. Surface contaminants can also result in an unsatisfactory appearance for many finished steel products such as ovens and other domestic appliances. In addition, surface contaminants are often the source of cross-contamination, corrosion, and electrical contact problems.
Many of these surface contamination issues are difficult to detect during or after production of manufactured goods using steel parts. By using a surface specific analysis technique, the cleanliness of the surfaces can be validated at each stage of the manufacturing process. Post manufacturing analysis of non-performing parts can also be carried out to determine failure mode. X-ray Photoelectron Spectroscopy (XPS) is the ideal analytical method for the identification and mapping of surface contaminants, even when present in low concentrations, because it combines quantitative elemental and chemical information with extreme surface sensitivity. XPS works by irradiating the surface of a material with x-rays and detecting the electrons that are ejected from the surface.
Common stainless steel contaminants
According to an article on AZOM, stainless steel surfaces are often contaminated by mild steel, chloride (salt), and carbon during fabrication and shipping. These contaminants damage the protective oxide surface layer of the stainless steel. The major causes of mild steel contamination include tools and grinding dust produced by using power tools, and by exposing unprotected stainless steel to other equipment used on mild steel. Chloride contamination can result from exposure to hydrochloric acid and salts used in or to clean concrete floors, as well as various sources of environmental contamination. Carbon contamination can happen when stainless steel is welded to carbon steel, or exposed to soot, bonding agents, organic matter, paper and oil films during heat treatment or gas welding.
Read XPS Analysis of a Surface Contamination on a Steel Sample learn about an experiment and results using an XPS instrument to acquire elemental maps to identify the spatial distribution and chemical nature of the contamination on a stainless steel sample.