Stephen Moss, the ISRI2018 Convention Chair, proclaimed that this year's event will be the largest convention in years. I can hardly wait!  ISRI is the largest recycling event in the world where attendees can listen to industry experts on everything from improving processes in their yards to global trends in metals prices, participate in workshops, and as you'll read below, will also be able to play a scrap metal video game on the show floor while visiting the exhibit booths showcasing all the latest technologies.
On the metals side of recycling, ISRI offers two important divisional topics:  ferrous and non-ferrous.  These two divisions provide "Spotlight" forums where processors and consumers of Ferrous, Aluminum, Copper, and even Electronics scrap may exchange pertinent information, discuss and respond to emerging issues, and stay abreast of domestic and global economic developments and markets.
Another interesting and informative topic addressed by ISRI, is the Materials Theft Task Force Division.  This task force oversees ISRI's work on the issue of materials theft. We've written in the past about our concerns with scrap metal theft, especially stolen catalytic converters.  Catalytic converters – which contain precious metals — appeal to thieves because they generally cannot be traced back to a particular vehicle.  It's a double concern to scrap metal recyclers – they don't want them stolen from their yard, and they don't want to accept them if they are stolen.  I'm looking forward to find out what new information is available from the task force.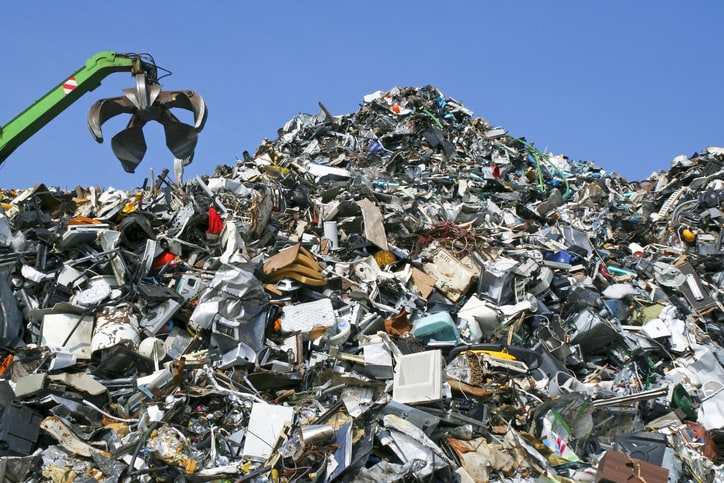 There will also be plenty of information about the newest equipment and technology in the industry. There will be about 300 exhibitors on the show floor – all displaying their latest product offerings.  Most attendees consider ISRI their one-stop shop for all things scrap recycling. Everything from large scrap-handling equipment to portable XRF devices will be available for conference-goers to browse and learn more. My colleague, Pamela Nafsinger, said that it is pretty impressive to see the enormous trucks, cranes and machinery that are brought into the conference area and displayed – all under one roof.
At the Thermo Fisher Scientific booth, we will be demonstrating one of the smaller items – handheld XRF analyzers – at Booth 1837. They may be small, but they are certainly powerful, and they are an essential part of the metal recycling industry. Handheld XRF analyzers for metals analysis can verify elements of interest in virtually all types of metal alloys, from trace levels to commercially pure metals.  They are also capable of distinguishing alloy grades that are nearly identical in composition to one another.  This helps ensure accurate sorting and helps guarantee product quality, which affects pricing and the scrap yard's bottom line.
Another metal recycling facility concern that will be discussed at our booth is the possibility of radioactive substances buried in the scrap heaps.  Medical diagnostic and monitoring equipment use radiological sources.  Industries that make certain batteries, non-stick cookware, wrinkle-resistant fabrics, reflective signs, paper products, and many, many other products utilize radioactive substances and equipment that contain radioactive sources. Academic and scientific institutions use nuclear materials in their work.  When these items are improperly disposed of, they could end up at your facility. Automatic Scrap Monitoring Systems can monitor vehicles entering the scrap yard; in fact, there are several different places in a recycling yard where radiation detection and monitoring equipment can be used.
If you want to learn more about metal analysis, make sure you attend the presentation that will be given on Thursday, April 19th from 1:30pm to 2:45pm, "Understanding Sorting Technology and Metals Identification".  In this session, XRF analysis expert Jim Pasmore will lead the discussion of the different technologies available today for identifying and analyzing scrap metals.  The focus will be heavy on technology, and you may learn a thing or two in this one session that will make your whole trip worthwhile!
Don't Miss Playing our ISRI Video Game:  "Scrap Zap"!
If you want to take a break and have a little fun on the exhibit floor, we will be offering video game play at our booth as well.  Stop by and "zap the scrap"!  Earn virtual dollars by zapping pieces of falling scrap.  Different metals earn different points; avoid the tires or wood as points will be deducted!  Get to the booth early, so you don't have to wait in line to play the game, which can be addicting.
If you're at the show and have some extra time, there are plenty of things to see and do on the Las Vegas strip, and in "old Las Vegas" on Fremont Street. Some of the area's popular tourist attractions include the Mandalay Bay Shark Reef Aquarium, Bellagio Fountain fireworks, the High Roller ferris wheel, the Grand Canyon/Hoover Dam Helicopter Tours, and the Viva Vision light shows and zip-lining at the Fremont Street Experience.  There are also plenty of food establishments from which to choose.  Pam especially likes Carson Kitchen in Old Las Vegas that serves lots of imaginative small plates. I tend to visit Battista's Hole in the Wall.  It is just "off the strip" and features an "interesting" atmosphere with great Italian food at non-Vegas prices.
If you can't make the show, but are still interested in learning more about metal recovery within other specific industries, read our blog articles on processing scrap from catalytic converters,  recovering rare earth material from complex electronics, and breaking down decommissioned naval ships.  You can also follow the show happenings on twitter using #ISRI2018 .
Hope to see you there.
Event Details:
ISRI 2018 Convention and Exposition
April 14 – 19, 2018
Mandalay Bay Resort and Casino
Las Vega, NV USA
Booth 1837
Jim Pasmore presentation: "Understanding Sorting Technology and Metals Identification"
When: Thursday, April 19, 2018
Time: 1:30pm to 2:45pm
Location: Breakers K-L