On October 15, Ohio State University's (OSU) Comprehensive Cancer Center (CCC), in collaboration with Thermo Fisher Scientific, hosted the Cryo-Election Microscopy for Cancer Research Workshop, where, as one of the lead conveners for this event, I had the opportunity, along with researchers from OSU, to bring together various experts to create an engaging agenda. This workshop was a key opportunity for researchers to gain insight into how cryo-EM can support cancer research, including advanced techniques such as in situ cryo-tomography as well as integrative structural biology research by pairing cryo-EM with mass spectrometry.
Ohio State University has heavily invested in cryo-EM, and its Center for Electron Microscopy and Analysis (CEMAS) is one of the first in the country to adopt a remote microscopy experience. This approach allows OSU students to learn about electron microscopy and get hands-on experience with the microscopes, making the advanced instrumentation and skilled technical support available to users in all disciplines within the university and, equally important, to industrial, academic, and government across the nation. CEMAS scientists will be conducting research using our Glacios Cryo-TEM. When the new Krios Cryo-TEM is installed in early 2019, a large portion of time will be reserved specifically for cancer research, making the content discussed in this workshop invaluable to attendees.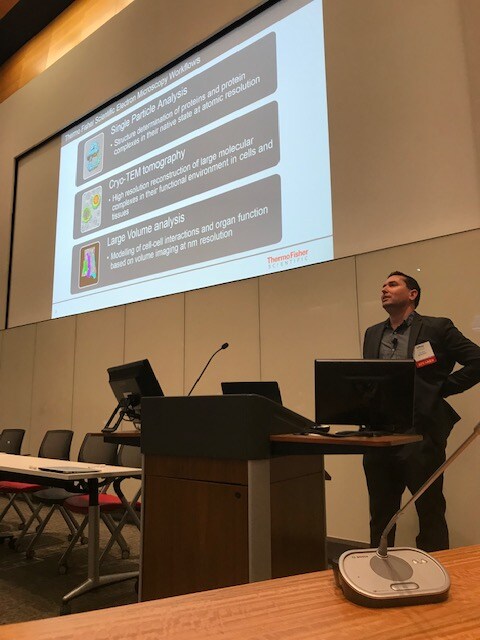 Thermo Fisher executives joined renowned scientists to share real-world applications of cryo-EM in cancer research. Presentations covered topics ranging from drug discovery to DNA replication insights and more:
Dave McComb, Ph.D., Director, CEMAS, spoke about how OSU's material science department uses electron microscopy to advance research. He also touched on the university's ambitions to develop new areas of science by pairing its materials science expertise with cryo-EM capabilities using the recently-installed Glacios and upcoming Krios.
Jeffrey Lengyel, Ph.D., Principal Scientist of Life Sciences at Thermo Fisher Scientific. As the first cryoEM presenter, I provided an overview of cryo-EM and research implications relevant to cancer researchers and biochemists.
Ben Engel, Ph.D., MPI of Biochemistry at Max Planck Institute of Biochemistry, highlighted the next area of development for in situ cryo-tomography, a technique that uses a focused ion beam (FIB) to thin cells and allows for electron tomography (ET). The process is similar to a CT scan at the cellular level and results in unprecedented resolution that can be applied to both cell biology and cancer research. In theory, this technology could be applied to a whole tumor resulting in novel discoveries in cancer research.
Huilin Li, Ph.D., Professor at Van Andel Research Institute, provided an update on his research in DNA replication mechanicary. Errors in DNA replication can have profound effects, possibly leading to cancer.
Sriram Subramaniam, Ph.D., Professor at the University of British Columbia, highlighted the applications of cryo-EM in drug discovery and how the technique is being used to identify important cancer targets.
The workshop provided participants with a better understanding of how to leverage the cutting-edge capabilities of the Glacios and Krios to further OSU's cancer research and integrative structural biology efforts.
How has your university leveraged cryo-EM for cancer research? Join the conversation and stay up-to-date on the latest announcements by following us on Twitter (@thermosciEMSpec).
To learn more about cryo-EM, fill out this form to speak with an expert.