A progressive brain disease that slowly erodes thinking skills and the ability to perform simple tasks, Alzheimer's disease can cause great distress to both victims and their family members. Today, 50 million people worldwide have dementia, about two-thirds of whom suffer from Alzheimer's, according to the World Alzheimer Report 2018. And unfortunately, the number of cases is expected to triple to 152 million by 2050.
Alzheimer's disease was first identified in 1906. Yet, over 100 years later, we still don't know what causes this neurodegenerative disease. As with any serious illness, however, the more clearly scientists understand how Alzheimer's is structured and how it functions, the closer they will be to discovering the underlying cause, developing effective treatments, and learning how to prevent or cure the disease.
Cryo-electron microscopy (cryo-EM) is opening new pathways for scientists working to advance Alzheimer's research and develop a more detailed understanding of what causes the disease and how it damages human brain cells. One recent study explores how insulin degrading enzyme (IDE) plays a key role in degrading peptides that are critical in Alzheimer's and several other human diseases.
Overall fit of human dimeric IDE structures with the electron density maps via DOI 10.7554/eLife.33572.016
Another area of Alzheimer's research is exploring how tau proteins within brain cells cease their usual protective function and aggregate to form large tangles that disrupt the shape and function of the cells, eventually killing them. Researchers believe these damaged cells cause the kind of destructive degeneration seen in the brains of dementia patients.
Using cryo-EM, researchers from the Medical Research Council's Laboratory of Molecular Biology (LMB) in Cambridge, UK solved the structure of dementia-causing tau proteins in unprecedented detail—a breakthrough that was partly responsible for Professor Michel Goedert becoming a co-recipient of the 2018 Brain Prize. Working with brain tissue from a deceased 74-year-old Alzheimer's patient, the team used cryo-EM to isolate tau proteins and explore their structure.
Using cryo-EM, researchers solved the structure of tau filament structures, rendered in blue and white in this photo. Knowing how tau proteins assemble into their filaments is expected to lead to more targeted treatment of Alzheimer's.(Source: Technology Networks)
Previous efforts to solve the structure of tau proteins were limited by technology and required proteins in much larger amounts than those produced in a diseased brain. As a result, researchers had to create proteins in a laboratory and force the filaments to aggregate in a dish. Although this work led to valuable insights, the question of whether the tau filaments aggregate the same way in a human brain remained unanswered. With cryo-EM, the LMB researchers needed far less protein, so they could take their samples directly from a diseased human brain and use them to solve the structure of tau proteins at near-atomic level.
For several decades, researchers have known that the abnormal assembly of tau protein into filaments is a defining characteristic of Alzheimer's. Understanding the structure of these filaments is seen as crucial in developing drugs that can prevent their formation.
Cryo-EM offers a clearer picture of the underlying science behind Alzheimer's. By understanding the structure of proteins in unprecedented detail, researchers can more closely pinpoint how alterations in their structures affect their function—unlocking the mysteries behind Alzheimer's and other diseases at a much faster rate than was previously possible.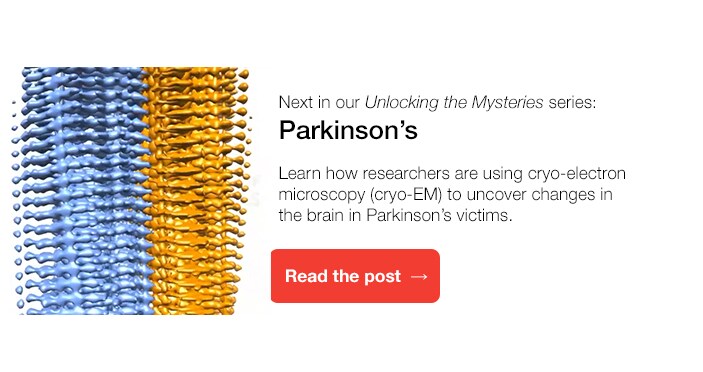 Looking to learn more about our Unlocking the Mysteries blog series? Stay tuned for the next post in our blog series, where we're showing how electron microscopy is advancing science and solving some of the world's most complex challenges. Subscribe now to receive new Accelerating Microscopy posts straight to your inbox.
Gabriella Kiss, PhD, is a Product Marketing Manager for Single Particle Workflow at Thermo Fisher Scientific.
To learn more about cryo-EM, fill out this form to speak with an expert.