Influenza is oftentimes treated as nothing more than a yearly nuisance, a regrettable but unavoidable part of the winter season. In fact, less than half of Americans obtained the flu vaccine in 2018, indicating the lax attitude many have toward the disease. The flu continues to kill anywhere between 290,000-650,000 people per year. Over 100 years ago, the lethal Spanish flu devastated the world, killing anywhere from five to ten percent of the global population. Today, scientists continue to search for a "universal flu vaccine" to not only alleviate the substantial cost of yearly vaccine development but also stave off potentially another lethal flu pandemic.
How does the flu vaccine work?
The influenza virus uses a glycoprotein on its surface, called Hemagglutinin (HA), to bind to host cells; it consists of a binding "head" attached to the virus by an extended "stalk" region. The annual influenza vaccine contains these HA proteins, purified from infected samples. When they are introduced into the human body it produces antibodies specific to the HAs, thereby building an immunity for the real virus. There are several difficulties with this method. First, these antibodies bind to the head region, which is highly variable; this is the reason the vaccine must be reformulated annually. Second, it requires researchers to anticipate what variants of the HA are most likely to become prominent in the coming flu season.
The goal of most "universal flu vaccines" is, therefore, finding alternate means of halting the virus's progression.
How electron microscopy can help
The particular difficulty of studying membrane protein, like HA, is that they do not retain their native structure once they are removed from the membrane environment. Not only that, but as fusion protein, HAs are capable of significant structural change between their bound and unbound forms. HAs are also densely packed on the surface of the virus, meaning that binding involves the action of multiple HA species. Cryo-electron microscopy (cryo-EM) techniques are uniquely suited to analyze these challenging systems. By flash freezing (vitrifying) the sample prior to analysis, the entire virus is "frozen in time," allowing detailed investigation of the complex, transient structures on its surface. What follows is just a small subset of the many ways in which cryo-EM is at the forefront of influenza research.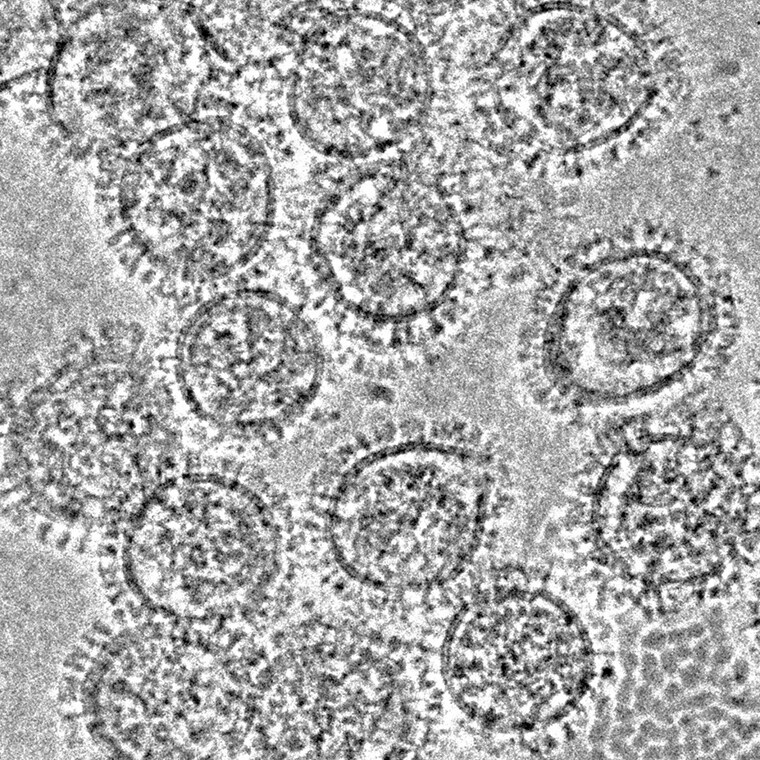 Cryo-electron microscopy clearly shows protein densely covering the surface of influenza viruses. Kosik et al., Rockefeller University Press, 2019.
Artificial HA design – Creating custom HAs, which elicit a broader antibody response, would produce a more generalized defense against potential flu variants. The structure of these "chimeric" species, which are composed of stalk and head domains from different HA types, is all but necessary to understand their behavior. Cryo-electron tomography, which produces a 3D representation through stepwise imaging and sectioning of a biological sample, can be used to obtain exactly this kind of information from viruses in their native state. A joint effort between the National Institutes of Health (NIH) and Icahn School of Medicine at Mount Sinai has used this method to determine the structure of a HA chimera that combines components of the H1 and H5 HA proteins. They found that while this artificial protein has a significantly different structure than most existing HAs it still binds antigens, highlighting the diverse range of targets to which these antibodies can respond.
Additionally, the Audray K. Harris group at the NIH has extensively studied a range of HA structures using cryo-EM tomography, not just on the virus surface but within commercial vaccines as well. They found that the proteins form starfish-like shapes comprised of numerous HA species. This is significant as some HA variants may be more or less accessible to antibodies within these starfish, leading to varied coverage. Beyond isolated HA structures they have also observed antigen binding to the protein, highlighting the technique's utility in a vaccine development pipeline (see above).
        HA stalk – While a clearer understanding of the HA head region is invaluable, it is still the most variable portion of the protein, enabling only temporary treatments. Another promising avenue of research is the development of active antigens which bind to the stalk of HA. This region is far more conserved between variants, and one single vaccine could consequently combat a wide range of influenza types. A recent study, led by researchers at the National Institute of Allergy and Infectious Diseases, found that antigens which bind the HA stalk actually interfere with neuraminidase (NA) function, a protein that is responsible for releasing new copies of the virus from the cell surface. They used cryo-transmission electron microscopy to image the entire virus surface, clearly visualizing the HA and NA proteins (see above)
The bottom line
Cryo-EM is an indispensable tool for visualizing and characterizing the various components of the influenza virus, both at a cellular and molecular level. These techniques provide an unmatched level of structural detail, helping researchers develop the next generation of treatments which may, at last, provide a long-term defense against this disturbingly persistent disease.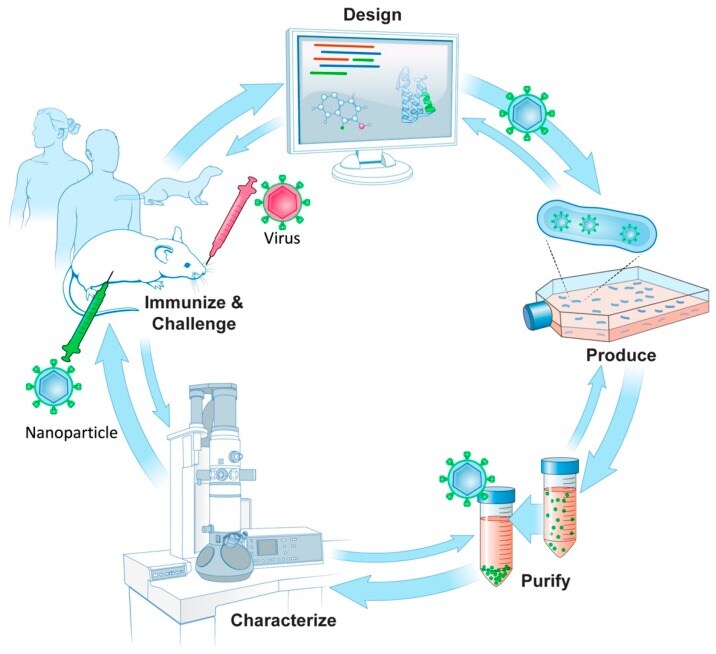 Potential vaccine development pipeline proposed by Gallagher et al. which integrates electron microscopy as an essential step to inform the design of antigens.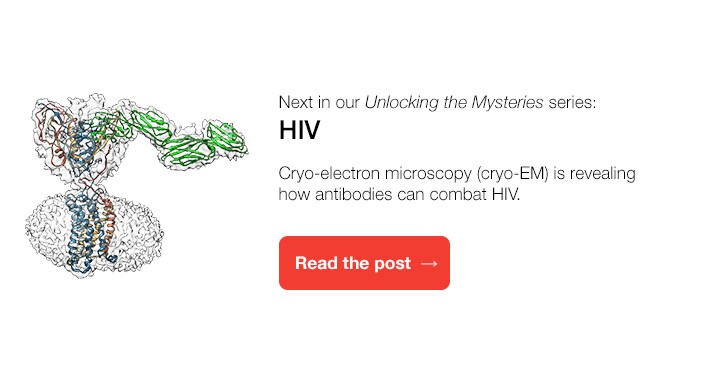 Subscribe now to receive new Accelerating Microscopy posts straight to your inbox. For more information about Thermo Scientific microscopy instruments, visit thermofisher.com/em.
Gabriella Kiss, PhD, is a Product Marketing Manager for Single Particle Workflow at Thermo Fisher Scientific.
To learn more about cryo-EM, fill out this form to speak with an expert.