Dr. Gino Cingolani, Ph.D., is a professor in the Department of Biochemistry and Molecular Biology at Thomas Jefferson University and member of the Sidney Kimmel Cancer Center at Jefferson.  A structural biologist by training, Dr. Cingolani served as an assistant professor at SUNY Upstate Medical University in New York before joining Jefferson as an associate professor in 2009. His lab studies the atomic structure of biological macromolecules to decipher their function and activity. He and his colleagues investigate how cells import proteins and pathogens into the nucleus, as well as how viruses deliver their genomes into bacteria. We talked with Dr. Cingolani to learn how cryo-electron microscopy (cryo-EM), in conjunction with an Accelerate service package, advances his research.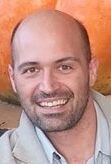 This interview has been edited for length and clarity.
 Accelerating Microscopy (AM): What is your background with electron microscopy and cryo-EM specifically?
 Dr. Cingolani: I have a M.S. degree in protein biochemistry and a Ph.D. in protein crystallography. I am not formally trained in cryo-EM. During my post-doc in the late 90s, I learned to vitrify biomolecules and do negative staining electron microscopy, although I never got to run a cryo-EM project on my own until now. I have collaborated with cryo-electron microscopists since the early 2000s and gained significant experience fitting and refining atomic models inside cryo-EM densities. I did solve many crystal structures and deposited >70 atomic models in the Protein Data Bank. I am not a microscopist by training but I am very familiar with electron density maps, the end product of cryo-EM, and have learned how to interpret them to generate an accurate and validated atomic model.
AM: When did you first think about obtaining a Thermo Scientific Glacios Cryo-Transmission Electron Microscope (Glacios Cryo-TEM)? 
 Dr. Cingolani: I had been dreaming about setting up a cryo-EM core since 2015 when I realized the cryo-EM revolution was like a train ready to hit us. I told myself, I either hop on this train or it will hit me. It wasn't until 2018 that we sat around a table and made the decision to acquire a cryo-TEM.
AM: Did you have to overcome barriers such as finding funding and convincing stakeholders?
Dr. Cingolani: The financial barrier was overcome by working with Thermo Fisher, which provided multiple solutions for buying the microscope in installments while seeking funding from NIH through an equipment grant. Convincing leadership of the importance of cryo-EM was the easy part. Everyone in academia is aware of its tremendous importance in biomedical research.
AM: What was your experience with Thermo Fisher Scientific's Accelerate support services?
 Dr. Cingolani: It definitely made our work much easier. The training was very hands-on, and we learned a great deal from Thermo Fisher scientists. Accelerate features have been very intuitive. Also, when troubleshooting is necessary, getting the microscope back into data collection mode within days, as opposed to weeks, is vital for our lab—and Thermo Fisher's team supports us to help make that happen.
AM: What are the limits of X-ray crystallography for samples such as biological macromolecules, and how did your Glacios Cryo-TEM broaden what you are able to accomplish?
Dr. Cingolani: X-ray crystallography is limited by obtaining diffracting crystals which, even in the best case, is slow and requires large quantities of purified samples. Most structures we are studying by cryo-EM either failed to crystallize in our hands or would have never crystallized due to their size, stability, complexity, etcetera. Will cryo-EM supplant X-ray crystallography? I do not think so. I think X-ray crystallography and cryo-EM are highly complementary. It is up to us to be able to use either technique interchangeably.
AM: You were able to solve multiple structures of biological macromolecules in a very short amount of time. Can you explain more about this successful achievement?
Dr. Cingolani: Working with icosahedral viruses, we realized that a whole virion can be solved in-house at close to 3.5 angstrom resolution in a matter of days with our Glacios Cryo-TEM. Smaller macromolecules take longer, of course, but it is doable. Our microscope is equipped with a Falcon 4 direct detector, which is both very fast and accurate.
AM: What is the significance of collecting this data in-house with the Glacios Cryo-TEM?
 Dr. Cingolani: Collecting data in-house essentially means three things for us. First, we acquire unlimited preliminary data for grant applications, which is vital in academia. Second, we screen specimens and easily apply for Thermo Scientific Krios Cryo-TEM time at federal facilities. Last but not least, we can visualize atomic structures in-house and immediately start testing hypotheses.
AM: What do you see in the future of cryo-EM in structural biology?
Dr. Cingolani: The future of structural biology is in integrating methodologies. Cryo-EM is critical in providing a top-down description of molecular complexes. Small pieces, the building blocks, can be filled in by X-ray crystallography and NMR.
AM: What would you say to a customer who is considering integrating cryo-EM in their lab, but may be facing barriers or uncertainty?
Dr. Cingolani: Hurry. No cryo-EM likely means no grants from major funding agencies. I encourage everyone to work with Thermo Fisher and find a financial solution that fits his or her portfolio and scientific needs.
//
>> Learn how the Glacios Cryo-TEM accelerates Life Science research here.
>> Learn more about the Thermo Fisher Scientific EM Funding Support Center here.
>> Learn how our Accelerate and Advance Service packages enhance research here.
//
Sarah Bokich is a Services Marketing Manager at Thermo Fisher Scientific.