From neurological disorders to cancer to viruses, researchers continue to search for more effective ways to prevent, treat, and ultimately cure many of the world's most complex diseases. Until recently, they had no way of viewing large protein and viral structures at the atomic level, making it difficult to understand the detailed ways in which molecules and atoms interact and function.
With cryo-electron microscopy (cryo-EM), that has changed. Cryo-EM offers powerful technologies that are helping today's research scientists unravel the complex relationships between the structure and function of diseases at the molecular and atomic levels. By enabling researchers to examine today's diseases at unprecedented resolution, cryo-EM is accelerating the path to new discoveries and potential therapies that will eventually reduce human suffering. In the last year alone, cryo-EM has led to significant research advancements around Alzheimer's, Parkinson's, Ebola and Zika.
Alzheimer's
Alzheimer's was first identified and publicly reported in 1906. According to the World Alzheimer Report 2018, 50 million people worldwide have dementia, two-thirds of whom have Alzheimer's. While the exact cause of this neurodegenerative disease is unknown, scientists around the globe are using cryo-EM to determine the molecular structure of relevant proteins to reveal promising therapeutic candidates to help them target the cause of Alzheimer's. Using cryo-EM, for example, researchers at the Medical Research Council's Laboratory of Molecular Biology, for the first time, revealed the atomic structures of tau filaments—abnormal proteins inside nerve cells that lead to Alzheimer's. Understanding the structure of these filaments is seen as crucial in developing drugs that can prevent their formation.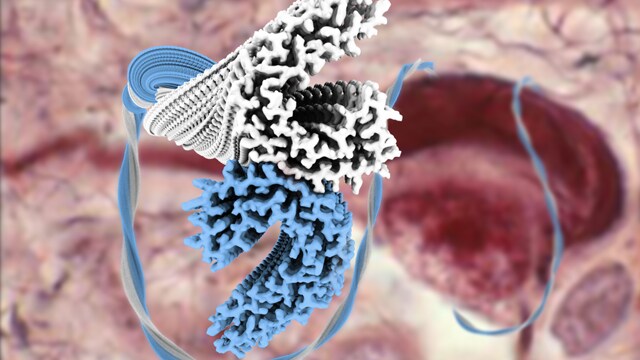 Using cryo-EM, researchers solved the structure of tau filament structures, rendered in blue and white in this photo. Knowing how tau proteins assemble into their filaments is expected to lead to more targeted treatment of Alzheimer's. (Source: Technology Networks)
Parkinson's
Parkinson's, one of the most thoroughly studied diseases in history, currently affects more than 10 million people worldwide. For those living with Parkinson's disease, damaged cells within the brain cause issues related to movement, learning, and reward-seeking behaviors. Scientists have used cryo-EM instruments to study these cells and their fibril structures, leading to a better understanding of how brain cells are damaged and how similar diseases are spread. Yet, research teams still struggle to find ways to prevent or even treat the damage. Recently, scientists at The University of Basel in Switzerland published a study about their use of cryo-EM to freeze an affected cell and capture high-resolution images of the sample without damaging it. Their research sheds light on Parkinson's progression and process in the human body, moving us one step closer to discovering how to prevent or slow the disease.
Scientists recently used cryo-EM to capture images of frozen fibrils, clusters of alpha-synuclein proteins. Discerning the structure of a fibril could help researchers better understand how diseases like Parkinson's spread. (Source: eLife via DOI: 10.7554/eLife.36402)
Ebola
Millions of people around the globe read about the tragic loss of life in the most recent Ebola outbreak in West Africa, one of the deadliest since the disease was first identified in 1976. Thanks to the latest research advancements, scientists have been able to use cryo-EM to deepen and accelerate their understanding of Ebola. In May 2018, a group of researchers from Stanford University, Washington University and Baylor University published a study that included high-resolution images of Ebola's viral nucleocapsid-like assembly. Capturing these images enabled researchers to identify a new regulatory role for the Ebola nucleoprotein and analyze a mutation that affects viral RNA synthesis, discoveries that have led to the proposal of new drugs that could target the virus.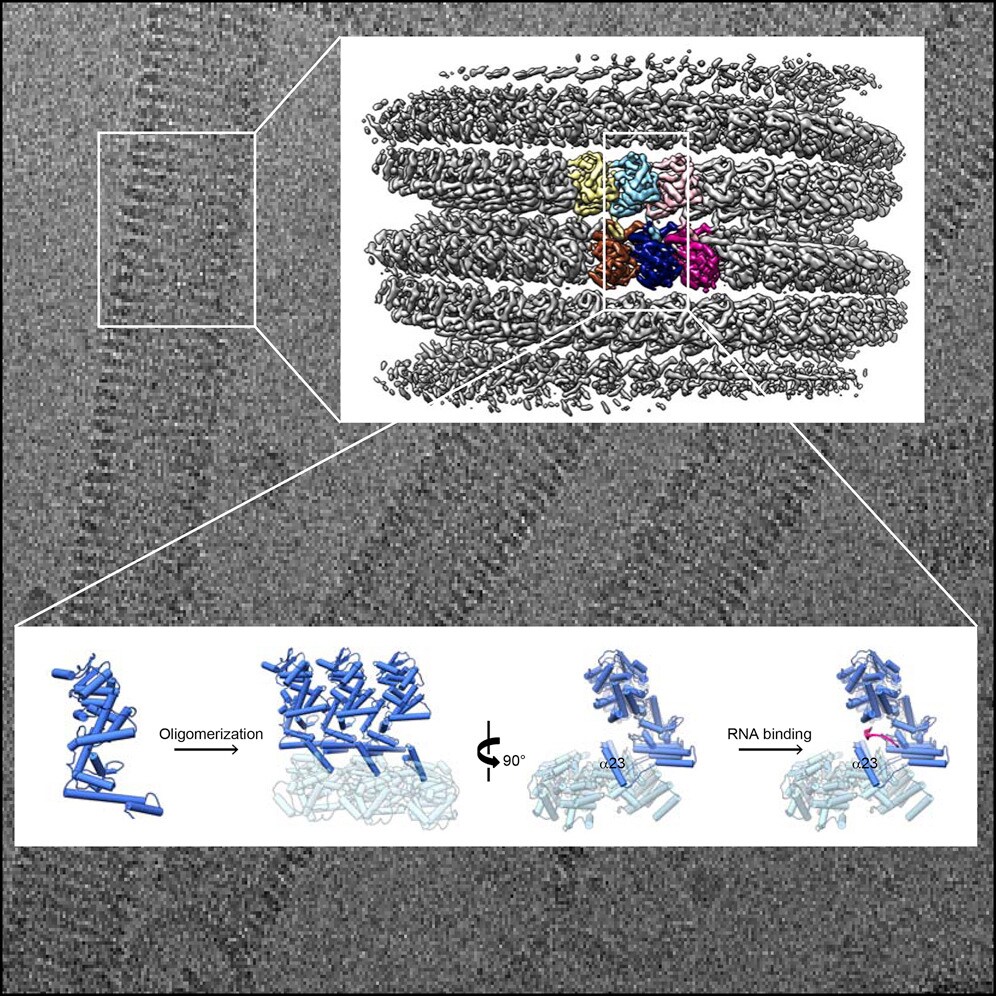 Cryo-EM helped researchers capture high-resolution images of Ebola's viral nucleocapsid-like assembly, leading to innovative discoveries and the proposal of new drugs that could target the Ebola virus. (Source: Cell via DOI 10.1016/j.cell.2018.02.009)
Zika
The Zika outbreak in February of 2016 infected millions of people, challenging the world with another major public health concern. Thanks to the remarkable power of cryo-EM, scientists have been able to visualize Zika's atomic details and the stability of its structure. Scientists at Purdue University, for example,  produced the highest-resolution image of the Zika virus to date. The team compared Zika's protein interactions with other mosquito-borne flavivirus structures and found potential drug-binding pockets. Their findings provide a foundation to help scientists design more effective vaccines and anti-viral compounds to inhibit the virus and prevent infection.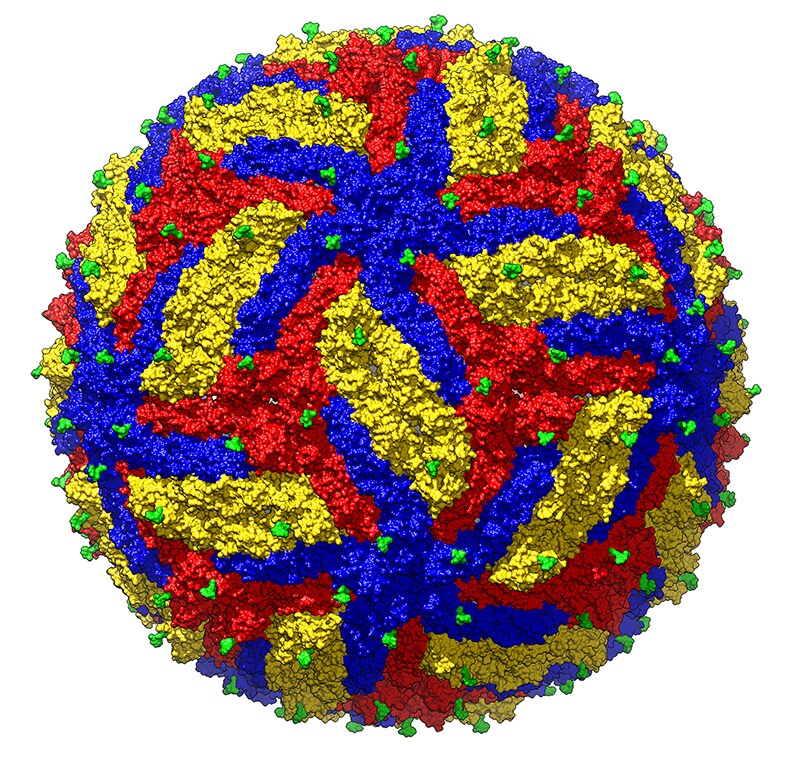 Cryo-EM structure of mature Zika virus at 3.1Å resolution. The three envelope glycoproteins are colored yellow, blue and red. (Source: Purdue University/Madhumati Sevvana)
In our upcoming series, we'll dive into the history and effects of many different diseases and update you on recent research advancements to demonstrate how cryo-EM is helping scientists better understand these illnesses, accelerating drug discovery, and enabling more effective treatments.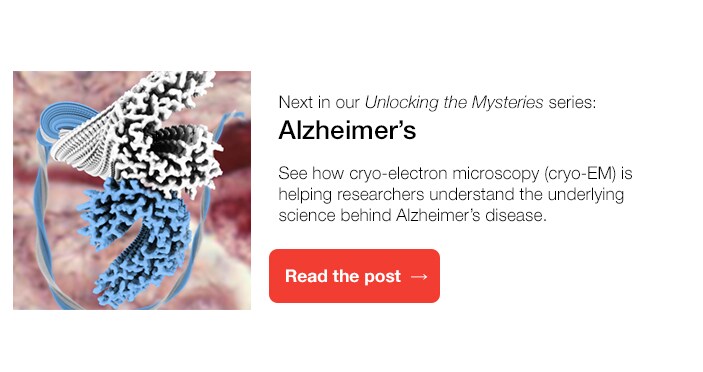 Subscribe now to receive new Accelerating Microscopy posts straight to your inbox. For more information about Thermo Scientific microscopy instruments, visit thermofisher.com/em.
Gabriella Kiss, PhD, is a Product Marketing Manager for Single Particle Workflow at Thermo Fisher Scientific.
To learn more about Cryo-EM, fill out this form to speak with an expert.