Parkinson's disease is a progressive neurodegenerative disorder that currently affects more than 10 million people worldwide, according to the Parkinson's Foundation. Although Parkinson's disease is not fatal, the symptoms are diverse and severe, ranging from tremors to rigid limbs to problems with walking and balancing. There's no single test to detect for Parkinson's and no clear indication of its causes.
Researchers do know that Parkinson's disease damages dopamine-producing neurons in the substantia nigra area of the brain, and that the damaged brain cells contain aggregates with abnormally high amounts of a protein called alpha-synuclein. It is generally believed that proteins within these aggregates cluster together into small needles called fibrils. With the help of cryo-electron microscopy (cryo-EM), scientists are obtaining the detailed imagery of these fibrils needed to determine their exact structure. With a more precise understanding of the architecture of these fibrils, scientists will better understand how alpha-synuclein damages brain cells, how diseases like Parkinson's spread, and how to prevent or counteract the damage that fibrils cause.
A team of researchers in Switzerland recently used cryo-EM to capture high-resolution images of fibrils rapidly frozen at cryogenic temperatures. The team then used computer software to process those images and create a highly detailed 3D model of the fibril structure. The model clearly reveals how alpha-synuclein molecules cluster within the fibrils to form a helix and also shows which parts of the protein stabilize the fibril structure.
Cryo-EM reconstruction of α-Syn(1-121) fibrils showing two protofilaments (orange and blue). Via eLife 2018; 7:e36402 DOI 10.7554/eLife.36402
Knowing more about the structure of these fibrils puts scientists a few steps closer to understanding where and how fibrils form, how they interact with human brain cells, and how they cause or contribute to Parkinson's disease. In addition, the Swiss researchers believe that the 3D model they created using cryo-EM could help scientists design molecules that would make it possible to use medical imaging to detect the fibrils, which could help doctors diagnose people with Parkinson's disease at an earlier stage and begin treatment much sooner.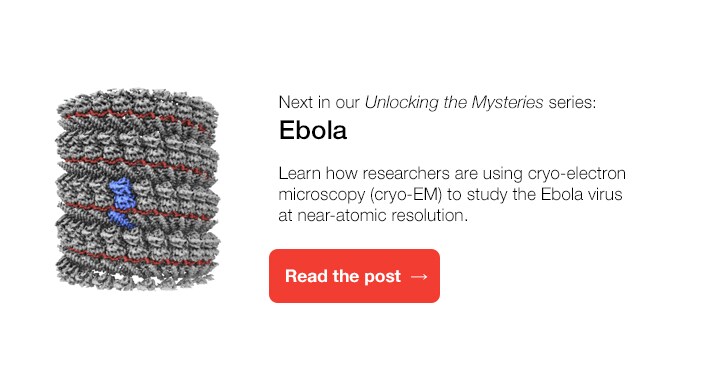 Subscribe now to receive new Accelerating Microscopy posts straight to your inbox.
Gabriella Kiss, PhD, is a Product Marketing Manager for Single Particle Workflow at Thermo Fisher Scientific.
To learn more about cryo-EM, fill out this form to speak with an expert.