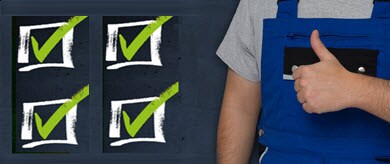 Crossbelt online elemental analyzers provide a means for reliable and accurate online analysis of bulk raw materials, including cement, coal, and minerals. Minute-by-minute online analysis of ores, concentrates and various raw materials allows accurate high frequency process control to reduce process upsets, increase throughput and maintain quality all while extending mine life.
However, moving, processing and analyzing bulk materials – like iron ore, industrial minerals, coal and raw material used to manufacture cement – makes for a harsh environment for the equipment.
It makes sense to perform regular checks and maintenance to the system, to ensure it is performing most efficiently as well as to keep in compliance with the manufacturer's warranty. Follow your manufacturer's instructions for a full list of upkeep instructions. Below is a list of 4 scheduled maintenance tasks that will help to keep your crossbelt online analyzer at optimal performance:
1. Weekly Maintenance
Check heat exchanger on electronics unit.
Clean electronics unit exterior.
Check excess material and belt misalignment switches.
Check the shield blocks and shield assembly for damage.
Check the electronics unit enclosure temperature.
2. Monthly Maintenance

Check that the belt scale and tachometer (if applicable) are working properly.
Check the slider bed for wear.
3. Six-Month Maintenance
Perform a source leak test (isotope based systems).
Measure reference standards, record data and compare to documented values and prior measurements.
4. Two Year Maintenance
Replenish Neutron Sources (isotope based analyzers).
Crossbelt online elemental analyzers are crucial to mineral processing operations so it is of utmost importance to keep them running smoothly. You don't want to be the one who causes a plant shutdown because calibration was off or there's a source leak that could have been detected with regular maintenance checks.