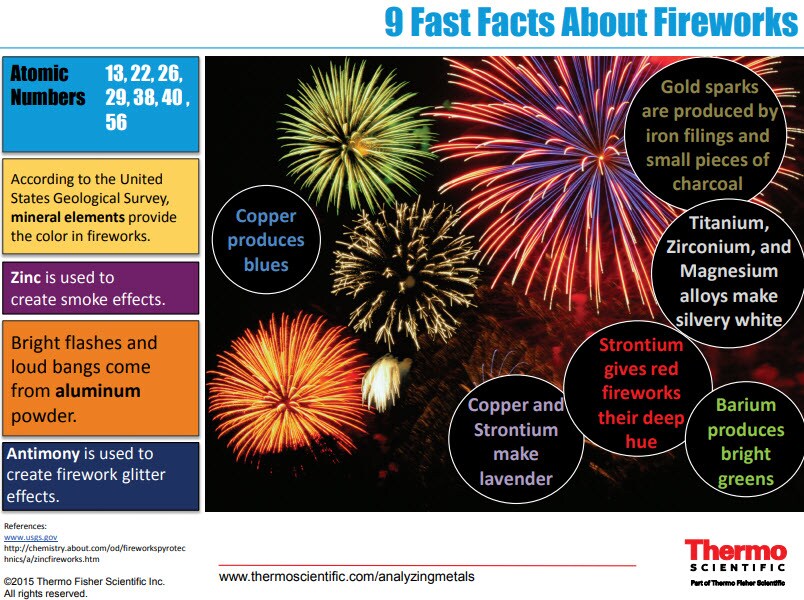 This upcoming Independence Day in the United States is going to look a little different than most. Many cities and towns have canceled fireworks, or at least the large gatherings to watch them. But I suspect there will still be plenty of those bursts of color in the air whether among large or small crowds or even individuals. If you choose to use legal fireworks or sparklers, here are some safety tips from the National Safety Council.
Just what produces those colors? According to the United States Geological Survey, mineral elements provide the color, bangs, sparkle, and flashes in fireworks. Which element gives red fireworks their deep hue? Which ones are used to create smoke effects or glitter effects? We'll give you a hint. Here are the atomic numbers on the periodic table that are commonly used for firework displays: 13, 22, 26, 29, 38, 40 , and 56.
Have you guessed? We've written about these colorful elements before, but it's always fun to remind us about the power of nature and its basic elements. Take a look at this infographic to find out 9 Fast Facts About Fireworks and the minerals used to make them look spectacular!
If you want to learn more about mining and minerals, visit the Cement, Coal, and Minerals section of our website.
Editor's Notes: