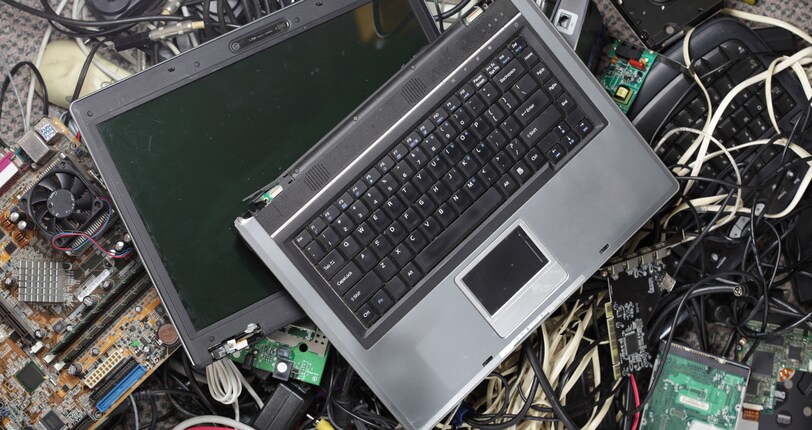 Technologies for recycling e-waste are sometimes known as "urban mining." E-waste is any consumer electronic product that becomes part of the waste stream when these items are discarded. Most of these products contain gold, and/or platinum group metals that are difficult and costly to mine. Most electronics also contain hazardous materials such as lead, mercury, and cadmium, which can leach out into the surrounding land, water, and air when these devices are left in landfills. The U.S. EPA estimates that for every million cell phones recycled, 35 thousand pounds of copper, 772 pounds of silver, 75 pounds of gold, and 33 pounds of palladium can be recovered.
These yields may sound impressive, but the reality is that most electronic products contain very small amounts of precious and rare earth metals, which are chemically altered during the manufacturing process. Extracting these metals is extremely time consuming and expensive, and many recycling facilities have limited capacity to deal with e-scrap, including the ability to sort it properly.
However, urban mining research projects continue in the hope that one day such efforts will be one day be economically sustainable. Recently, researchers at the University of Notre Dame College of Science developed a new method to simplify the process used for capturing precious metals including gold, platinum, and palladium that can be can be exploited for multiple applications, the most notable of which is gold mining.
In an article on the University's web site, Bradley D. Smith, Emil T. Hofman Professor of Chemistry and Biochemistry, senior author of the study, and the director of the Notre Dame Integrated Imaging Facility, explains, "Currently, most of the world's gold mining relies on a 125-year-old method that treats gold-containing ore with large quantities of poisonous sodium cyanide, which is extremely dangerous for mine workers and can cause environmental issues. The new container molecules that our research team created are expected to be very useful for mining gold since they can be used in an alternative process under milder conditions."
The article explains the new method as follows: This alternative mining method converts the gold-containing ore into chloroauric acid and extracts it using an industrial solvent. The container molecules are able to selectively separate the gold from the solvent without the use of water stripping, which is economically and environmentally costly. In addition to gold mining, these container molecules could also be applied to urban mining processes that remove precious metals from urban wastewater streams.
The study was published in the Journal of the American Chemical Society.
For more mining industry news, visit the Cement, Coal & Minerals online learning center featuring content on all aspects of the mining industry, from exploration through processing, mineral analysis, and bulk weighing, monitoring, and sampling systems, and more.