The impact of hydraulic fracturing (fracking) in Marcellus Shale on the quality of environmental waters is being investigated by the U.S. EPA and many state agencies.  A Summary of Technical Roundtables on EPA's Study of the Potential Impacts of Hydraulic Fracturing on Drinking Water Resources was published in February; a final draft report is expected to be released for public comment and peer review in 2014.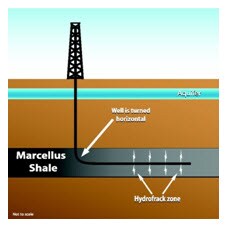 Hydraulic fracturing involves the injection of more than a million gallons of water, sand and chemicals at high pressure down and across into horizontally drilled wells as far as 10,000 feet below the surface.  The pressurized mixture causes the rock layer, in this case the Marcellus Shale, to crack.  These fissures are held open by the sand particles so that natural gas from the shale can flow up the well. Some states have banned fracking.
Public outcry over preservation of water quality has led to the drafting of legislation that specifies fracking discharge requirements, as well as requires drillers to disclose drilling fluids and test flowback waters. Ion chromatography is a proven technique for monitoring fracking flowback and environmental waters for impact by salt intrusion, especially bromide. Increased levels of bromide in drinking water intake systems have been shown to correlate to higher levels of brominated disinfection byproducts. In an on-demand webinar three experts in the field discuss:
The analytical techniques used for anions and metals in waters affected by hydraulic fracturing
Which validated methods are appropriate for accurate analysis
What scientists are doing to monitor the affects of hydraulic fracturing on environmental waters
The typical constituents reported for Marcellus Shale fracking operations as well as measurements of anion concentrations in water from impoundments used for recycling will be presented. We suggest that mining executives and scientists interested in environmental analysis should download and watch this 50-minute webinar. The webinar also focuses on obtaining accurate analytical results for trace metals such as arsenic, selenium, and lead in flowback water. This is challenging due to the high level of dissolved salts that can cause both physical and spectral interferences. Trace metals are an important constituent of flowback water and must be determined accurately to ensure compliance with regulatory agencies.  The challenges of flowback water preparation and the subsequent analysis of metals on inductively coupled plasma-optical emission spectroscopy (ICP-OES) and ICP-mass spectrometry (MS) are also discussed.
You can download the hydraulic fracturing webinar now.