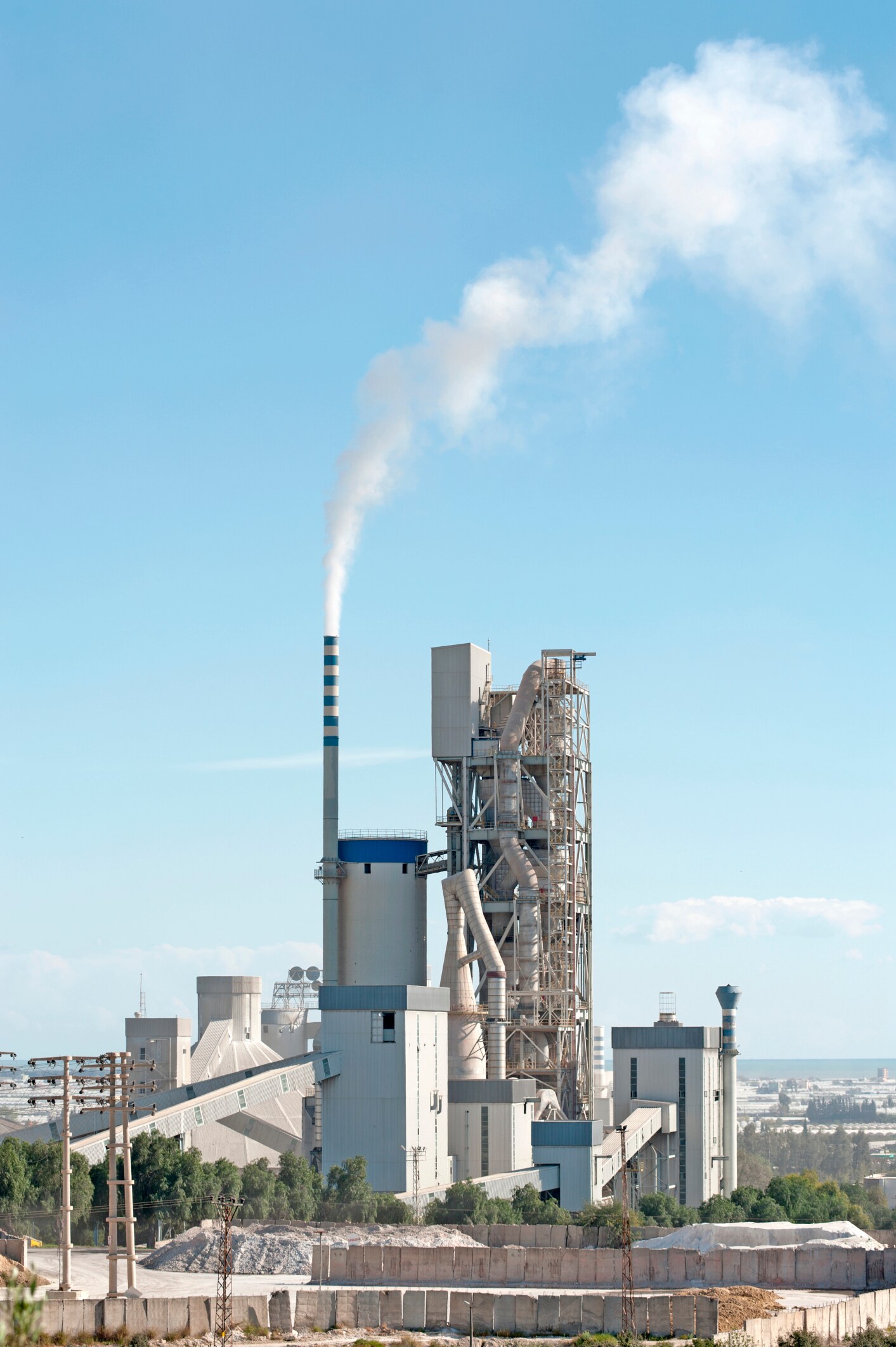 Portland cement is the most common type of cement in the world. It is used primarily to make concrete, mortar, and grout. Portland cement is made by grinding raw materials that include limestone, clay, and bauxite to a fine powder, called raw meal, which is then heated in a rotating kiln to a sintering temperature as high as 1450 °C.
This process (in addition to other steps in the manufacturing process) produces a number of toxic emissions including mercury, hydrocarbons, particulate matter, and carbon dioxide. Mercury emissions from cement kilns can come from multiple sources due to the large variety of fuels and raw materials used in the process, but the primary source of mercury emissions is limestone, which is the main constituent of the raw material used to produce cement.
Other sources of mercury include coal (used as kiln fuel), dust, sand and iron ore.
On October 12, 2005, the U.S. Environmental Protection Agency (EPA) established national emission standards for hazardous air pollutants for sources that burn hazardous waste, including cement kilns. These standards are part of the the Clean Air Act of 1990 and are known as the National Emissions Standards for Hazardous Air Pollutants (NESHAP) or the Maximum Achievable Control Technology (MACT) standards. On December 20, 2012, EPA finalized amendments to the agency's air toxics rules for Portland cement manufacturing. The rules call for dramatic reductions of mercury, acid gases, particulate matter (PM) and total hydrocarbons from cement kilns and continued monitoring to ensure compliance. The rule applies to both existing and new Portland cement facilities that do not burn hazardous waste or non-hazardous secondary materials as fuels, which are covered by separate regulations.
Portland cement manufacturers have until September 9, 2015 to comply with the standards but may request an additional year under certain circumstances.
According to the Final Amendments to Air Toxic Standards for Portland Cement Manufacturing Fact Sheet, the rule is expected to significantly reduce pollution from Portland cement manufacturing over 2010 levels when fully implemented, cutting emissions of mercury by 93 percent, hydrochloric acid by 96 percent, PM by 91 percent, and total hydrocarbons by 82 percent. The EPA rules require Portland cement manufacturers to continuously monitor their production processes, and there are continuous emission monitoring systems (CEMS) available to help them achieve compliance.
The cement process is known to be a harsh operating environment for stack monitoring on account of high temperatures, moisture and dust in the flue gas. Furthermore, sudden changes in the process can cause large variations in mercury emissions. Mercury emissions monitoring systems, originally designed to meet the emissions requirements for coal-fired power plants, are now being installed in cement plants due to their ability to keep up with the changing process flow conditions of the kiln. Mercury emissions monitoring systems have demonstrated their ability to capture dramatic variations in emissions output at many cement plants. If you're a facility that must adhere to EPA clean air standards, you may need to evaluate your current mercury monitoring equipment. Many facilities that purchased mercury CEMS systems in 2005 for compliance with the original EPA regulations need to recommission their systems to bring them back online or up to code.
For more solutions that that will help you achieve compliance, click here to get to the Countdown to Compliance.
Visit the Cement Production center on our website, with free resources to help you optimize your cement making process.