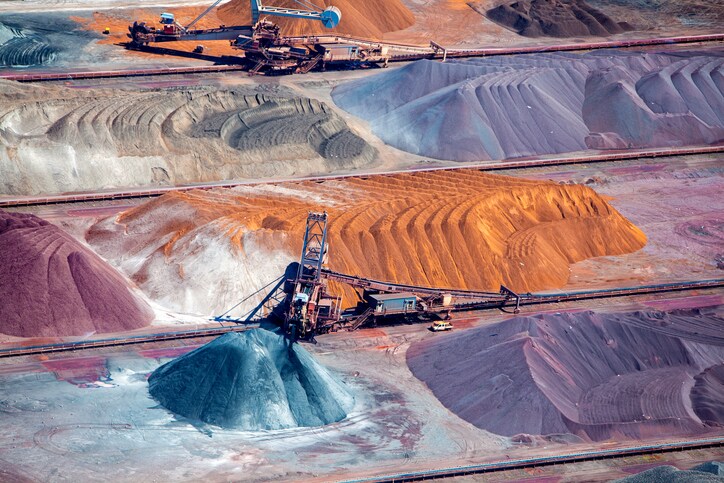 A wide array of equipment is used for monitoring and process control in coal and minerals mining, cement production, and other industrial processes. Here we present an overview of some of the bulk weighing and monitoring equipment used to to help ensure quality control in the processing of these raw materials. For a more comprehensive view, visit the new Coal Analysis and Production Information page and the Cement Analysis and Production Information page.
Conveyor belt scales: Conveyor belt scales monitor production output and inventory, or regulate product loadout, while providing vital operational information.
Weighbelt feeders: Precise feeding of process materials is often critical to maintaining product quality. A feeder that weighs accurately and reliably can reduce material waste, help maintain blend consistency, and increase profits.
Flow measurement systems: The in-line measurement of bulk solids flow is important for product quality, process efficiency, and system safety. Flow measurement systems provide continuous, real-time flow measurement of free-falling materials or dense phase, pneumatically conveyed bulk solids.
Conveyor monitoring and safety products: These instruments monitor operating processes for potentially hazardous conditions and activate an alarm when they occur.
Conveyor safety equipment can be used to monitor the speed of your conveyors with speed sensors, the tracking of your conveyor belt with run off or belt misalignment switches or providing important employee safety through the use of safety pull switches.
Continuous and point level measurement: Continuous measurement equipment provides continuous level monitoring of solids, liquids and slurries in vessels, silos and tanks.
Point-level detectors provide high- and low-point level detection and can see through non-metallic wall build-up to detect the presence or absence of any material. There are also indicators designed for point level monitoring of solids in bins, vessels and chutes, as well as sensors designed for point level monitoring of solids, liquids and slurries in bins, vessels and chutes.
Sampling and analysis systems: Sweep samplers offer an economical and simple means to procure a representative sample directly from material on a conveyor belt. These types of instruments are suited for the sampling of coal, limestone, ferrous and non-ferrous ores, sand, crushed rock and gravel.
On-line analyzers provide minute-by-minute elemental analysis of the entire raw material process stream using Prompt Gamma Neutron Activation Analysis (PGNAA) or Pulsed Fast Thermal Neutron Activation (PFTNA).They provide reliable and accurate analysis of bulk materials to facilitate sorting, blending and quality control of coal or cement.
Tramp metal detectors: Tramp metal detectors protect expensive crushers, conveyors and other process equipment from damage by tramp metal. They are designed especially for belt conveyors moving coal, iron pellets, minerals, aggregates and other bulk materials.
Recommended Reading:
Update: Visit the Cement Production center on our website, with free resources to help you optimize your cement making process.