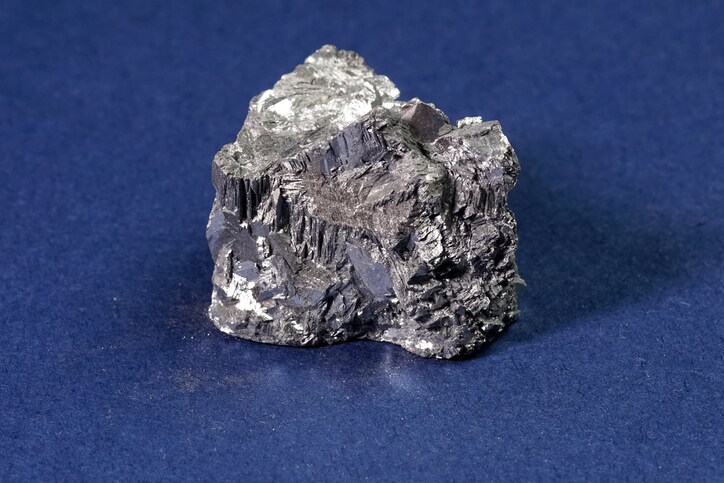 A Canadian mining company recently announced the next step in their process — to advance modeling to support future drill tests — as they explore antimony and copper rich porphyry systems. The 509 soil samples tested by the company last year using a PXRF (Portable X-Ray Fluorescence analyzer) will join the 1,000 samples previously assayed and the group results will be used to update a 3D model targeting the porphyry deposit.
According to the Royal Society of Chemistry, antimony (periodic table element Sb) compounds are used to make flame-retardant materials, paints, enamels, glass and pottery. However, antimony and many of its compounds are toxic. They also note that antimony is not an abundant element but is found in small quantities in over 100 mineral species.
Copper (Cu), of course, is most well known for its use in electrical equipment wiring, as well as for roof construction, pipes, and cooking pots.
The company's CEO believes the size and grade of the antimony anomaly discovered "defines potentially the largest antimony discovery in North America today…. The team has been working to reprocess all existing geochemical and geophysical data sets, as well as assay results, integrating the additional data collected in 2021/22 and regenerating all of our geological models to show the geometry of and to generate more precise locational coordinates of the center and shells around the … porphyry system."
Porphyry deposits are commonly associated with porphyritic intrusive rocks, i.e., granite porphyry. The term "porphyry" refers to any igneous rock that has coarse-grained crystals in a relatively fine-grained matrix.
An important feature of porphyry ore deposits is their large tonnage. For example*, an individual porphyry copper deposit can contain several billion tons of Cu at 0.4-1%, making these deposits the largest source of copper ore. Ideal for open pit mining, they are commonly found close to the surface and can be mined on a large scale at a low cost. Although these deposits have low grades, a Portable X-Ray Fluorescence analyzer with superior detection limits allows easy measurement of the base metal concentrations.
In this mining company's case, the announcement noted: "Soil samples were taken on a 50 by 50 m grid  along the mineralization zone. Approximately 200-300 g of soil was sampled at a depth of approximately 25-30 cm from surface. Soil sampling primarily targeted the B horizon where appropriate, and samples were collected in labelled craft paper bags. Soil samples were analyzed via PXRF (Portable X-Ray Fluorescence Analyzer) for Cu, Pb, Zn, Ag, Mo, Sb and W. All work was conducted by the Company's team of qualified geologists."
A quick, non-destructive analysis is often required for outcrop and soil analysis, advanced exploration and drilling, core sample analysis, mine mapping, and cuttings analysis for mud logging and reservoir characterization. This data can enable geologists and miners to make data driven decisions on locations and sites. (See Application Note: Exploring New Frontiers of In Situ Geochemical Analysis)
X-ray fluorescence spectroscopy (XRF) is a non-destructive analytical technique used to determine the elemental composition of materials. XRF analyzers work by measuring the fluorescent (or secondary) X-rays emitted from a sample when excited by a primary X-ray source. Each of the elements present in a sample produces a set of characteristic fluorescent X-rays, or "unique fingerprints." These fingerprints are distinct for each element, making XRF analysis an excellent tool for quantitative and qualitative measurements.
Handheld XRF analyzers are a reliable method to analyze ore samples in open pits and underground mines – achieving the accuracy required to provide information for process oversight, quality assurance, and various other operational decisions (such as grade control). Portable XRF technology can help ascertain the viability of lower grade resources and find localized high-grade enrichments, delineate ore from waste boundaries, and obtain defensible data and minimize the need to send samples to external testing labs.
The company's team of geochemical, geophysical, structural, and directional drilling advisors will be reviewing the information and it is expected that later in the spring and summer of 2023, they will publish an updated 3D geological model with more precise projections of the location of the porphyry deposit.
Additional Resources: