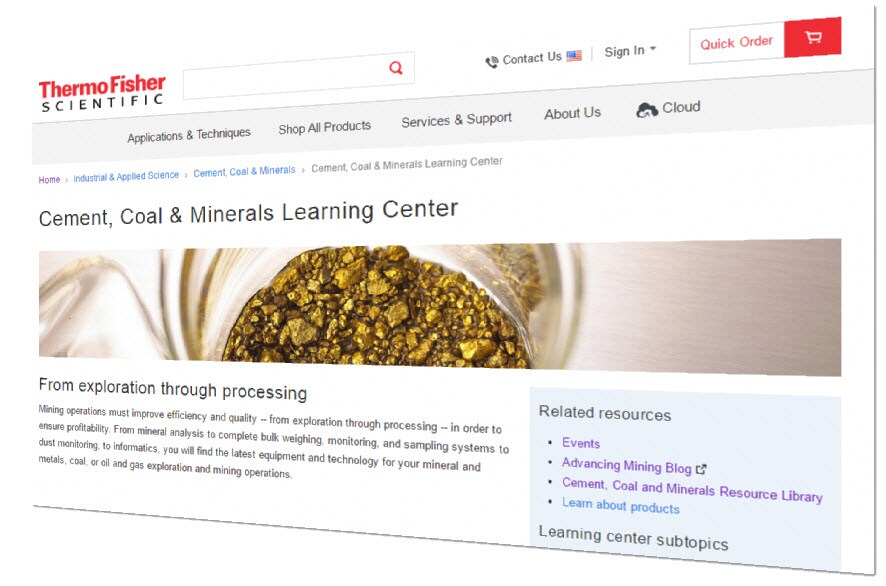 Mining operators and cement manufacturers must improve efficiency and quality — from exploration through processing — in order to ensure profitability. That's why we have developed a Cement, Coal & Minerals Learning Center on the Thermo Fisher Scientific website. From mineral analysis to complete bulk weighing, monitoring, and sampling systems to dust monitoring, to cement analysis, to informatics, you will find the latest information about equipment and technology to aid in your mineral and metals, coal, cement and oil and gas exploration operations.
Explore the virtual learning center and you will find educational articles, application notes, infographics, product spec sheets, events, videos, webinar recordings, case studies, and ebooks dealing with mining, exploration, processing, and analysis of cement, coal and minerals.
Here's a sampling from the site:
And to start you off in showing how valuable the site can be to your operations, here's a periodic table, a handy tool in the mining and minerals industry. At a quick glance you can see the name of the element, where it falls in the atomic mass group, its atomic number, and its abbreviation.
→ Visit the Cement, Coal & Minerals Resource Library.
Update: Visit the Cement Production center on our website, with free resources to help you optimize your cement making process.