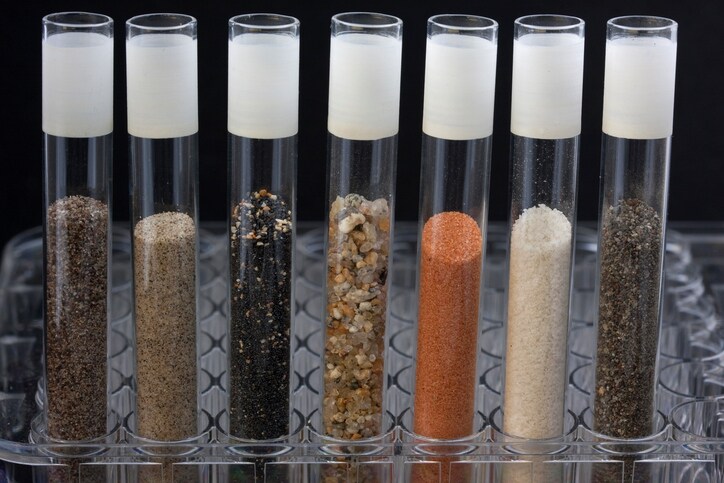 A number of analytical techniques are used for characterizing the geological materials depending on the elements of interest, their concentration ranges, and specific mineralogical phases. X-ray fluorescence (XRF), ICP-OES, ICP-MS, and other elemental analysis techniques are necessary to provide as complete information as possible in terms of major, minor, and trace elements.
X-ray diffraction (XRD), IR, Raman, and other structural analysis techniques are used to obtain mineralogical and phase composition depending the on the nature of the materials and the relative concentrations of minerals of interest.
Among these techniques which provide complementary information, XRD and XRF are most commonly used for both qualitative and quantitative analysis. XRD is commonly used in geology and mining (earth science) laboratories to characterize the mineralogical composition while XRF is routinely used for the chemical composition.
In a typical crystalline sample, XRF might measure for example the total Ca concentration or the total Fe concentration. XRD permits analysis of the phases or compounds in crystalline materials such as rocks, minerals and oxide materials and products. So in the same sample, XRD takes the analysis a stage further and gives information about CaO, CaCO3 , Ca(OH)2 contents and other Ca phases or the levels of Fe phases, such as FeO, Fe2 O3 , Fe3 O4 , Fe3 C and other Fe phases. Therefore combining the results of both XRF and XRD techniques allows for a better and more complete characterization of any given crystalline sample.
Elemental and phase/mineralogical characterization of geological materials is of primary importance both in terms of assessing their natural resources and in terms of their exploration, beneficiation and extraction processes for industrial needs. To learn more, read Analysis of geological minerals using the ARL EQUINOX series X-ray diffractometer.
XRD instruments used for geological sample analysis range from simple, easy to use bench-top systems for routine analysis to more advanced floor-standing, high performance, research grade systems for investigative laboratories. Bench-top XRD models use different X-ray power sources and offer different levels of convenience and performance than the floor models because they can be transported between laboratories or into the field and does not require any special infrastructure.
Watch this video to see a demonstration of a desktop XRD instrument.