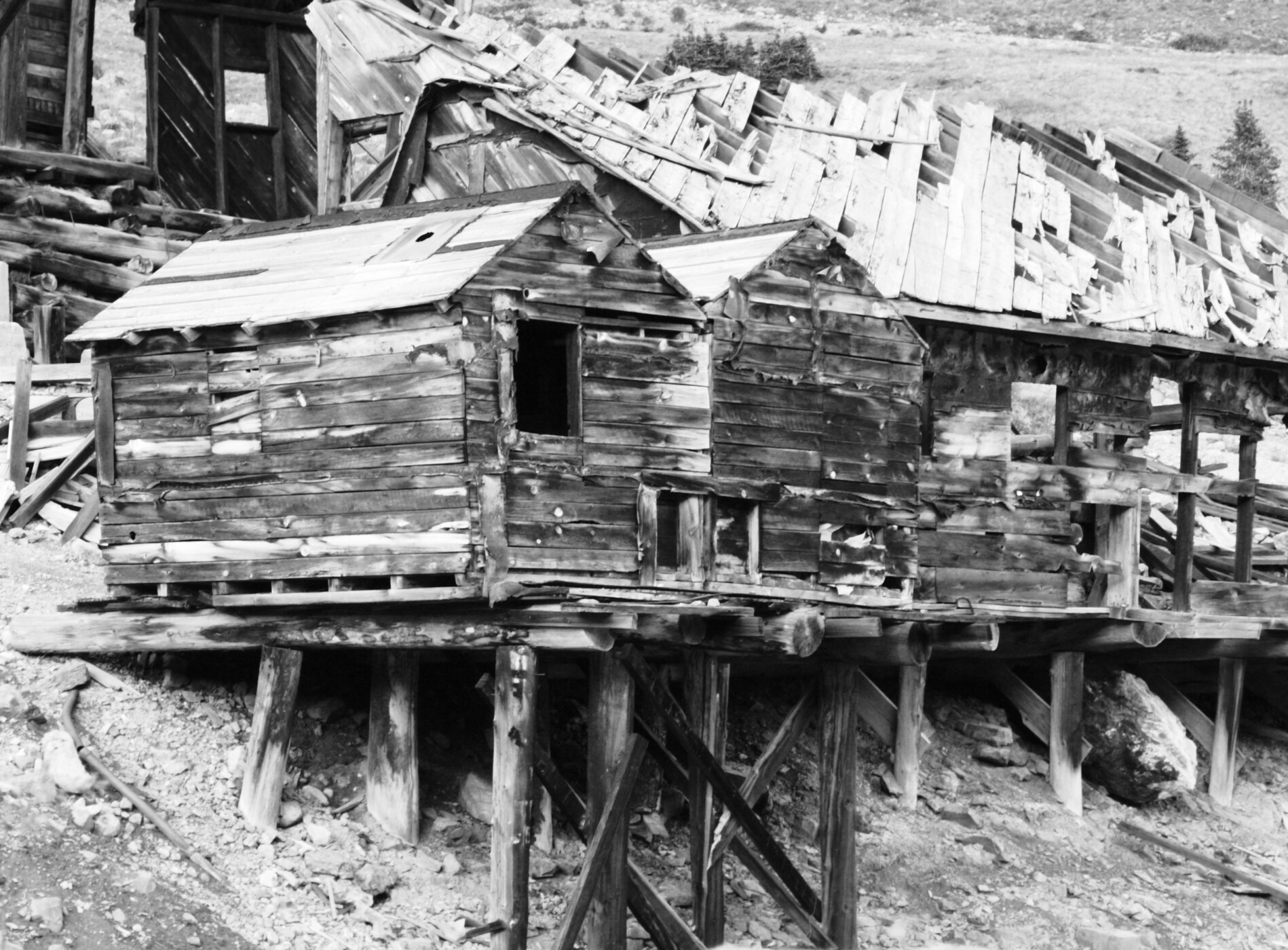 There is an abundance of ghost towns in the United States – many a result of abandoned mines and disappointed miners.
The Garnet Ghost Town in Montana was home to hundreds of people between 1895 and 1912. Most came in search of gold and other precious metals that could be found in the mountains; but less than twenty years later large strikes were depleted, a fire raged through the town and the miners left in search of new riches.
Death Valley has more than its fair share of ghost towns. The US National Park Service lists Ballarat, Chloride City, Greenwater, Harrisburg, Leadfield, Panamint City, Rhyolite (the "Queen City"), and Skidoo as those towns that saw a quick influx of people trying to get rich on the gold, copper, silver, and lead strikes in the area – but who abandoned the towns when mining was no longer profitable.
Lake Valley, New Mexico, is the site of an old silver mining community. The town was founded in 1878 and grew to 4,000. All that remains now is a ghost town.
These are just a few of the estimated 500,000 abandoned mines in the United States. There are many modern-day prospectors who are returning to the ghost towns to see if technology that was not around a century ago, like handheld XRF analyzers, can help find precious metals that may have been overlooked or left in tailings. And there are some people who are returning to the ghost towns in search of real ghosts.
The Phoenix New Times reported that the Vulture Gold Mine in Wickenburg, Arizona, is a truly spooky place. "Paranormal investigators from the Travel Channel reality show paid a visit to the abandoned 1880s-era former gold prospector's paradise two years ago, and – if their exploits are to be believed – had rocks thrown at them, captured recordings of apparitions telling them 'Get out!' and 'You're gonna die,' and had the willies scared out of them."
Whether or not you believe in haunted mines, you should stay away from abandoned mine lands anyway. The U.S. Bureau of Land Management warns potential ghost seekers that the real danger of abandoned mines is not about apparitions or rock-throwing ghosts. The real danger is health concerns.
In addition to safety hazards inside the mine, like dangerous shafts, deadly gases, lack of oxygen, walls and ceilings prone to collapse, unstable rock, decayed support and potential explosives, one has to be careful outside the mine entrance as well. Polluted waters, tainted fish, and contaminated soil are commonly left behind when the people disappear. Many old mines caused environmental degradation, like contaminated surfaces and stockpiled rock and mill tailing piles. The leftover soil can contain heavy metals and toxic substances, which seep into groundwater.
Uranium mines pose the added threat of radiation exposure. The Bureau reports that "The mining of uranium ores by underground and surface methods produces large and small amounts of bulk waste material. These materials contain naturally occurring radioactive components and become exposed to the environment through mining activities. Because the waste rock and soil have little or no practical use, they are generally stored on land near the mine site. Continued exposure to these materials can cause severe health problems."
There is technology now that can help improve these circumstances. Our Mining Community shows how new technology can help identify elemental contaminants at mine sites, monitor bromide in surface, ground-, and flowback waters, and determine the extent of the mine wastewater pollution through water analysis. Personal and ambient particulate monitoring equipment can be used to measure particulate matters in the air to ensure exposure limits are not exceeded. And radiation detection solutions provide comprehensive, real-time monitoring, early warning and complete information in the palm of your hand.
So although you may not believe in haunted spirits, abandoned mines and ghost towns can be pretty scary.
Happy Halloween!