One of the most important applications of X-ray fluorescence (XRF) spectrometry is the analysis of cement in a production environment. Usually wavelength dispersive XRF (WDXRF) instruments are preferred because of their precision, accuracy, speed and long-term stability.
In recent years, more and more Energy-Dispersive XRF (EDXRF) instruments are being utilized. In large cement plants EDXRF is often set up as a backup of WDXRF while smaller plants might employ EDXRF as their sole XRF for production control.
Without doubt the most widely used standard test method used to evaluate the performance of XRF instruments (and other analysis techniques) for the analysis of cements is ASTM C-114, Standard Test Methods for Chemical Analysis of Hydraulic Cement. This standard describes a very strict protocol to evaluate both accuracy and precision of the technique while setting strict performance requirements.
The protocol consists of properly calibrating an XRF instrument after which it is used to analyze a set of at least seven reference cements, preferably NIST certified reference materials (CRMs). Two rounds of analyses are to be completed on different days repeating all steps of sample preparation. Differences between values and averages of the values from the two rounds are to be calculated.
When seven CRMs are used – at least six of the seven differences obtained for any single analyte shall not exceed the limits shown in column 3 of Table 1 below and the remaining differences by no more than twice that value. Similarly, at least six of the seven averages for each analyte shall not differ from the certified concentrations by more than the value shown in column 4 of Table 1, and the remaining averages by more than twice that value.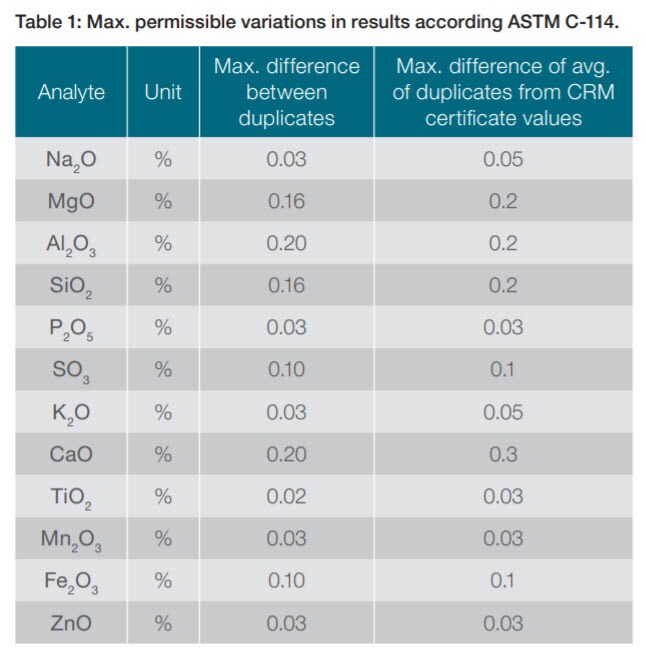 We conducted a study to confirm that a compact EDXRF instrument can meet the requirements of ASTM C-114 for the analysis of cement, while keeping analysis times short without sacrificing performance.
The EDXRF spectrometer tested was fitted with an air-cooled Rh end-window tube with thin Be window (0.05 mm) that has a maximum power of 50 Watts. It was equipped with an electrically cooled silicon drift detector (SDD) with an area of 30 mm2. The instrument featured nine primary beam filters ensuring that an optimal excitation condition was always found. An optional 10-position sample changer allowed for unattended analysis.  Two excitation conditions were used to cover all the analytes listed in Table 1: one condition at 4 kV without filter to excite all light elements from sodium up to sulfur and a second condition at 16 kV with a thin Pd filter for all remaining analytes. We used a total live time of 300 s to complete one sample analysis. All measurements were executed in vacuum.
Seven cement CRMs of the 18xx series (NIST SRMs 1880a, 1881a, 1884a, 1885a, 1887a, 1888a and 1889a) were prepared as pressed powders. Cement CRMs were ground with a puck and ring mill for 90 s and pressed onto a boric acid backing at 20 tons to produce a pellet of 32 mm Ø.
Read the application note for the results of the study, as well as see tables of excitation conditions, detection limits, difference between values obtained on day 1 & 2, difference between averages of values and certified values, and conclusions.
You can read more about these and other cement production technologies in our Cement, Coal & Minerals Learning Center.
Download the application note: Cement analysis according to ASTM C114 with the ARL QUANT'X EDXRF Spectrometer