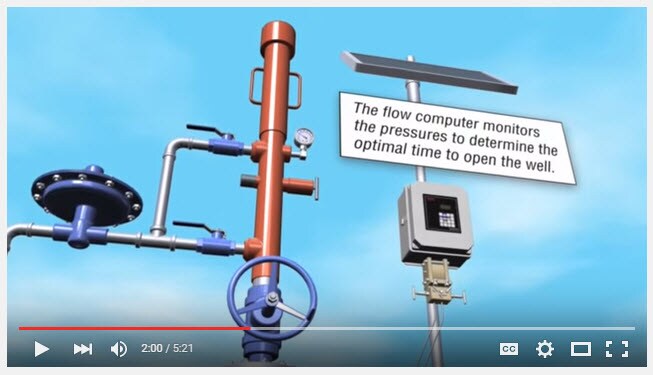 Maximizing well production is the key to maximizing profits. If well pressure drops and water flows from the formation to the well bore and accumulates, it creates a gradual increase in backpressure. Gas production slows or stops altogether as liquids increase in the well tubing. If left unattended, production, and well life, decreases.
Artificial lift methods are installed to keep the well productive and capture more gas. One such technology is the plunger lift system. PetroWicki defines the plunger lift as a "widely accepted and economical artificial lift alternative, especially in high-gas/liquid-ratio (GLR) gas and oil wells. The plunger lift uses a free piston that travels up and down in the well's tubing string. It minimizes liquid fallback and uses the well's energy more efficiently than does slug or bubble flow. As with other artificial lift methods, the purpose of plunger lift is to remove liquids from the wellbore so that the well can be produced at the lowest bottom-hole pressures."
Plunger lifts are controlled by a flow computer to monitor operations in real time and enable immediate troubleshooting. If water accumulates in the well and gas flow declines, the flow computer determines the well should be shut in and closes the valve, causing the plunger to drop and the pressure in the tubing and casing to rise. The flow computer monitors the pressure as the plunger drops to the bottom and determines when the well should be reopened. The plunger then rises to the surface, taking the accumulated liquids with it. This allows the gas to begin flowing again at an optimum rate.
Flow computer systems are available that can increase well production by as much as 20% because once the software's plunger lift algorithm learns the flow characteristics of the well, advanced self-optimizing methods take effect to ensure maximum results are achieved over time. The system is capable of simultaneous multi-plunger support and control and provides real-time production data and troubleshooting information via remote monitoring to minimize system downtime and maximize staff productivity. It also reduces capital expenditures by eliminating a costly secondary control system as well as lowers well maintenance costs and ensures fewer remedial treatments, providing long term cost benefits in addition to increased well potential.
Watch this video to see how a flow computer enabled with plunger lift software regulates and optimizes the natural gas production process.