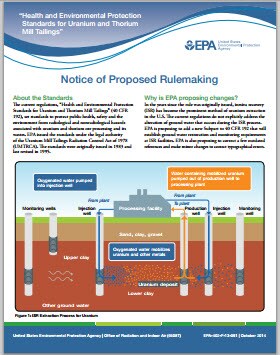 Part 1 of this series describes the process of in-situ recovery (ISR), a popular method of mining uranium. In this post we'll discuss some of the guidelines and potential new regulations governing this practice. Mining uranium by ISR involves injecting fluid into an ore-bearing zone to release the uranium. However, the injection fluids also release arsenic, lead, and other toxic metals, altering the chemistry of the aquifer and potentially contaminating nearby groundwater. On January 26, 2015, EPA proposed new ground water protection standards at facilities that extract uranium using the ISR process. According to the EPA Fact Sheet on Health and Environmental Protection Standards for Uranium and Thorium Mill Tailings, specific provisions of the new Subpart include:
Requirements to characterize background ground water chemistry: The proposed rule describes how ISR facilities are to characterize ground water chemistry before beginning uranium recovery operations.
Requirements to meet restoration goals for 13 constituents: The proposed rule would require compliance with whichever standard is most protective from the Safe Drinking Water Act (SDWA), the Resource Conservation and Recovery Act (RCRA), or UMTRCA for each of 13 ground water constituents: arsenic, barium, cadmium, chromium, lead, mercury, selenium, silver, nitrate (as nitrogen), molybdenum, radium, total uranium and gross alphaparticle activity. Operators would be required to restore ground water chemistry to acceptable standards after mining has stopped, regardless of concentration levels prior to beginning operations.
Requirements for long-term stability monitoring: The proposed rule would require ISR operators to monitor ground water for 30 years after demonstrating that the ground water chemistry has been restored and is stable. The time period could be shortened if monitoring data and geochemical modeling show that the ground water chemistry has been restored, has remained stable for at least three consecutive years, and is likely to remain stable into the future. Statistical analyses would have to demonstrate ground water stability at a confidence level of 95%.
ISR is actively practiced in other countries in addition to the U.S. Kazakhstan is the world's leading producer of uranium, much of which now comes from ISR. According to the World Nuclear Association, in the early 1970s, successful tests on in situ leaching (ISL) led to further exploration being focused on two sedimentary basins with ISL potential. Up to 2000, twice as much uranium was mined from hard rock deposits as sedimentary ISL sands, but almost all production is now from ISL mines, some relatively small. All uranium is exported. Australia is another top uranium producer using ISR technology. Australia's In-situ Recovery Uranium Mining Best Practice Guide was developed by the Australian Government and the jurisdictions that currently permit uranium mining and have active mines or proposals (South Australia, Northern Territory and Western Australia) to provide environmental guidance and best practice principles for the assessment of ISR mine proposals. Visit the Drinking, Surface and Groundwater community page to review a comprehensive selection of resources on a variety of analytical techniques are available to monitor ground water quality.