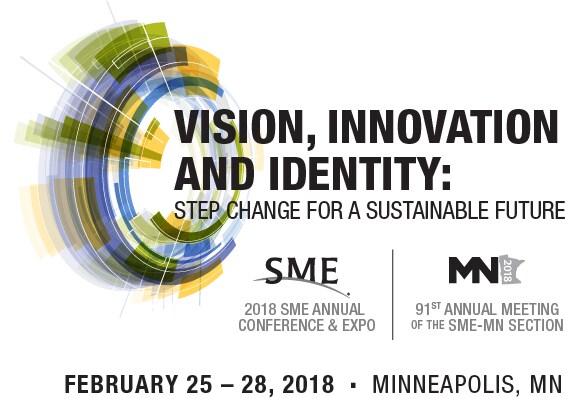 The biggest event each year for the Society for Mining, Metallurgy & Exploration (SME) is its annual conference – being held this February 25-28 in Minneapolis, MN USA. According to its show producer, the 2018 SME Annual Conference & Expo provides a forum for more than 6,000 industry professionals from across the world to share innovative ideas, best practices and cutting-edge research in more than 120 technical sessions along with an expansive marketplace of more than 550 exhibiting companies.
This is a great show because the Mining industry is really a fraternity. Many people have worked together for decades. Technology is continuously getting updated in what outsiders might consider a low tech industry. Data is becoming king. At this show you can network with fellow industry professionals and learn the latest advances in technology and mining solutions.
This year's theme is "Vision, Innovation and Identity: Step Change for a Sustainable Future." If you are looking to learn more about your industry, you will have plenty of technical sessions from which to choose. In fact there are 121 technical sessions, in addition to 608 presentations, 139 papers, and 7 short courses.
The breakout sessions are always a hit as companies are all looking for an edge to gain just a fraction better recovery of the precious mineral from the ore.
In addition to all those sessions, remember that you can learn about the latest technology at the exhibitor booths as well. There are 575 exhibitors this year, and SME noted that out of the 757 booths, there are 102 new ones. The exhibit floor is where you will find the latest products and technology showcased.
In fact, we will be in Booth #1701, explaining how analysis and material handling solutions can help maximize the efficiency of your exploration activities and mining operations. Stop by to get some hands-on demonstrations of the latest handheld XRF analyzers that provide fast and accurate geochemical data. With the latest updates, a portable XRF analyzer is like having a mineral lab in your hand.
Of course there are some technologies that can't fit in a booth. We will also be discussing belt scales, weighbelt feeders, conveyor protection equipment, and continuous level and point level measurement devices help accurately monitor production output, control product load-out, and track inventory to manage your process effectively and efficiently. Tramp Metal Detectors protect crushers and other equipment from damage caused by tramp metals, reducing down time and minimizing lost production. The most reliable and statistically correct continuous slurry sampling in tandem with real time slurry analysis provides the platform for key front-end digital sensors needed by today's plant operators to maximize the value that can be extracted from their ores.
If all this sounds complicated, don't worry. Just talk to one of our application experts who will be at the booth. They will do their best to help you solve your most demanding minerals and mining exploration, processing, and analysis challenges.
Need a rest from mining talk? Minneapolis is a great city — all year round. Whether it is outdoor activities, theater, live music, or pro sports, take it in. Maybe ice fishing would impress your friends back home? Here's a link to Minneapolis' best lakes for ice fishing and the types of fish you can expect to catch. However, you will need to have some ice augers, scoops, bait, and warm clothes. Sorry, you can't get those items at our booth.
Show Details:
February 25-28 , 2018
2018 SME Annual Conference & Expo
Booth #1701
Minneapolis Convention Center
1301 2nd Ave. South
Minneapolis, MN 55403
The exhibit hall is open Sunday, February 25, 2018 from 4:00pm – 6:00pm; Monday, February 26, 2018 from 11:00am – 5:30pm; Tuesday, February 27, 2018 from 11:00am – 5:30pm; and Wednesday, February 28, 2018 from 8:00am – 12:00pm. These times are subject to change.