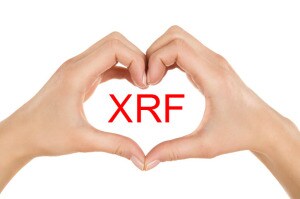 All over the U.S. this week, couples will be celebrating Valentine's Day and proclaiming their love for each other, so it is fitting to proclaim our love for XRF as well. X-ray fluorescence (XRF) is a non-destructive analytical technique that provides near-instantaneous elemental analysis of materials. When built into portable instrumentation, XRF technology can offer substantial benefits to mining companies, whose survival depends on timely sample analysis to quickly identify the most economically viable resources. In fact, XRF has dozens of important applications that improve mining operations and productivity, and that's why we love it—and you should too! Reason #1: XRF technology is unique! The XRF technique consists of irradiating a solid or a liquid sample with high energy x-rays from a controlled x-ray tube, which results in the emission of a fluorescent (or secondary) x-ray. This fluorescence is unique to the elemental composition of the sample. Because each element has its own characteristic "fingerprint" XRF can tell you exactly what elements are in the sample and in what quantity. This is important in mining because mine sites extends over many miles, and companies need to precisely pinpoint where to focus their time and resources. With the data XRF provides about the concentrations of elements in various areas of the site, miners are able to target the highest quality deposits and avoid costly mistakes. Reason #2: Portable XRF can be used anytime, anywhere. Portable and handheld XRF analyzers are lightweight, rugged, and can be operated in the field anytime, anywhere, giving lab-quality results in seconds rather than days or weeks it can take for a traditional testing laboratory. This on-site, real-time analysis provides distinct advantages in mining operations where substantial capital is at stake and timely reporting is critical.
Speed: Portable XRF analyzers enable quick decisions, including whether to drill or not to drill, equipment relocation considerations, where to focus on the grid, and when to take a proper sample for laboratory analysis.
Real-Time Reporting: Field analyses provide for faster delineation of drill targets for timely, defensible data for operational decisions and financial reporting back to management and/or investors.
Increased Sample Density: Running more assays in the field allows for finer grid resolution and the ability to send prequalified samples to an off-site laboratory. With improved statistics, this high-density analysis produces a more comprehensive picture of the target than the exclusive use of the traditional bag and lab method.
Reason #3: XRF has a multitude of applications in mining. Exploration: Portable XRF analyzers provide fast acquisition of geochemical data for rapid delineation of anomalous zones and the in-depth, quantitative analysis of metal concentrations for geochemical mapping. Lead times are reduced, which can be critical if the exploration season is short. Quarry operations: Quickly obtaining accurate exploration assay data to guide mining operations is one of the biggest obstacles to optimal productivity. Portable XRF analyzers allow geologists to rapidly acquire and send XRF data to quarry laboratory and operations management personnel allows for easy collaboration and informed decisions. Oil and gas exploration: Portable XRF analyzers are valuable for upstream exploration and production, offering rapid, on-site chemical analysis of rocks, cuttings, and cores that can be used for identifying formations and determining mineral composition of the rock. Industrial minerals: Portable XRF analyzers are an emerging instrument of choice for in-quarry exploration and evaluating the composition of raw materials such as phosphate, potash, gypsum, and limestone for industrial use. Reason #4: XRF is accurate with or without sample preparation. Handheld XRF analyzers are designed for simple point-and-shoot operation. Sample preparation may or may not be necessary depending on your application and acceptable accuracy. XRF without sample preparation can generate reliable data about many elements, particularly base metals, when decisions must be made on the spot. When higher accuracy is required, sample preparation can be accomplished in the field in minutes and then analyzed with portable instruments for lab-comparable results. Reason #5: It keeps getting better! Advances are being made in XRF technology all the time, from improvements in light element analysis to even faster, more accurate results. Review these XRF products to find one that can improve your business. Are you using an XRF analyzer now? Let us know about your experience.