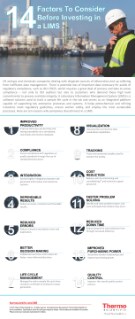 A Laboratory Information Management System (LIMS) is a specialized but necessary IT application.
A LIMS is a software solution used to track a sample life cycle in the lab. It is typically deployed with instrument integration for automated data transcription, and manages the lab samples, users, training records, documents (i.e. SOPs, methods, etc.), reagents and other lab functions such as QA/QC, sample planning, scheduling, reporting and workflow automation. It's a database system used in laboratories or testing environments to automate the management of resources and record keeping for all of the work done in that environment.
LIMS are an important component of a comprehensive quality management solution that often includes Process Information Management Systems (PIMS), Manufacturing Execution Systems (MES) and Enterprise Resource Planning (ERP), which continuously monitor and control the plant processes from raw materials through to monitoring and production.
Oil and gas and chemicals companies dealing with disparate sources of information end up suffering from inefficient data management.  There could be potential loss of important data necessary for audits of regulatory compliance, such as ISO 17025, which requires a great deal of process and data to prove compliance – not only to ISO auditors but also to customers who demand these high level commitments to process and data integrity.
An ideal LIMS serves as an integrated platform capable of supporting key enterprise processes and systems. Enterprise LIMS include XML web services for open communication with lab and enterprise applications, and client/server functionality for greater access to information and insight into data across the organization. Need more reasons to invest in a LIMS?
Download this infographic and discover 14 Factors To Consider Before Investing in a LIMS. 
For companies in the petrochemical and refining industries, there has never been a better time to invest in a LIMS to meet regulatory guidelines, ensure worker safety, and employ the most sustainable processes. Learn more about how a LIMS can address your particular business needs.