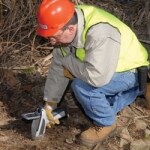 Mining processes produce large volumes of waste, some of it toxic. This waste can result in acid mine drainage and groundwater contamination and needs to be closely monitored to ensure proper impoundment. In addition to being used for exploration and mining applications, X-Ray Fluorescence (XRF) analyzers are very effective doing "double duty" when used to monitor elemental contaminants, such as S, Pb, and As – at mine sites, in tailings, and during mine closure procedures.
The Environmental Mining Council of British Columbia, reports that the Canadian mineral industry generates one million tons of waste rock and 950,000 tons of tailings per day, totaling 650 million tons of waste per year.
"Ore is mineralized rock containing a valued metal such as gold or copper, or other mineral substance such as coal. Open-pit mining involves the excavation of large quantities of waste rock (material not containing the target mineral) in order to extract the desired mineral ore. The ore is then crushed into finely ground tailings for processing with various chemicals and separating processes to extract the final product. In Canada the average grades of mined copper are under 1 per cent, meaning that for every tonne of copper extracted 99 tonnes of waste material (made up of soil, waste rock and the finely ground "tailings") must also be removed….
After the waste rock is removed and the ore is extracted, the ore must be processed to separate the target mineral from the valueless portion. Once the minerals are processed and recovered, the remaining rock becomes another form of mining waste called tailings. Mine tailings often contain the same toxic heavy metals and acid-forming minerals that waste rock does. Tailings can also contain chemical agents used to process the ores, such as cyanide or sulphuric acid. Tailings are usually stored above ground in containment areas or ponds (and in an increasing number of underground operations they are pumped as backfill into the excavated space from which they were mined.)
If improperly secured, contaminants in mine waste can leach out into surface and groundwater causing serious pollution that can last for many generations.
Chemical analysis of soil and sediment samples at the mine site is an important step in detecting the presence of environmental contaminates that may remain as a result of mining activities. This is important, of course, to help ensure the environment is left clean. It is also important to know what tailings are composed of because much of it can be recycled and incorporated into other products, like construction materials. If mine sites produce thickened tailings, which are pressed or have chemicals added to remove excess water, they can be reprocessed and repurposed. Thickened tailings can be mixed with cement and used in construction or as backfill in underground mines. So it is even more important to analyze the tailings before spreading the material across the globe in the form of other products.
To accurately identify minerals within tailings, geologists can use the same portable X-ray fluorescence (XRF) instruments that were used during early-stage discovery, drill core analysis, and mineral processing. XRF is a non-destructive analytical technique used to determine the elemental composition of materials. XRF analyzers determine the chemistry of a sample by measuring the fluorescent (or secondary) x-ray emitted from a sample when it is excited by a primary x-ray source. Each of the elements present in a sample produces a set of characteristic fluorescent x-rays ("a fingerprint") that is unique for that specific element, which is why XRF spectroscopy is an excellent technology for qualitative and quantitative analysis of material composition.
Portable XRF analyzers provide fast, accurate analysis of tailings to quickly and easily gauge the efficiency of extraction and enrichment processes. Running more assays in the field allows for finer grid resolution and the ability to send prequalified samples to an off-site laboratory. With improved statistics, this high-density analysis produces a more comprehensive picture of the target than the exclusive use of the traditional bag and lab method. The real-time assay data provided by a portable XRF analyzer allows for timely process adjustments, improving productivity and reducing the need for reprocessing. In addition, some of these handheld analyzers are equipped with embedded GPS that can record the coordinates of the exact location of the contamination site. As a result, the instruments offer the ability to generate immediate determination of non-visual ore zones and defensible data to prove financial, environmental, and social responsibility.
Because these handheld XRF instruments provide instantaneous analysis in the field, they can effectively perform double-duty when used to monitor elemental contaminants at mine sites and in waste streams, in addition to being used for exploration and mining applications. In this era of reducing mining costs, make sure that whenever possible, your mining tools and instruments can be used to perform multiple tasks.
To learn more about the various capabilities of XRF analyzers in mining exploration and geochemical analysis, read here.