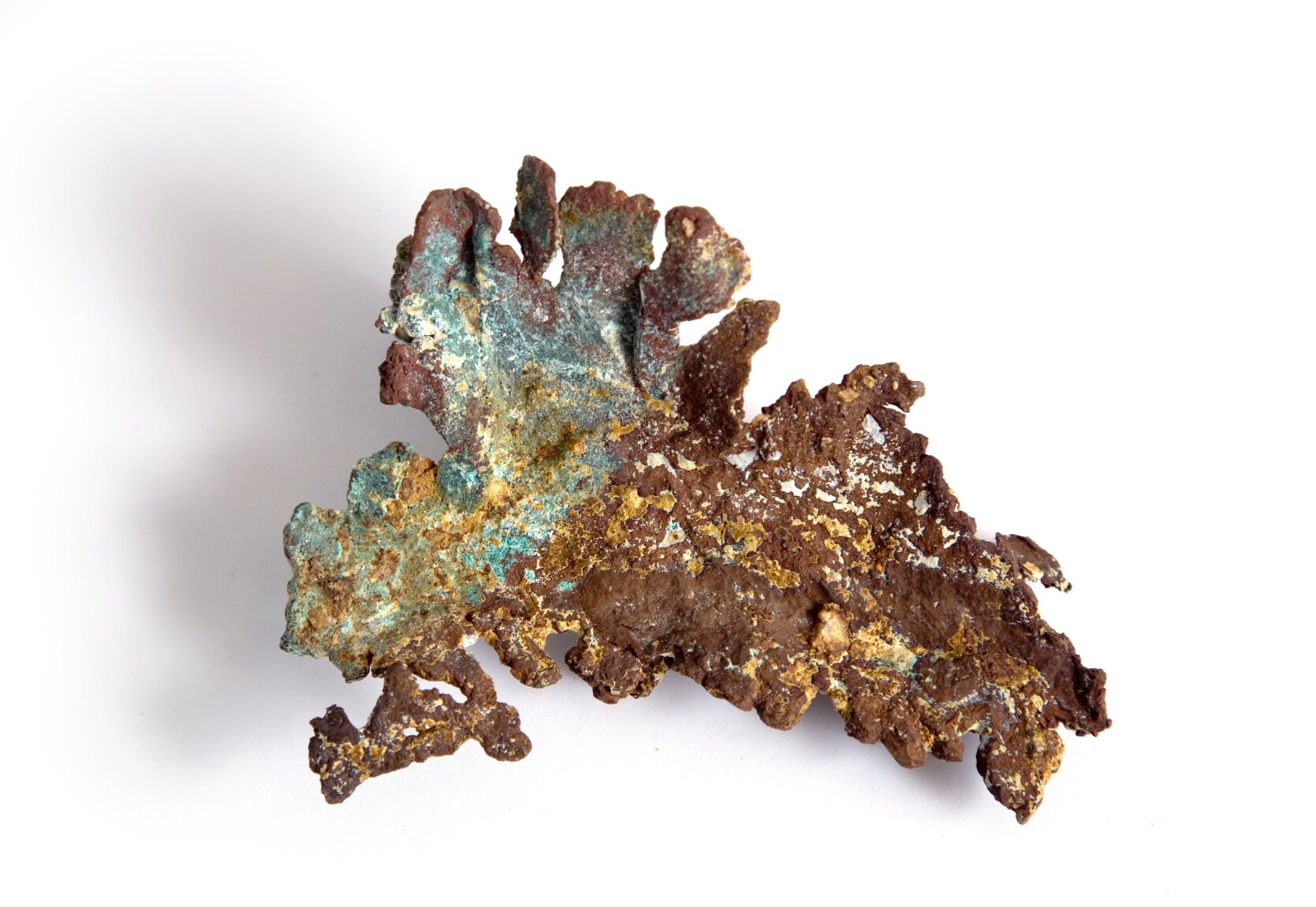 Copper (Cu), number 29 on the Periodic Table, is a naturally-occurring nonferrous metal that has excellent electrical and thermal conductivity as well as anti-corrosive and antimicrobial properties. It's also an essential nutrient for human health.
Copper is obtained by mining, but it's also a highly-recycled metal;  in 2012 more than 30% of copper consumption came from recycled copper. This post will discuss copper mining; to learn more about copper, its recycling, production, or uses, visit Analyzing Metals.
Copper can be found in the earth in pure form, or in many different kinds of mineral deposits including sulfide deposits such as chalcopyrite (most common), bornite, chalcocite, and covellite; carbonate deposits such as azurite and malachite; or silicate deposits such as chrysycolla and dioptase. The U.S. Geological Survey (USGS) Copper for the Ages Fact Sheet describes various copper deposits, which are broadly classified by how the deposits formed:
Porphyry copper deposits: Associated with igneous intrusions, porphyry copper deposits yield about two-thirds of the world's copper. Large copper deposits of this type are found in mountainous regions of western North and South America.
Sedimentary copper deposits: Copper deposits contained in sedimentary rocks account for approximately one-fourth of the world's identified copper resources. These deposits occur in such areas as the central African copper belt and the Zechstein basin of Eastern Europe.
A 2014 U.S. Geological Survey global assessment of copper deposits indicates that known resources contain about 2.1 billion tons of copper (porphyry deposits accounted for 1.8 billion tons of those resources), and undiscovered resources contain an estimated 3.5 billion tons. In 2014, U.S. mine production of copper was valued at about $9.7 billion.
Copper mining usually employs open pit mining techniques although there are also underground copper mining operations. Individual copper deposits may contain hundreds of millions of tons of copper-bearing rock. However, ore deposits are inconsistent, having high concentrations of metals in one area but much lower concentrations in other areas. The grade may be high at the surface, but diminish with depth, or vice versa.
Geologists perform ore grade control to pinpoint the most profitable ore deposits and create models or maps of these locations so that they can make the most efficient and economical drilling and excavation decisions. Knowing how and where copper resources are deposited also helps target where undiscovered deposits may lie. Field-portable x-ray fluorescence (FPXRF) instruments provide fast acquisition of geochemical data for mine mapping and ore deposit modeling. FPXRF is an established technique for easily determining elemental constituents for most natural low concentration samples, and it is now recognized as an effective analytical tool for high grade ore concentrates and grade control as well.
Editor's Note:  If you want more information about copper, visit our Analyzing Metals blog.  We are publishing two months of articles about copper.  Check every Tuesday throughout July and August for Copper Compendium Parts 1-8.