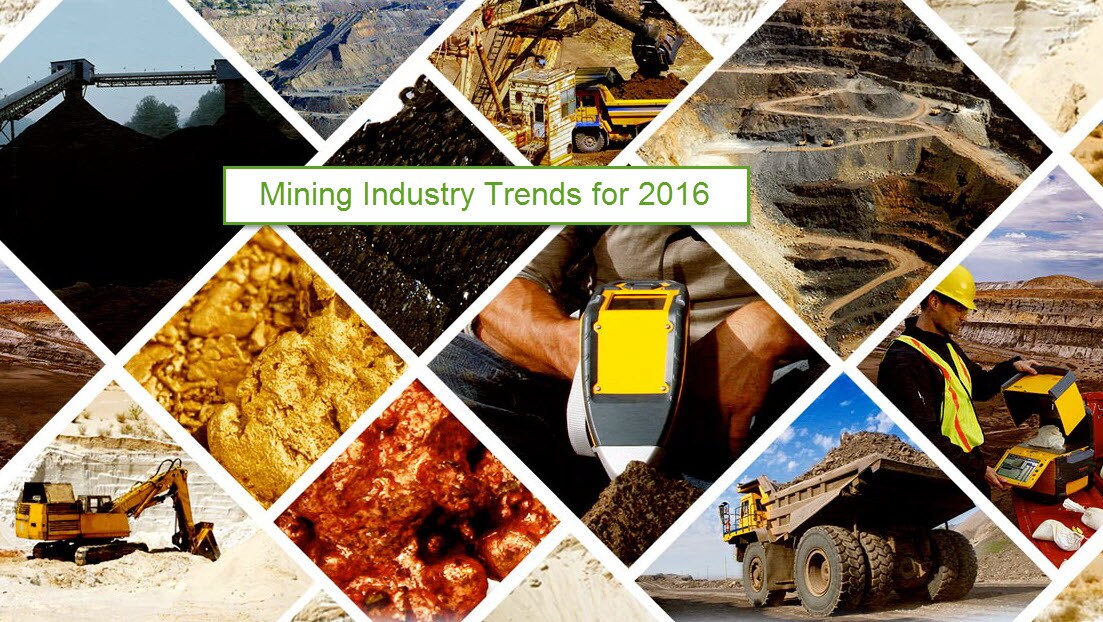 In 2014, we reported that a volatile commodities market, lack of financing, safety, and employment were some of the most significant issues facing the mining industry. These dilemmas continued throughout 2015 and persist today, leaving miners wondering if 2016 will bring improvement. Deloitte's annual report, Tracking the trends 2016: The top 10 issues mining companies will face in the coming year evaluates the current market and offers guidelines on how mining companies might deal with this tough environment.
Technology
The report suggests that companies should focus on operational and productivity improvements. Our previous post, Mining's Industrial Internet: Connecting the Dots, explains why embracing new and emerging technological innovations is the key to accomplishing this goal. Modern mining equipment outfitted with data-gathering sensors provides real-time intelligence that can be used to troubleshoot issues, keep the machinery running at peak efficiency, and connect and share data with other machinery and devices across an entire operation. Combined with laboratory information management systems (LIMS), miners can improve quality control, increase productivity, better manage and integrate their data, realize cost efficiencies, and track metrics to ensure regulatory compliance. LIMS can generate data to develop predictive models that help mine operations become proactive rather than reactive, a significant advantage when substantial investments are at stake. Automated equipment, such as driverless vehicles, are another development projected to gain traction in the coming year as miners look for ways to consolidate costs and improve safety and efficiency. Read Mining Automation: What Does the Future Hold? to learn more.
Another technological development that may influence mining's future is 3D printing, which is already making a difference in the aerospace and automotive industries. Read Welcome the Next Phase in the 3D Printing Craze: Metal to understand why 3D printing technologies for metal using formulations of stainless steel, low alloy steels, and nickel and cobalt alloys may not only be more efficient than some traditional manufacturing methods, but produce a comparable, if not better, product. The Deloitte report explains that 3D printing will allow companies in remote locations to custom manufacture critical parts on demand, reducing both delays for unplanned maintenance and the need to hold costly inventories.
Mining Metals
Another idea presented in the study concerns the declining demand for commodities, which may cause some companies to become complacent about continuing to look for high-grade deposits. Copper and nickel prices currently are at all time lows, but considering how long it takes to bring a mine online, companies need to prepare now for when the market finally turns around. After all, copper remains essential to developing economies, and nickel is an essential alloying agent used to make stainless steel, the production of which continues to increase annually. Read Nickel Exploration Continues: New Deposits May Have Big Potential and Mining Copper: Meeting the Demand for the World's Most Useful Metal for more information.
Oil & Gas
The price of natural gas has also been declining. Fracking remains widely practiced in the United States, and combined with consistent OPEC output, there is a surplus supply that may keep prices low in 2016. However, the fracking trend isn't likely to catch on overseas, as reported in Can the Fracking Boom Spread Beyond the United States? The post explains that the regulatory environment is more strict in Europe than in the United States, development is prohibited in some countries, and land is owned by the state. Companies didn't find enough gas or oil to keep drilling in some European countries, while other countries decided that new shale wells were unlikely to provide a worthwhile return on investment. Read Oil and Gas Industry: Blog Year in Review for more on developments that are influencing this industry.