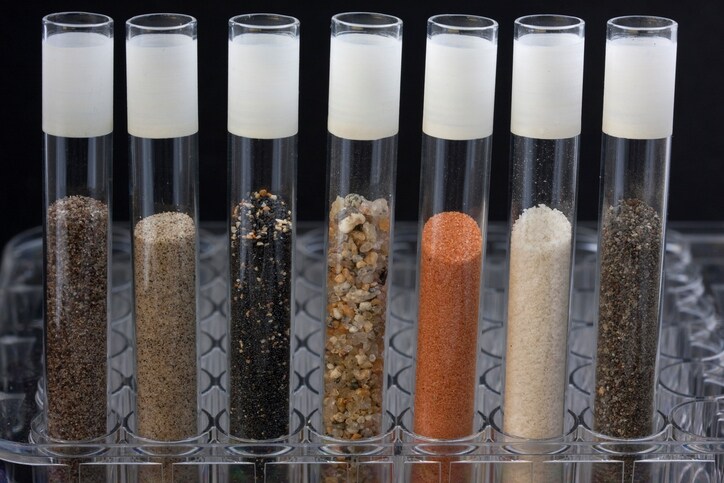 Raman spectroscopy is a powerful technique that can be used to analyze many varieties of rock and mineral samples. With the information obtained from Raman spectroscopy, geologists and mineralogists can learn about material composition and infer information about the environment local to the sample at the time of its formation. Raman spectroscopy is especially beneficial for rapid identification of carbonate minerals such as calcite, dolomite, and aragonite which have similar optical properties.
X-ray photoelectron spectroscopy (XPS) is used for quantitative determination of both elemental and chemical composition for any solid material compatible with ultra-high vacuum. XPS is unique in that it can quantify the elemental and chemical composition of a material's surface with extreme selectivity; the typical information depth of XPS being less than 10 nanometres.
The combination of XPS and Raman on a single instrument allows more powerful analysis of a material than either technique in isolation, and the development of coincident XPS and Raman spectroscopy has opened up new exciting materials characterization opportunities. Coincident XPS-Raman removes any requirement to transfer the sample from one instrument to the next between analyses, which minimizes additional sample handling and exposure to different conditions which can lead to sample contamination or degradation.
Analysis of calcium carbonate (CaCO3) and titanium dioxide (TiO2 ) polymorphs serve as excellent examples of the powerful information that can be gleaned from performing XPS and Raman spectroscopy concurrently. Both compounds occur in multiple crystalline forms, which can be distinguished using Raman but not easily by XPS. However, determining the quantity and type of contamination present in naturally occurring mineral samples is difficult using Raman in isolation, as is identifying compounds that are not contained within a spectral library.
Calcium carbonate occurs naturally in three different polymorphs: Calcite, Aragonite and Vaterite, with Calcite and Aragonite being the two most abundant. Calcite possesses a trigonal crystal structure and is the most thermodynamically stable form of calcium carbonate. Aragonite possesses an orthorhombic crystal structure, is less thermodynamically stable, slowly changing to Calcite under ambient conditions, and forms, geologically, at high temperature and pressure. The differences in crystal structure lead to variation in the physical properties of the different polymorphs, such as solubility. Establishing the causes behind these differences is important to understanding geological formations, as well as a diverse range of other applications areas.
Read Advantages of Coincident XPS-Raman in the Analysis of Mineral Oxides Species to learn more about how this new complimentary technology works.
Other recommended reading: