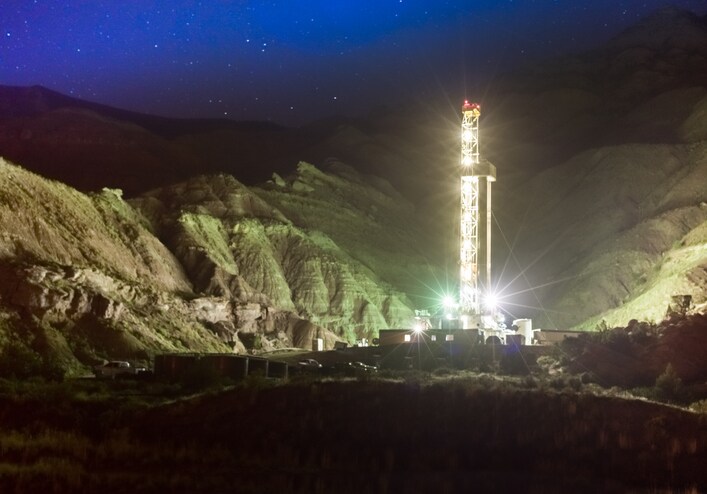 Silica dust exposure is a significant hazard in the oil & gas industry due to the large amounts of silica sand used in hydraulic fracturing (also known as fracking). The OSHA/NIOSH Hazard Alert: Worker Exposure to Silica during Hydraulic Fracturing describes how workers can be exposed to silica dust during fracking operations.
Here are some highlights from the alert:
Sand is delivered via truck and then loaded into sand movers, where it is subsequently transferred via conveyer belt and blended with other hydraulic fracturing fluids prior to high pressure injection into the drilling hole. Transporting, moving, and refilling silica sand into and through sand movers, along transfer belts, and into blender hoppers can release dusts containing silica into the air.
NIOSH identifies seven primary sources of silica dust exposure during hydraulic fracturing operations:
Dust ejected from thief hatches (access ports) on top of the sand movers during refilling operations while the machines are running (hot loading).
Dust ejected and pulsed through open side fill ports on the sand movers during refilling operations.
Dust generated by on-site vehicle traffic.
Dust released from the transfer belt under the sand movers.
Dust created as sand drops into, or is agitated in, the blender hopper and on transfer belts.
Dust released from operations of transfer belts between the sand mover and the blender; and
Dust released from the top of the end of the sand transfer belt (dragon's tail) on sand movers.
In cooperation with oil and gas industry partners, NIOSH collected 116 full shift air samples at 11 hydraulic fracturing sites in five states to determine the levels of worker exposure to silica at various jobs at the worksites. Many air samples showed silica levels for workers in and around the dust generation points above defined occupational exposure limits.
OSHA has issued a Final Rule to Protect Workers from Exposure to Respirable Crystalline Silica. The Hydraulic Fracturing industry has until June 23, 2018, to comply with the rule for all provisions except Engineering Controls, which have a compliance date of June 23, 2021.
Determining worker exposure levels is important for selecting the right type of control measures, including engineering controls and respiratory protection. Lung cancer, silicosis, and chronic obstructive pulmonary disease can result from exposure to silica dust, so it is important to have appropriate personal and area dust monitoring equipment in place to limit exposure. Silica is usually monitored by collecting a total dust sample, which would include silica as well as coal dust and diesel particulate, and sending it to a laboratory for analysis, typically using X-ray diffraction (XRD) techniques. The Occupational Safety and Health Administration (OSHA) website describes the process for collecting an air sample to measure airborne silica.
To learn about more safety issues in the mining and oil & gas industries, visit the Mine Safety Information page in the Thermo Fisher Scientific Cement, Coal & Minerals Learning Center.